Anastasiia Raina
Assistant Professor
Image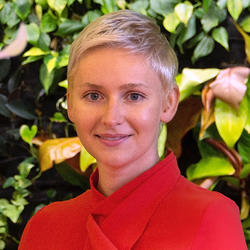 Anastasiia Raina is a multidisciplinary designer and researcher who graduated from the Yale School of Art with an MFA in Graphic Design. She has lectured and served as a critic at such design schools as Yale University, Parsons, Pratt, Otis, Pomona College and the University of Chicago. Prior to earning her MFA, she worked as a commercial graphic designer and art director in Los Angeles.
In her research-based practice Raina is interested in exploring the aesthetics of technologically mediated bodies through machine vision and computer-generated forms, neuroscience, evolutionary biology and the incorporation of biomaterials into the artistic vernacular. She draws upon scientific inquiry and collaborations with scientists as a means for generating new methodologies and forms in design.
In addition to teaching, she consults and collaborates with various international firms including the Hyundai Motor Group and has delivered lectures at conferences about posthumanist aesthetics and pedagogy as a way to engage with a wide range of scholars from a variety of disciplines.
Fall 2022
GRAPH-3223-02 Typography III

GRAPH-327G-01 Graduate Thesis I
Spring 2023
GRAPH-2106-01 Design In The Posthuman Age

GRAPH-3215-01 Typography II

GRAPH-3298-01 Degree Project