Thomas Ockerse
Professor Emeritus
Image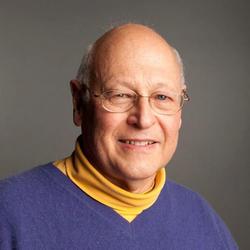 BFA, The Ohio State University, Columbus
MFA, Yale University
Tom Ockerse taught at RISD from 1971–2018. Born Dutch (in Bandung, Indonesia) he and some of his family moved from the Netherlands to the USA in 1957. With art and sports as two favorite interests he went to Ohio State University on a full athletic scholarship (recruited by the swim coach Mike Peppe) to study commercial art. After receiving his BFA in 1963, he continued studies in graphic design at Yale University, earning his MFA in 1965. His design career began at Fogelman Associates (Morristown, NJ), where he worked under the direction of Jim Fogelman (considered by Philip B. Meggs to be the originator of "corporate identity design" in America) on design accounts for Ciba, Hoffman LaRoche, Interchem, Syntex and others. Although Ockerse made a career shift to teaching in 1967, he has continued his design practice, providing communication and design strategies for clients such as Houghton Mifflin, Indiana University, RISD, RIHT Financial, Apple Computer, Aperture Magazine and World Magazine. In 1990 he began working primarily for nonprofit organizations such as Visible Language and The Humanity Initiative, where he partnered with Tony Balis "to encourage people to understand this planet as our common home."
Ockerse's involvement in graphic design education began at Indiana University (1967-71), where he served as an assistant professor teaching undergraduate and graduate students. During this transformative period his students provoked him to radically rethink education, the practice of design and the world of art. He became deeply involved in the growing 1960s activities of concrete poetry, Fluxus, mail art, happenings, book arts and other "intermedia" arts (op. cit. Dick Higgins) – all seeking to erase conventional boundaries and merge the arts. This made him realize the importance of the human factor at the very heart of design and that all design is truly a matter of human "interface design" (a term the computing industry subsequently hijacked), which means to design for the user, creating something worth experiencing for both practical and inspirational purposes.
After coming to RISD more than half a century ago, Ockerse was instrumental in reshaping the Graphic Design program, serving as department head for 20 years (1973–93). Among the many accomplishments during his tenure were: a departmental growth from 70 students to more than 200 in the 1970s; defining and teaching core courses and subjects like Visible Language (now called Making Meaning), Visual Systems, Strategic Design (no longer offered) and electives Concrete Books (establishing bookwork interests) and Semiotics in Design; initiating a Graduate Program in Graphic Design in 1976; leading a recent growth in the graduate population from 14 to approximately 40 students; acting as program head until 2004; teaching the introductory Graduate Studio I (Unfolding Meaning); and serving as a principle thesis adviser. In 1986 Ockerse pioneered and subsequently directed SIGDS (RISD's Summer Institute for Graphic Design Studies) to reflect the department's curriculum via Continuing Education. From 1978–89 he also served as chair (now called dean) of the Division of Design (now known as Architecture + Design).
More recently Ockerse taught courses such as Concrete Books, Open Re/Search, TexTperiment/TexTperience and Design as Contemplative Practice. The latter course reflected his evolving pedagogical and practical directions. To quote his 2006 lecture at Hong Ik University, Korea: 
"I view design not merely as 'making'– rather, as 'making appear.' My interests are in attending to a process that can generate visual design required to help bring about relationships. This embraces the growing paradigm shift from the reductive to the holistic. In this shift relationships are contextually sensitive and able to integrate the dynamic networks of mind, form, sensibility and spirit with life and nature's energies. Similarly, my quest in education seeks to offer what will truly sustain students in life: processes to help cultivate their intelligence so as to become truly integrated individuals in order to deal with life as a whole. For design/art education this means a shift from technical, skill-oriented, analytical (intellectual) tendencies toward ways that deepen awareness for how user experiences can serve practical needs but also draw out the poetry of life we are all so intimately part of."
Ockerse is known for bringing to light methods for perceiving the mechanisms of meaning in visual communication design. This interest was first stimulated by his experiments in concrete poetry with what he called "word and image equations." He was subsequently drawn into semiotics as an intellectual theory that deals with questions concerning meaning, cognition, reference, truth and reality, which he developed into a tool based on the principles developed by logician C. S. Peirce. Eventually these connected his interests with other fields for knowing, which helped him delve deeper into the subtle qualities reflected by mind and being – keynotes to discovering the essential nature of objects and what lies beneath the unfolding/enfolding experience of the design process. Ockerse has lectured on these interests and written articles such as Semiotics and Design Education (Visible Language, XIII, No.4), De-Sign/Super-Sign (Semiotica, 52-3/4), The Semiosis of Design (Zed 4, 1997), Developing Design Educators ("HearSay: 10 conversations on design," 2002), Visualogue(Icograda, Nagoya, 2003), Design as Contemplative Practice (United Designs, Hanyang University, 2005), Learn from the Core | Design from the Core (Visible Language, # 46, 2012) and Quantum Education: Experience as Content (International Education Conference, Wheaton, IL, 2014).
Throughout his career, Ockerse has lectured extensively on his work and on design education at diverse institutions in the US, Europe and Asia. He and his wife Susan presented papers on this at the 2007 SVA Liberal Arts Conference: Making in the Light of Being and Understanding Being in the Light of Making. He has also directed and taught many workshops on semiotics of the visual and Unfolding and Enfolding Meaning for professional designers and educators, at the RISD summer institute SIGDS, in Europe and Asia (Musashino Art University, Japan; Hong Ik University, Seoul National University). From 1993–97 Ockerse taught as an adjunct faculty member at the Jan van Eyck Akademie (the Netherlands) focused on post-graduate studies in fine arts, design and theory.
His theories are also present in his work with concrete poetry, bookworks and other "experiments" that explore visual and visible language systems. These art objects have won awards and international recognition and were represented in numerous exhibitions and anthologies (such as: Expo de Novisma Poesia, Buenos Aires; ?Konkrete Poesie, Stedelijk Museum, Amsterdam; Richard Demarco Gallery, Edinburgh; This Book is a Movie (Dell Publishers); Breakthrough Fictioneers (Something Else Press); American Typography Today (Reinhold); Experiment Design (ABC Press Zurich). Published bookworks include: The A-Z Book, Time, TV Documentracings, T.O.P., Space Window and Chance/Choice. He directed, partly designed and edited, and wrote for SPIRALS, a book published by RISD's Graphic Design department to present its pedagogy and practice. His more recent projects Maps and Mapping and Dynamic Mapping represent collaborative efforts for the Fetzer Foundation and The Collective Wisdom Initiative.
Ockerse has served as an educational consultant at UCLA, Virginia Commonwealth University, the University of the Arts, Universidad de las Americas (Mexico), Hull College and Sheffield Polytechnic (England), the University of Texas and Jan van Eyck's graduate design program. In 1986 he was the United Nations' UNIDO consultant to the National Institute of Design in Ahmedabad, India, working to "acquaint visual communication faculty and students with contemporary trends and technology in the field of graphic design and to help the Institute in the planning of its program." As a vice president of the AIGA Board of Directors from 1981–85, he established the AIGA Education Committee as a standing committee and initiated the AIGA publication Graphic Design Education. He also served on the board of the Graphic Design Education Association. In 1991 the American Center for Design presented Ockerse with its Education Award. In 2015 RISD awarded him the prestigious John R. Frazier Award for Excellence in Teaching "for a lifetime of motivating and empowering new generations of design thinkers."