Daniel Cavicchi
Professor
Image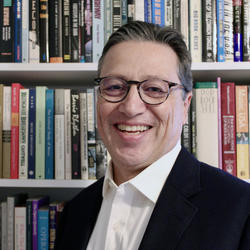 BA, Cornell University
MA, Brown University
MA, SUNY - Buffalo
PHD, Brown University
on sabbatical academic year 2022–23
Daniel Cavicchi is an American studies scholar whose research and teaching explore history through music, media, place and the senses. In addition to numerous essays in journals and anthologies, he is author of the books Listening and Longing: Music Lovers in the Age of Barnum (winner of the 2012 ASCAP Deems Taylor Award); Tramps Like Us: Music and Meaning Among Springsteen Fans; and My Music: Explorations of Music in Daily Life, with Charles Keil and Susan D. Crafts. He is currently working on a book about historical fan cultures.
Cavicchi's public humanities work includes K-12 curricula for Experience Music Project and PBS; multiple exhibits for the Grammy Museum and the Grammy Museum Mississippi; the Witness Tree Project, a history and design curriculum with the National Park Service; and committee and board service for the NEH and several arts nonprofits. He established the Pop Conference with Eric Weisbard in 2001 and was the inaugural editor of Wesleyan University Press' Music/Interview Series. He has served on the editorial boards of Ethnography, American Music and Participations: Journal of Audience and Reception Studies and has lectured about his work globally, including in Denmark, Italy, Brazil, China, Japan and the US.
He is the recipient of both the 1996 President's Award for Excellence in Teaching from Brown University and the 2004 John R. Frazier Award for Excellence in Teaching from RISD. He also has served RISD in multiple administrative roles, including dean of liberal arts, associate provost, vice provost and provost.
Academic areas of interest
Popular music history and culture
Audience studies and reception theory
Sensory history
Public history and education