Donald Keefer
Professor
Image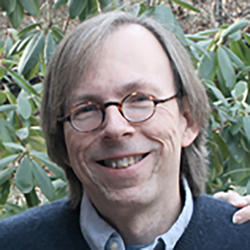 BA, University Of Maryland - Baltimore
BA, University Of Maryland College Park
PHD, Temple University
on sabbatical academic year 2022/23
Donald Keefer joined the RISD faculty in 1988 with a PhD in philosophy from Temple University. His variety of courses has covered the history of philosophy, aesthetics, theories of semiotics, the nature of wisdom and philosophical questions regarding death, dying and the dead. On a lighter note, he teaches a Wintersession course that uses episodes of the X-files and Star Trek as vehicles to introduce students to the problems of philosophy.
Keefer has written on topics ranging from the aesthetics of music, technology and culture to the critique of postmodern theory, semiotics of design, Frederick Douglass and, most recently, the philosophy of death. He is currently writing a book examining the philosophical dimensions of loss and mourning.
His paper, "Speaking Well of the Dead: On the aesthetics of eulogies," forthcoming in Sophia International Journal for Philosophy of Religion, Metaphysical Theology and Ethics, emerged from one of the key issues in a chapter on the meanings of how we mourn the loss of those important to us. He is also an accomplished classical guitarist.
Academic areas of interest
Philosophy of Death
Ethics and the Contradictions of Corporate Personhood
The Confluence of Evolutionary Psychology and Philosophy
Aesthetics
Linguistics and Theories of the Sign
American Pragmatism