Lucy Spelman
Senior Lecturer - History, Philosophy and Social Sciences
Image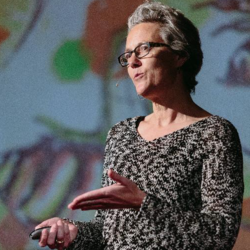 BA, Brown University
DVM, University of California, Davis
Lucy Spelman is one of 200 board-certified zoological medicine specialists in the world. Animals have always been part of her life, and her experiences with them include taking care of giant pandas in China, mountain gorillas in Rwanda and river otters in Guyana. She has worked as a zoo veterinarian, zoo director, wildlife veterinarian, media consultant, writer, public speaker and educator. In addition to writing various scientific articles, she is author of the National Geographic Animal Encyclopedia and co-editor of a book of short stories, The Rhino with Glue-on Shoes. She has also been filmed for television documentaries. Her work is based on a one-health approach; she believes the future of all wildlife depends on healthy interactions between animals, humans and the environment.
Spelman currently practices veterinary medicine in Rhode Island and teaches Biology of Human-Animal Interactions, Evolutionary Biology, Visualizing the Natural Sciences, Exploring the Art and Science of Biodiversity in Guyana, Living Systems Lab and Field, and South Africa: Art, Science, Biodiversity. In her 2015 Providence TEDx talk Art Can Save a Panda she made a case for greater public engagement in conservation through the arts. She shared examples of work by RISD students that show how art and science together reach a wider audience with a more inclusive message about the problems facing animals today – as well as the solutions. She also serves on the boards of the Wildlife Rehabilitators Association of Rhode Island, the Karanambu Trust in Guyana, South America, and Foster Parrots, Limited in Rhode Island.
After receiving her bachelor's degree in biology from Brown University (1985), Spelman earned her veterinary degree from the University of California at Davis (1990), completed a one-year internship in small animal medicine at Ettinger and Associates in Los Angeles, CA, and a three-year residency in Zoological Medicine at North Carolina State University in Raleigh, NC. In 1994 she received her board certification from the American College of Zoological Medicine. She worked for the Smithsonian Institution's National Zoo from 1995–2004, first as associate veterinarian and then as director. She was a media consultant for Discovery Communications in 2005 and then moved to Rwanda where she served as field manager for the Mountain Gorilla Veterinary Project from 2006–09. She returned to the US to teach at Brown University and then moved on to RISD in September 2010. She started work at Ocean State Veterinary Specialists in January 2011. In 2015 she founded Creature Conserve, a non-profit organization bringing artists and scientists together to study and respond to the problems facing animals today.
Academic areas of interest
Lucy Spelman enjoys teaching biology to any and all who are interested in animals, nature, health and wildlife conservation. Her passion for science education and outreach stems from her experiences as the director of the National Zoo at the Smithsonian Institution in Washington, DC, and as the field manager for the Mountain Gorilla Veterinary Project in Rwanda. She also has considerable experience in the realm of science communication, both as the subject of various news interviews and television documentaries, and as a media consultant for the Discovery Channel, Animal Planet and National Geographic. She is also a frequent public speaker. Her scientific research interest is in the area of one-health medicine, a growing field of study that examines the interactions between animal, human and environmental health. Her academic interest is in exploring new ways to bring artists and scientists together to engage the public in important issues such as biodiversity loss and climate change.
Fall 2022
IDISC-3058-01 Visual Stories Of Natural Histories

ILLUS-3058-01 Visual Stories Of Natural Histories

SCI-1087-01 Evolutionary Biology
Wintersession 2023
SCI-W422-01 *hawai'i: Art and Science Of Conservation
Spring 2023
HPSS-8900-02 HPSS Independent Study

SCI-1047-01 Infectious Disease Triangles: The Body Of Human-animal Diseases