Melissa Marcotte
Lecturer - History Phil Social Sciences
Image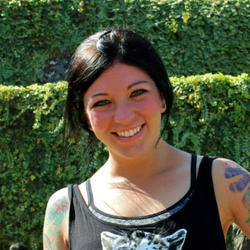 BA, Rhode Island College
BS, Rhode Island College
MA, University of Rhode Island
Melissa Marcotte earned her PhD in Behavioral Science/Psychology at the University of Rhode Island in 2017. While her focus is primarily in social psychology, she considers herself an interdisciplinary psychologist, doing research and teaching through the lenses of critical race and gender theories and incorporating her cognitive, developmental and physiological psych training. She has taught a variety of introductory courses in psychology and statistics, as well as upper-level courses such as
Social Psychology
,
Experimental Psychology
,
Applied Research in Psychology
and
Psychology of Social Injustice
at RISD. As a Kingian (Martin Luther King, Jr.) Nonviolence Trainer and a secular Buddhist, she is motivated by her desire to contribute to peace and conflict resolution through social justice and equality both inside and outside of the classroom and academia. When she has free time, she enjoys riding her motorcycle, going on retreats and spending time with her family, especially her brother, who plays on the Providence Kickball League with her.
Academic areas of interest
Marcotte's primary research focus has been understanding precursors to reactive aggression, particularly shame, and perceptions of violence through an interdisciplinary lens, including social, cognitive and developmental psychology; multiculturalism; and neuroscience. She believes that "conflict can easily be extinguished with a dose of humility on both sides, because through believing that all beings, like ourselves, seek happiness and comfort, righteousness and dignity, and love and belonging, we can see ourselves in others. Empathy is the key to forgiveness. We are all worthy of it."
Specializations include:
Social/Cognitive Psychology, social cognition, interpersonal relations, social development
Peace and conflict resolution, Kingian nonviolence methods
Effective pedagogical methods in psychology
Multicultural psychology, cultural competency, multicultural research methods
Industrial-Organizational Psychology application and measures
Program evaluation
Statistical analyses (SPSS, R, Excel) and research design methods (both quantitative and qualitative)
Information technology, software and technology troubleshooting
Fall 2022
HPSS-S656-01 Introduction To Psychology
Spring 2023
HPSS-S486-01 Multicultural Psychology