Antoine Revoy
Senior Critic - Illustration
Image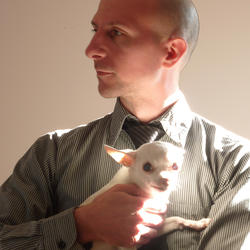 BFA, Rhode Island School of Design
Antoine Revoy is an award-winning French writer, illustrator and designer. Born in Paris in 1977, Revoy grew up in Tokyo, Mexico City and Barcelona and is a hyperpolyglot speaking six languages. Having earned a BFA in Film/Animation/Video from RISD in 1999, he began his creative career as a visual designer in Dublin, Ireland and Paris, France, while simultaneously freelancing as an illustrator. Upon returning to the US in 2009, Revoy dedicated himself to working as an illustrator full-time, notably creating artwork for Der Spiegel, Harvard University and The New York Times. In 2019, Revoy created the medical instructional illustrations for Abbott Laboratories' device ID NOW, which has been used worldwide for rapid testing during the COVID-19 pandemic. Revoy has received Gold Awards from Graphis and the Society of Illustrators of Los Angeles, and his work has been exhibited at the New York Comic Con, the MoCCA Arts Festival, the Museum of American Illustration, Gallery Nucleus, the University of Rhode Island and the John F. Kennedy Center for the Performing Arts. His illustrations have also received awards from PRINT Magazine, the Society of Illustrators of New York, American Illustration, 3x3 Magazine and Spectrum: The Best in Contemporary Fantastic Art.
Revoy has taught at RISD for 12 years and has twice been nominated for RISD's John R. Frazier Award for Excellence in Teaching, in 2015 and 2017. He has created many of the Illustration department's visual storytelling courses and has mentored students who have become graphic novelists and comics creators for DC Comics, Marvel and Dark Horse Comics. Revoy has also served as an MFA thesis advisor at the School of Visual Arts in New York City, and as a Brown University/RISD Dual-Degree capstone advisor. He has instructed month-long college courses in China (Beijing) and Japan (Tokyo, Osaka, Niigata) and has coached students who have won Eisner, Society of Illustrators and Fulbright scholarships.
Revoy is the creator of the horror graphic novel ANIMUS (2018), which was distinguished as a 2019 Great Graphic Novel for Teens by YALSA, a division of the American Library Association, and was selected as one of the 31 Best Scary Comics for Kids. He is now working on a follow-up with publisher First Second Books, GHOST NOTES (due in 2024). He resides in Providence with his wife, author-illustrator Kelly Murphy, and their many beloved animal companions.
Academic areas of interest
Drawing
Storytelling
Comics/Manga
Film/Animation
Greek and Egyptian mythology
19th-century Russian literature
Science fiction