Paul Karasik
Critic - Illustration
Image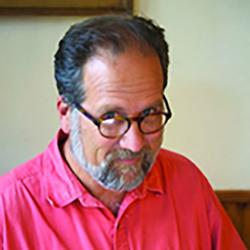 BFA, Pratt Institute
M.ED, Lesley University
Two-time Eisner Award-winning cartoonist Paul Karasik studied at the School of Visual Arts with master cartoonists Will Eisner, Harvey Kurtzman and Art Spiegelman. His groundbreaking transformation (co-created with RISD alumnus David Mazzucchelli) of the Paul Auster novel City of Glass into a graphic novel has been translated into more than 20 foreign editions. The Comics Journal called his book How to Read Nancy (co-written with Mark Newgarden), "the best book ever written about comics."
Karasik has taught cartooning classes at the School of Visual Arts and Boston University and given workshops all over the world, including at EESI in Angoulême, France; TAW in Viborg, Denmark; and the Scuola Internazionale di Comics in Florence, Italy. His cartoons appear in The New Yorker.
Courses
Spring 2024 Courses
ILLUS 3942-01
GAINED IN TRANSLATION: COMICS AS ADAPTATION
Start and End
2024-02-15 to 2024-05-24
Instructor(s): Paul Karasik
Enrolled / Capacity: 15
Status: Open
SECTION DESCRIPTION
Done well, respectful, original, and inventive adaptations can deliver fresh interpretations of original sources that are themselves new works of art that stand on their own merits. In this course, students will adapt written works from a variety of source materials into multi-page comics stories - demonstrating how form, narrative arc, cultural context, character, and emotion can be translated faithfully and artfully from one medium to another. In the process of doing the work, students will master the language of comics, a medium with its own vernacular, using unique combinations of words and pictures to form meaning - and will gain insights into shared principles of story-telling that apply both to prose and to visual narrative. After deep reading of the texts, to understand structure, story, and meaning, students will interpret and visually amplify the adapted texts, taking the new work from thumbnail, to full sketch, to final art, to self-published mini-comics.
Estimated Cost of Materials: $50.00
Open to Junior, Senior or Graduate Illustration Students.
Elective