Randy Willier
Senior Critic - Illustration
Image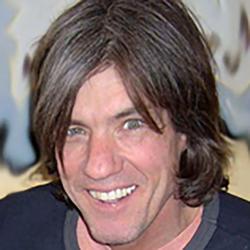 BFA, Kansas State University Manhattan
MFA, Indiana University Bloomington
Born in Texas to a military family in 1953, Randy Willier grew up mainly in the Midwest and Europe. As a youth, he attended many different schools before graduating from Frankfurt American High School in West Germany. Later, he studied the art of printmaking and received a BFA from Kansas State University in 1975 and an MFA from Indiana University in 1982. He then sold everything he owned and moved to New York City. There he lived a full and eventful life as an East Village artist, painting and exhibiting studio work and doing decorative and mural painting, illustration, set building, backdrop painting, photography, modeling and bicycle racing. He escaped New York on September 9, 2001 and moved to Rhode Island.
Academic areas of interest
At this moment, Willier's research has turned towards design, screenprinting and surf/skate culture. In the studio, his work has revolved around a newfound interest in type combined with hand-drawn images to create surface decoration on everything from surf/skateboards to limited-edition T-shirts.
Courses
Fall 2023 Courses
ILLUS 3704-01
PRINTMAKING TECHNIQUES FOR ILLUSTRATORS
Start and End
2023-09-06 to 2023-12-13
Times: F | 1:10 PM - 6:10 PM
Instructor(s): Randy Willier
Location(s): Washington Place, Room 003; Washington Place, Room 018
Enrolled / Capacity: 12
Status: Closed
SECTION DESCRIPTION
This course surveys a wide range of effects possible through versatile printmaking methods including monotype, relief printing and drypoint. The emphasis is on experimentation rather than editioning prints.
Open to Junior or Senior Illustration Students.
Elective
Wintersession 2024 Courses
Period
Wintersession 2024
ILLUS 3700-101
THE TWO-LEGGED PRINT
Period
Wintersession 2024
Start and End
2024-01-04 to 2024-02-07
Instructor(s): Randy Willier
Enrolled / Capacity: 12
Status: Open
SECTION DESCRIPTION
This course is meant to give students an understanding of the process of serigraphy. Using the basic T-shirt as the format, emphasis will be on creating and developing a concept: learning and implementing the techniques of silk-screen in order to produce wearable illustration. The course will also include historical and contemporary issues on the phenomenon of the printed shirt, including uses ranging from social protest to advertising and the use of the body as a substrate for images. A variety of techniques will explore everything from simple handmade stencils to the use of photo/computer technology to create individual designs. Assignments will be given through the developmental phase, and in-class critiques will play an important role in determining the final product. By the end of the semester, students will also investigate the business/commercial side of silk-screening, including at-home studio setup, recordkeeping and selling the product.
Elective