Jeffrey Katz
Senior Critic - Interior Architecture
Image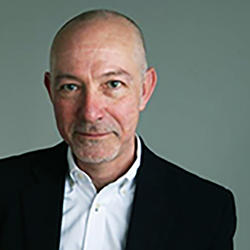 BARC, Carnegie Mellon University
MARC, Harvard University
Jeffrey Katz studied architecture at Carnegie-Mellon University and the Graduate School of Design at Harvard. He is a principal at C&J Katz Studio. The studio's work includes retail, corporate, residential, exhibition and furniture design. Katz and his wife Cheryl started the studio in New York in 1984 and moved it to Boston in 1991.
C&J Katz Studio has developed brand environments and retail concepts for Gant, Crabtree & Evelyn, Rockport, Grand Circle Travel, Garnet Hill, J.Jill and Yard Co. among others. Restaurant design includes Foumami Asian Sandwich Bar, a start-up in the Boston financial district; Menton; Sportello; Drink; Barbara Lynch Gruppo; and Sarma, a bar and restaurant in Somerville designed for chef Ana Sortun.
The Katzes are contributing editors at New England Home magazine. From 1994–2004 they were the design columnists for the Boston Globe Magazine. Their first book, Room Recipes, was published in 2000. Two more, Chandeliers and Mirrors, were published in 2001. Dirty Wow Wow and Other Love Stories was published in 2007 and the sequel, Dirty Bow Wow, in 2009.
Katz has been teaching at RISD on and off since 1980. Just after graduate school he was a faculty member in the Architecture department. As his practice migrated toward branding and interior design, he returned to RISD to teach in the Interior Architecture department. For the past few years the subject of his studios has been retail design, and his students have been exploring how to apply aspects of branding to retail environments.
Academic areas of interest
Katz's interests include drawing and printmaking. His latest drawings are about reflection and perspective. His latest prints – monotypes and photo etchings – use thread as a way to create images. Like the techniques that are employed in his work at RISD and C&J Katz Studio, thread has practical and conceptual ties to design, decoration, fashion, domesticity and structure.
Fall 2022
INTAR-23ST-02 Advanced Design Studios
Spring 2023
INTAR-2398-02 Design Thesis

INTAR-2398-04 Design Thesis