Noam Elyashiv
Senior Critic - Jewelry & Metalsmithing
Image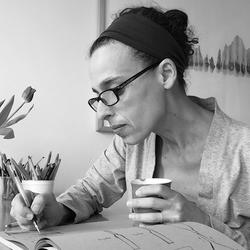 BFA, Bezalel Academy of Arts and Design, Jerusalem
MFA, Rhode Island School of Design
Noam Elyashiv is an Israeli-American artist who has taught at RISD since 1994. She received her BFA from Bezalel Academy of Arts and Design in Jerusalem and her MFA from RISD.
Elyashiv's practice focuses on transitional steps between drawing and creating objects that reside on the body and the gestures that occur in response to relocation, dimension and gravity. Her recent body of work, Time Lines, includes more than 40 pieces that become in the same manner: they all had previous lives and experienced some sort of metamorphosis. The work invites the viewer to stay longer and look closely to discover its nuanced formal history.
Elyashiv is a two-time recipient of the Rhode Island State Council on the Arts (RISCA) Fellowship in Crafts and the America Israel Cultural Foundation Award. She served on RISCA jury committees, was a guest speaker for Art Jewelry Forum (AJF) and is a former resident artist at MASS MoCA. Her work is in private and public collections, including the MFA Boston and the Schmuckmuseum in Pforzheim, Germany.
Fall 2022
Spring 2023
JM-4404-01 Junior Jewelry 1

JM-4498-01 Senior J+M Degree Project