Andrea Johnson
Assistant Professor
Image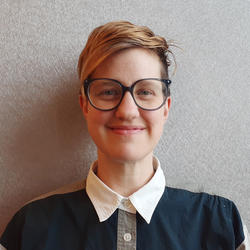 BA, University of Michigan
MLA, The City College of New York
Andrea Johnson is researcher, designer and educator whose work explores the intersection of urban landscape infrastructure, socio-environmental flux and climate uncertainty. As the former research director at Terreform Center for Advanced Urban Research, she coordinated numerous publications including the forthcoming book Home Grown, a speculative proposal for NYC's food systems, with strategies ranging from adaptive agricultural practices to local waste processing.
Johnson's ongoing research explores the role of design in distributive energy systems as a catalyst for social and environmental justice. As a 2020–21 Landscape Architecture Foundation Fellow, she developed design and planning methodologies to phase out NYC's peaker power plants. In August 2021, Johnson was named the Regional Plan Association Kaplan Chair for Urban Design. During the fellowship year, Johnson will work with Renewable Rikers, a coalition of criminal and environmental justice advocates, to develop design visions for the island, free of jail use and dedicated to renewable energy infrastructure and other remedial uses.
Before joining RISD's faculty, Johnson taught at The City College of New York's Spitzer School of Architecture, where she is also an alumna.
Fall 2022
LDAR-225G-01 Theory I

LDAR-225G-02 Theory I

LDAR-2264-01 Representation I

LDAR-2264-02 Representation I
Wintersession 2023
Spring 2023
LDAR-2205-01 Urban Systems Studio