Henry Ferreira
Associate Professor
Image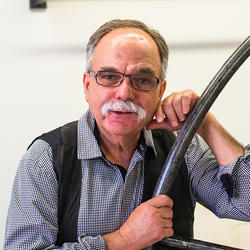 BFA, University Of Massachusetts Dartmouth
MFA, Rhode Island School of Design
Henry Ferreira received his MFA from RISD in printmaking in 1980 and returned the following year to teach. He is president of RISD's Faculty Association/Union and head of the Printmaking department. He was a member of the Printmaking faculty when the department moved from the College Building to Benson Hall and helped to redesign Benson Hall, creating some of the equipment presently used in the Printmaking facilities. He was a member of the inaugural class at Bristol Community College in Fall River, MA and earned his BFA in 1972 from Southeastern Massachusetts University (now the University of Massachusetts at Dartmouth). In addition to teaching at RISD, he worked briefly as an illustrator for Raytheon Corp. in Newport, RI and has taught in Pont Avon, France; San Miguel and Cuernavaca, Mexico; and at RISD's Cenci intaglio studio in Rome, Italy.
Ferreira's work is built on a deep respect for craft. He uses skills acquired through years of practice to explore and execute content-driven pieces. His recent work begins with observation but grows from process, making it more direct and less predetermined. He compares the iterative nature of his process to the way a child builds with blocks. His work is included in public and private collections throughout the US and abroad.
Ferreira describes his life as three overlapping circles of family, work and teaching. His two sons earned BFA degrees at RISD in printmaking and work as graphic designers. His daughter recently graduated from Wheaton College in Norton, MA with a degree in art history. His wife works as a special needs educator. The studio Ferreira built is located in the 200-year-old farmhouse in southeastern Massachusetts where he lives with his family.