Dean Snyder
Professor
Image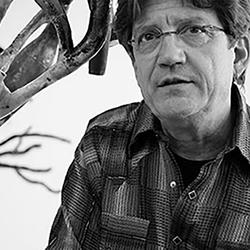 BFA, Kansas City Art Institute
MFA, School of the Art Institute of Chicago
Dean Snyder was born in Philadelphia and received a BFA in photography and sculpture at the Kansas City Art Institute in 1974. In 1975 he received a British Arts Council Fellowship to do postgraduate work in sculpture at Lanchester Polytechnic, Coventry, UK. He completed his MFA in sculpture in 1978 at the School of the Art Institute of Chicago.
Snyder has received artist fellowships from the John Simon Guggenheim Memorial Foundation, the Louis Comfort Tiffany Foundation, the Berkshire Taconic Arts Foundation, the National Endowment for the Arts, the New England Foundation for the Arts, the Rhode Island State Council for the Arts, the Hawaii State Foundation on Culture and the Arts, the Vermont State Council for the Arts and the Illinois Arts Council.
His work has been exhibited nationally in both group and solo shows, notably at the Tang Museum, the American Academy of Arts and Letters and the DeCordova Museum. Internationally Snyder's work has been presented at the Beijing Olympic Park for the 2008 Beijing Olympic Games, Sculpture by the Sea: Sydney Australia, Berlin Fashion Week, and the Instituto Cultural Peruano, Lima.
Snyder's work has been collected privately and may also be found in the public collections of Fidelity Investments, the Tang Museum, the Museum of Art at the Rhode Island School of Design, the Smart Museum of Art at the University of Chicago, Albany International Airport, the City of Beijing and Freedom Park Ordos City, Mongolia.
Academic areas of interest
Snyder's sculpture has been characterized as uncanny "graphical" organicism experienced through seamless assemblies of highly considered forming, molding and lamination. Drawing plays a large role in Snyder's studio and for many years he has been workshopping a sort ofbioconvergence of his graphic images into objects and sculpture.
Fall 2022
SCULP-2172-01 Operational Drawing

SCULP-4717-01 Senior Sculpture: Studio I

SCULP-4787-01 Research Studio III: Sustainable Studio Practices
Spring 2023
SCULP-2143-01 Mold Making Methods For Sculpture

SCULP-4746-02 Sophomore Sculpture: Studio II