Derrick Woods-Morrow
Schiller Family Assistant Professorship in Race in Art and Design
Assistant Professor of Sculpture, Painting & Textiles
Image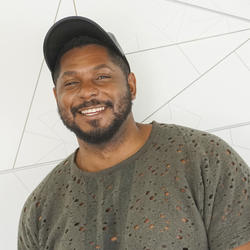 MFA, School of Art Institute of Chicago
Post-Bacc, Massachusetts College of Art and Design
Derrick Woods-Morrow (b.1990) centers process-oriented collaborative projects with Queerx Black Fol(x) across a wide variety of media. His work has been exhibited in collaboration with Paul Mpagi Sepuya in the Whitney Biennial (2019); in Photography Now: The Searchers (2019 at The Center for Photography at Woodstock); and in thematic international and national group exhibitions at Kunsthal KAdE in the Netherlands (2020), the Schwules Museum in Berlin (2020/21), The Contemporary Art Center in New Orleans (2020), the Museum of Contemporary Art Chicago (2020) and the Smart Museum Chicago (2019).
In 2019 his second short film, much handled things are always soft, debuted in collaboration with the VISUAL AIDS 30th Annual Day With(out) ART programming at the Whitney Museum of American Art, Museum of Contemporary Art LA, The Museum of Contemporary Art Chicago, The Brooklyn Museum, The New Museum and more than 100 institutions worldwide. Much handled things are always soft would later be independently screened in the social media POC cruising App Jack'd, reaching an audience of over 3 million Black and Brown folx in Canada and the US.
In 2021 he was invited to be a part of the Knight Foundation Art & Research Center virtual colloquium and seminars series Animating Archives. He is the 2021 Edith and Philip Leonian fellow at the Center of Photography Woodstock and has completed residencies at The Bemis Center for Contemporary Art (2021), Antenna Works (2020/21), Chicago Artists Coalition (2018), the Fire Island Artist Residency (2016) and ACRE (2015). He is the recipient of the 2018 Artadia Award–Chicago and a 2021 Uprise Grant recipient from the Sundance Film Institute.
Woods-Morrow is a member of the Chicago-based collective Concerned Black ImageMakers and serves on the Board of Directors at the Fire Island Artist Residency. His work has been written about in The New York Times, W Magazine, Artforum, Artnet, The Chicago Tribune, Newcity, Hyperallergic, Visual Art Source, Artpapers, ArtDaily and Spot Magazine. Originally from Greensboro, NC, he splits his time between Chicago and Rhode Island.

Courses
Fall 2023 Courses
Spring 2024 Courses