Gail Dodge
Technical Assistant II
Image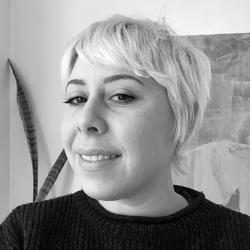 MFA, Rhode Island School of Design
Gail Dodge (b. 1985, San Francisco) is a Providence-based artist whose work encompasses video, performance and the manipulation of traditional and nontraditional sculptural materials. Their art practice and pedagogy are rooted in exploratory approaches to developing and creating work.
Dodge received a BFA from the University of Arizona in 3D and Extended Media in 2013 and an MFA in Sculpture from RISD in 2015. They have held teaching positions at Wheaton College in Massachusetts and since 2017 have taught courses in RISD's Sculpture and Graphic Design departments, as well as in its Continuing Education programs.
Dodge's work has been exhibited nationally and internationally in cities including Mexico City, Mexico; Tucson, AZ; Chicago, IL; New York, NY; Baltimore, MD; Austin, TX; and Michigan City, IN.
Fall 2022
NMSE-8900-04 ISP Non-major Elective

SCULP-4781-01 Sculptural Practices I

SCULP-4781-02 Sculptural Practices I

SCULP-8900-01 ISP Major