Mary Anne Friel
Associate Professor
Image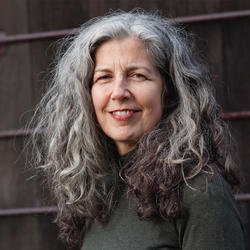 Mary Anne Friel is a visual artist whose work explores natural and built environments at the intersection of geophysical phenomena, visceral experience, scientific observation, cultural knowledge and imagination. She co-curated the exhibitions Natural Discourse: Artists, Architects, Scientists & Poets in the Garden, University of California Botanical Garden at Berkeley; Blur: Six Artists/Six Designers in Contemporary Practice, University of the Arts; Close at Hand, Fabric Workshop and Museum; and Relatively Related: Solo of Xiang Yang, SZ Art Center, Beijing. She was awarded residencies at the Smithsonian, Banff Centre for Arts and Creativity and Arcadia Summer Art Program and a Scientific Research Permit at Lassen Volcanic National Park. Friel has a permanent site-specific installation at the University of California Botanical Garden at Berkeley.
Before joining the RISD faculty, Friel worked for over two decades as project coordinator and master printer at the Fabric Workshop and Museum (FWM) developing new works of contemporary art and related exhibitions in an experimental context with artists from across disciplines including Carrie Mae Weems, Chris Burden, James Luna and Teresita Fernandez. She expanded FWM's interdisciplinary studio practice by engaging architects, composers, videographers, industrial fabricators, bird wranglers and scientists to collaborate on artist projects. Friel worked in FWM's Philadelphia and New York studios and established a studio in Oakland, CA that she directed from 1990–99. The FWM projects she realized are in the permanent collections of the Fabric Workshop and Museum, Museum of Modern Art, Museum Moderner Kunst, Los Angeles County Museum of Art, San Francisco Museum of Modern Art, Solomon R. Guggenheim Museum and the Tate.
Friel holds a BFA from Tyler School of Art. She has been a member of the faculty at RISD since 2011 and has served as graduate program director and interim department head of Textiles.
Courses
Fall 2023 Courses
Spring 2024 Courses