Foad Torshizi
Assistant Professor
Image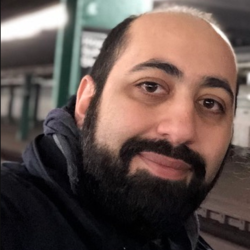 MA, University of Minnesota
PHD, Columbia University
Foad Torshizi is an assistant professor of art of the Islamic world at RISD. He holds degrees in Comparative Literature and Society and Middle Eastern and Asian Languages and Cultures (PhD and MPhil, Columbia University), Art History (MA, University of Minnesota) and Photography (MFA, Honar University of Tehran). Prior to joining the RISD faculty in 2017, he taught graduate students at Tehran University, advanced undergraduates and graduate students at the Università degli Studi di Milano in Italy as well as undergraduate students at Columbia University's Core Curriculum.
Torshizi's research interests are in the areas of global contemporary art, contemporary Iranian and Middle Eastern art, postcolonial theory, ethics of readership, theories of globalization and cosmopolitanism, comparative literature and politics of translation and interpretation. His research has appeared in academic journals both in the US and Iran. Most recently (May 2021) he has published an article in Comparative Studies of South Asia, Africa and the Middle East (Duke University Press) on the works of the prolific Iranian artist Ghazaleh Hedayat and feminism in contemporary Iranian art.
Torshizi is currently working on a manuscript project entitled The Clarity of Meaning: Contemporary Iranian Art and the Cosmopolitan Ethics of Reading in Art History. The manuscript examines the ways in which western disciplinary forms, and more specifically art criticism, return home to circumscribe aesthetic diversity in Iran, demanding that the aesthetic economies of Iranian artifacts align with Euro-American understandings of meaning, value, aspiration and desire.

Fall 2022
THAD-H608-01 THAD Museum Fellowship
Wintersession 2023
THAD-W180-01 Introduction To Iranian Cinema
Spring 2023
GAC-714G-01 Theories Of The Image

GRAD-714G-01 Theories Of The Image

THAD-H102-20 Critical Introduction To The History Of Architecture and Design

THAD-H102-21 Critical Introduction To The History Of Architecture and Design

THAD-H608-01 THAD Museum Fellowship