Leora Maltz-Leca
Professor
Image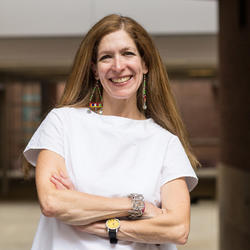 BA, Yale University
MA, Brown University
MA, Harvard University
PHD, Harvard University
on sabbatical academic year 2022/23
Leora Maltz-Leca teaches and writes about contemporary art. She is particularly interested in how artists from the postcolonies and the global south are reshaping late modernism by refusing its most cherished assumptions, its hierarchies and its dogmas.
At RISD Maltz-Leca teaches large lecture courses on global modernism and contemporary art and leads focused seminars on materiality, process, race, critical theory and the artist's lecture. Her MFA seminar, The Gradual Contemporary, brings a range of artists, art historians, and critics to RISD to share with students their divergent takes on the contemporary.
Maltz-Leca has written—especially on contemporary African art—for publications such as Artforum, Frieze, African Arts, Art South Africa, ArteEast as well as Art Bulletin, where she is a member of the journal's editorial board. Before turning to art history, she worked in corporate law and in the international sales and design sectors of the fashion industry. For some recent writing, see her remembrance of David Goldblatt and a short consideration of Pascale Marthine Tayou's chocolate abstractions.
Maltz-Leca holds undergraduate degrees in painting and in philosophy, a background that continues to shape her interest in the stakes of studio materials and processes: both the pragmatics of making and unmaking, and the metaphorics of artistic process as a form of mental processing. Her book on William Kentridge, Process as Metaphor & Other Doubtful Enterprises (University of California Press, 2018), explores how the South African artist renders the physical processes of the studio—cutting, pasting and projecting light—as metaphors for the way we think and live. Her second book (also an upcoming exhibition) titled Material Politics: Matter and Meaning In and Out of the Postcolonies continues to explore the politics embedded in material choices, addressing how a range of contemporary artists plumb the histories and associations of specific substances to materialize the political through their formal.
Maltz-Leca's curatorial and public projects have been funded by the Ford Foundation (2018), the VIA Foundation (2018), and the Robert Lehmann Foundation (2017). Her writing has been supported by a 2016 CAA Millard Mess publication award, a 2011 Creative Capital/Andy Warhol Foundation Arts Writer's book award, a 2011/12 Getty Postdoctoral Fellowship and a 2010 Library of Congress Swann fellowship for animation.
In 2017 Maltz-Leca founded the Redwood Contemporary Arts Initiative at Newport's Redwood Library & Athenaeum, the oldest subscription library and the first public Neoclassical building in the US, and the original American multidisciplinary think-space. Renewing the premise that art and text depend on one another—and that what artists read remains central to what they make—the RCAI organizes lectures, symposia and exhibitions, and partners with other Newport organizations, such as Art & Newport. In June 2018, to launch the Material Politics initiative, the RCAI commissioned Newport's first slavery memorial from Pascale Marthine Tayou. (See Artdailyorg and Artscope for selected 2017 press coverage.)
Recent essays include "The Politics of Collaboration: Drowning the Piano and Other Southern Tales" in the 2016 Routledge volume Collaborative Art in the Twenty-First Century and "The Politics of Excess" for Worldshare, Pascale Martine Tayou's 2016 exhibition at the Fowler Museum, UCLA. "Grounding Robin Rhode" explored the artist's ambivalent relationship to ground—both formal and geographic—on the occasion of his 2014 retrospective at the Neuberger Museum, NY, and "Specters of the Original and the Liberties of Repetition," African Arts (winter 2013) treats the politics of nude female resistance in postcolonial Africa.
Maltz-Leca's writings on William Kentridge include "Process/Procession: William Kentridge and the Process of Change" Art Bulletin (March 2013) and "Thinking about the Forest and the Trees: William Kentridge's Second-Hand Reading" Invisible Culture (2014). She has also written on South African photography: on Guy Tillim for ArteEast, on David Goldblatt, Santu Mofokeng, and Alfred Kumalo for Artforum, on "Lyric Documentary" for Art South Africa, on Malick Sidibé, Marlene Dumas and other artists for Artforum, and on Paul Stopforth for Taxi.