Michelle Duncan
Lecturer - History of Art & Visual Culture
Image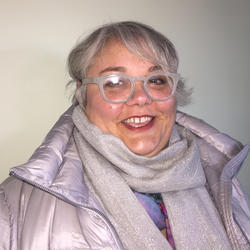 BA, Mills College
MA, Cornell University
PHD, Cornell University
Michelle Duncan is a cultural historian who specializes in the intersections of art and society in 20th-century Germany and Austria. Before receiving her academic degrees, she trained as a classical pianist and opera singer and lived for a decade in Germany and The Netherlands. When she returned to school, she earned a BA (with honors) from Mills College and an MA and PhD in German Intellectual History from Cornell University. Her interdisciplinary work examines the formation of gender, race and ethnicity in national and colonial contexts. In her manuscript Freud and the Problem of Music: A History of Listening at the Moment of Psychoanalysis she investigates how music is a discourse that signals alterity aligned with gender difference and anti-Semitism. And in a study of photographs of soldiers in the WWI POW camp titled Crescent Moon Lager, she examines the physiognomy believed to be indicative of the foreign enemy.
Duncan is the author and translator of several essays on aesthetics and philosophy and guest editor of a special issue of the Cambridge Opera Journal on opera and performance studies. She has received research awards from the Arnold Schoenberg Foundation, the Botstiber Institute, the German Academic Exchange Service (DAAD), the Max Kade Foundation and the National Endowment for the Humanities. In 2014 she was the Fulbright Freud Visiting Scholar of Psychoanalysis at the Freud Museum, Vienna, and Visiting Professor at the University of Vienna. In addition to teaching at RISD, she has taught German Studies, Gender Studies and Media Studies at Brandeis, Brown, Bryant, MIT, Rhode Island College and Wheaton College. She has also worked as a teacher and mentor for Upward Bound, a federally funded academic program for first-generation college-bound students.
In her teaching, Duncan subscribes to Aristotle's theory that learning is best achieved through doing. In other words, the classroom experience should be hands-on and interactive. Thus, her teaching is comprised of interdisciplinary workshops that examine both texts (primary objects) and their (cultural, historical, philosophical and/or social) contexts. She sets up her courses so that students work in pairs and small groups and schedules visits to museums, performances and special collections when possible. Duncan expects students to take responsibility for the learning process but strives to be accessible to them, holding conferences at least once per term. She feels that humor is an effective tool for a positive learning experience.
Fall 2022
THAD-H101-09 THAD I: Global Modernisms

THAD-H101-12 THAD I: Global Modernisms

THAD-H101-13 THAD I: Global Modernisms

THAD-H447-01 Visual Culture In Freud's Vienna
Spring 2023
HPSS-S414-01 Race, Empire and Colonialism In World War I

THAD-H256-01 Expressionism and New Objectivity In 20th Century German Art