Suzanne Scanlan
Assistant Professor
Image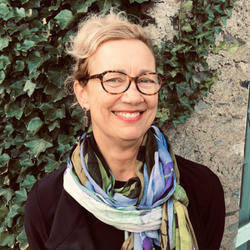 BA, Stonehill College
MA, Brown University
PHD, Brown University
Suzanne Scanlan's research centers on women as artists, patrons and collectors from the Renaissance through the Modern period. In 2010 Scanlan joined the faculty at RISD, where she teaches a broad range of courses, including History of Drawing; Power, Dependence and Social Welfare in Early Modern Visual Culture; and Baroque Rome. She has developed several collaborative courses with studio faculty, most recently a travel seminar exploring the role of the artist on the Grand Tour.
Scanlan is the author of Divine and Demonic Imagery at Tor de'Specchi, 1400–1500: Religious Women and Art in Fifteenth-Century Rome (Amsterdam University Press, 2018). In spring 2017, her co-authored article Death Did Not Become Her: Unconventional Women and the Problem of Female Commemoration in Early Modern Rome won the prize for Best Article from Early Modern Women: An Interdisciplinary Journal.
Scanlan's current book project— partially funded by a grant from the Rhode Island Council for the Humanities through the National Endowment for the Humanities and the RISD Professional Development Fund—traces the travels, diverse relationships and prolific career of the American Modern artist Esther Pressoir.
Fall 2022
THAD-8900-01 THAD Independent Study

THAD-H248-01 Iconoclasm

THAD-H441-01 History Of Drawing
Wintersession 2023
THAD-8900-01 THAD Independent Study
Spring 2023
THAD-H102-06 Critical Introduction To The History Of Architecture and Design

THAD-H102-07 Critical Introduction To The History Of Architecture and Design

THAD-H163-01 Power, Dependence and Social Welfare In Early Modern Visual Culture

THAD-H441-01 History Of Drawing