Social Justice and Sustainability Front and Center for 2023 RISD Maharam Fellows
Image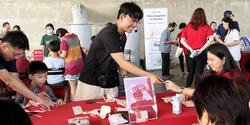 RISD's 2023 Maharam Fellows are using their design-thinking skills to address issues such as sustainability and social justice while working at government and nonprofit organizations around the world. The program, which started in 2012, offers select RISD students the opportunity to participate in fully funded summer fellowships through the generous support of New York-based textile company Maharam.
"It is exciting to see the 2023 Maharam Fellows bring their immense creativity and critical thinking to impactful organizations throughout the world from Singapore, Lebanon, India, Canada, and China as well as close to home in Providence, Boston, Los Angeles and Portland Oregon," says Career Center Director Kevin Jankowski 88 IL. "I'm incredibly inspired by their passionate commitment to address issues of social justice, community activism, environmental protection, and climate change as they apply their RISD education to these critical global topics to make positive change in our world."
Aya Abdallah MFA 24 DM spent the summer in Beirut at Anti-Racism Movement, a grassroots collective that aims to eradicate the exploitative Kafala system—a legal sponsorship framework that binds workers' immigration statuses to their employers. She used animation to narrate the struggles of local migrant communities. Chenxi Wang 23 CR is also working to overcome a lack of support for marginalized communities, seeking educational resources for those living in Yizhou, Henan, China with the nonprofit Rye Wave.
Image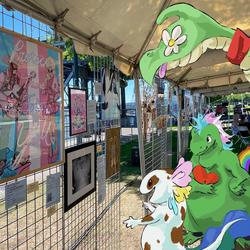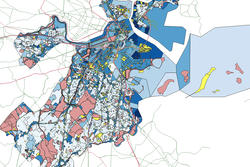 Closer to home, Samuel Aguirre MFA 24 FD helped to design a sculpture that will act as a landmark for What Cheer Flower Farm, a Providence-based organization dedicated to donating thousands of flowers to locals each year. "I'm tickled with the opportunity and grateful for the responsibility," says Aguirre. "It's a creative outlet in the interest of the greater community, with the guidance of hands-on, nonprofit leadership to make it happen."
Viola Tan BArch 24 split her time between two different projects centered around advancing housing affordability in Boston at The Boston Mayor's Housing Innovation Lab (iLab), while Graciela Batista 23 IL spent the summer in Los Angeles teaching children and teens how to use words and images to tell stories. Batista worked with 826LA, a nonprofit organization whose mission is to support youth in their creative and expository writing skills.
Also stationed on the West Coast was Carin Carrion 25 IL, who leaned into their background in illustration to uplift the voices of marginalized LGBTQIA+ artists and community members at Portland-based organization Q Center. Moving northeast, Henry Ding BArch 26 returned to his hometown of Toronto, Canada to work with local queer archive The ArQuives. During his time there, Ding helped bring their collections to life through exhibitions, installations, digital resources and community workshops.
"My projects and initiatives are all based around discovering what home and domesticity was like for Toronto's historic queer community," says Ding. "It's been one of the most reflective, enriching and unexpected experiences I've had yet as a student at RISD."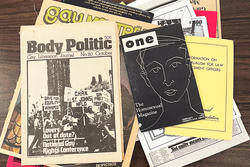 "I am deeply grateful for the life I was able to experience here... and the person I was able to become because of all of this."
Across the globe in New Delhi, India, Aanya Arora BArch 24 did a deep-dive into recycling and sustainable consumption at the Chintan Environmental Research and Action Group. "My time in New Delhi has been filled with enriching experiences and eye-opening observations," she says. "The city is rapidly embracing technology, and I've noticed a growing effort to raise awareness about environmental issues." While there, Arora developed educational tools and methods to address local issues of poverty, gender equity, nutrition and climate change.
Meanwhile, Joel Yong 25 ID spent his summer months developing climate-based lesson plans for young students, exploring food waste as a biodegradable material and developing local programming at environmental organization Terra SG in Singapore. He also worked closely with Singapore's Ministry of Sustainability, the National Singapore Sustainability Gallery and local telecommunications company Singtel, where he led the upcycling program. "My time in Singapore has felt formative, to say the least," he says. "I am deeply grateful for the life I was able to experience here... and the person I was able to become because of all of this."
Read more about this year's projects in the fellows' own words
Isabel Roberts
August 15, 2023