RISD Students Travel Abroad for Cross-Cultural Summer Programs
Image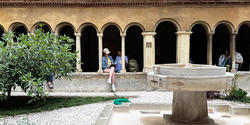 RISD students traveled to Mexico, Japan, Denmark and Italy this summer to take part in intensive, three-week RISD Global classes offering cross-cultural perspectives on art and design. Representing 13 different majors, the undergraduate and graduate students explored everything from the international influence of Japanese art and design to geology in collaboration with the European Cultural Academy in Venice.
"RISD offers so many travel options for all personalities and types of students," says Program Advisor Catherine Best. "It's a real privilege to facilitate these programs and set students up to experience something they'll love."
Best joined Experimental and Foundation Studies (EFS) Associate Professor Adela Goldbard and students in Mexico for her course, Knowledge from the Land: Collaborative Art + Research. "Adela's connection to artists and historians throughout Mexico is extensive," says Best. "The structure of the workshops, tours and talks gave students the flexibility to explore new mediums but also helped build a sense of community."
During the trip, students visited Mexico City, San Miguel de Allende and Oaxaca City for workshops, studio visits, lectures and dinners with local artists. "The course aimed to make visible the challenges that globalization, gentrification, violence, corruption and migration bring to the inhabitants of these Mexican cities," says Goldbard. "We reflected on how colonial power still operates in the postcolony [and used the research to create] collective and collaborative projects."
Image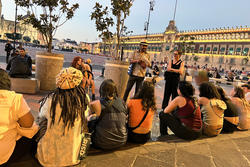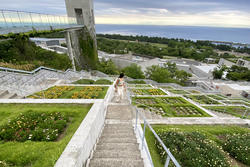 Across the Pacific Ocean, students in Design Culture: From 263 Years of Isolationism to International Influence explored Japan through visits to Tokyo, Kyoto, Osaka and the islands of Naoshima and Teshima, commonly known as Japan's "art islands" due to their museums and distinct outdoor art installations. The course, taught by Interior Architecture faculty member Maryrose McGowan, explores the contemporary international influence of Japanese art and design. "This remarkable country has the cultural remnants of 263 years of isolationism," she explains, "and yet its influence on design and technology can be felt throughout the world."
McGowan noted that throughout the trip, students built relationships with local artists, including meeting the designer of the "ing" chair at Kokuyo, the largest commercial furniture company in Japan. "The designer introduced us to an art collector who currently runs a gallery in what was originally his home designed by Pritzker Prize-winning architect Tadao Ando," she says. "The gallery owner graciously offered to give us a private tour. The young artist whose work was currently on display was also present, and we left with an open invitation to return."
The third new course for 2023, Stones of Venice: A Critical Geology, was an exploration of Venice geology taught by Amelyn Ng, assistant professor of Architecture, and EFS Assistant Professor Haley MacKeil. Coinciding with the 2023 Venice Architecture Biennale, the course was designed to address the inundation, material erosion, physical traffic and salt action of the city's geological crust.
The goal of the course, according to Ng and MacKeil, is to "experience Venice on a multitude of levels and access both local and international approaches to creative work." During the trip, students visited studios, sat in on artist talks and worked their way through museums and gallery spaces that speak to the theme of the course.
Two courses that were popular in previous summers were also offered this year. Perspectives on Piranesi, taught by Landscape Architecture faculty member Nick De Pace, offered a deep dive into the work of 18th-century Roman engraver Giovanni Battista Piranesi. And Design Seminar and Workshop, taught by Furniture Design faculty member Nathaniel Smith, offered an immersion into the unique design culture of Denmark.
Reflecting on the Mexico trip, Goldbard adds, "it was an amazing cohort of students and I miss them already," she says. "I am sure they created bonds amongst themselves and with people in Mexico—artists, master artisans, activists—that will last forever. This was a great experience for me too, and I will definitely do it again."
Isabel Roberts / top image credit Nick De Pace
August 1, 2023