Summer Exhibition at RISD Highlights Work of Queer Artists
Image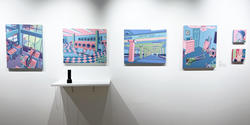 "In this current political climate it is more important than ever to showcase, highlight, support and protect our LGBTQIA+ siblings within our community," says Ellie Fortier, the Illustration department's MFA program academic coordinator and ISB Gallery manager. "Pushing back against social stigma, hate speech and anti-LGBTQIA+ legislation is a necessity that is each and every person's responsibility."
Fortier's statement is posted on the wall of the ISB Gallery, where As We Are was on view through July 10. She curated the exhibition, which was designed to amplify the work of local queer artists during Pride month. In addition to soliciting work from the RISD community, Fortier reached out to local organizations such as youth transitional housing nonprofit Haus of Codec and drop-in center for young LGBTQIA+ community members Youth Pride Inc. Ultimately the show featured work by more than 20 Providence-based artists, including everything from photography to bookmaking to costume design.
"Galleries like this are vital as they offer a place to uplift and celebrate local queer artists," says rising junior Leon Calzone 25 GD. "Queer art and queer life are sacred, and I hope that the RISD community continues to show up for both."
Fortier chose to display the thesis work she completed at Massachusetts College of Art, a series of acrylic pieces painted on maple panels that speak to her experience living with autism. "The work focuses on the autistic experience in day-to-day life, such as sensory overload," she explains. The Laundromat, for example, invites the viewer to use a black light, which reveals and illuminates jarring lines and hidden text in the painting that jump out at the viewer and provide a glimpse into the artist's world.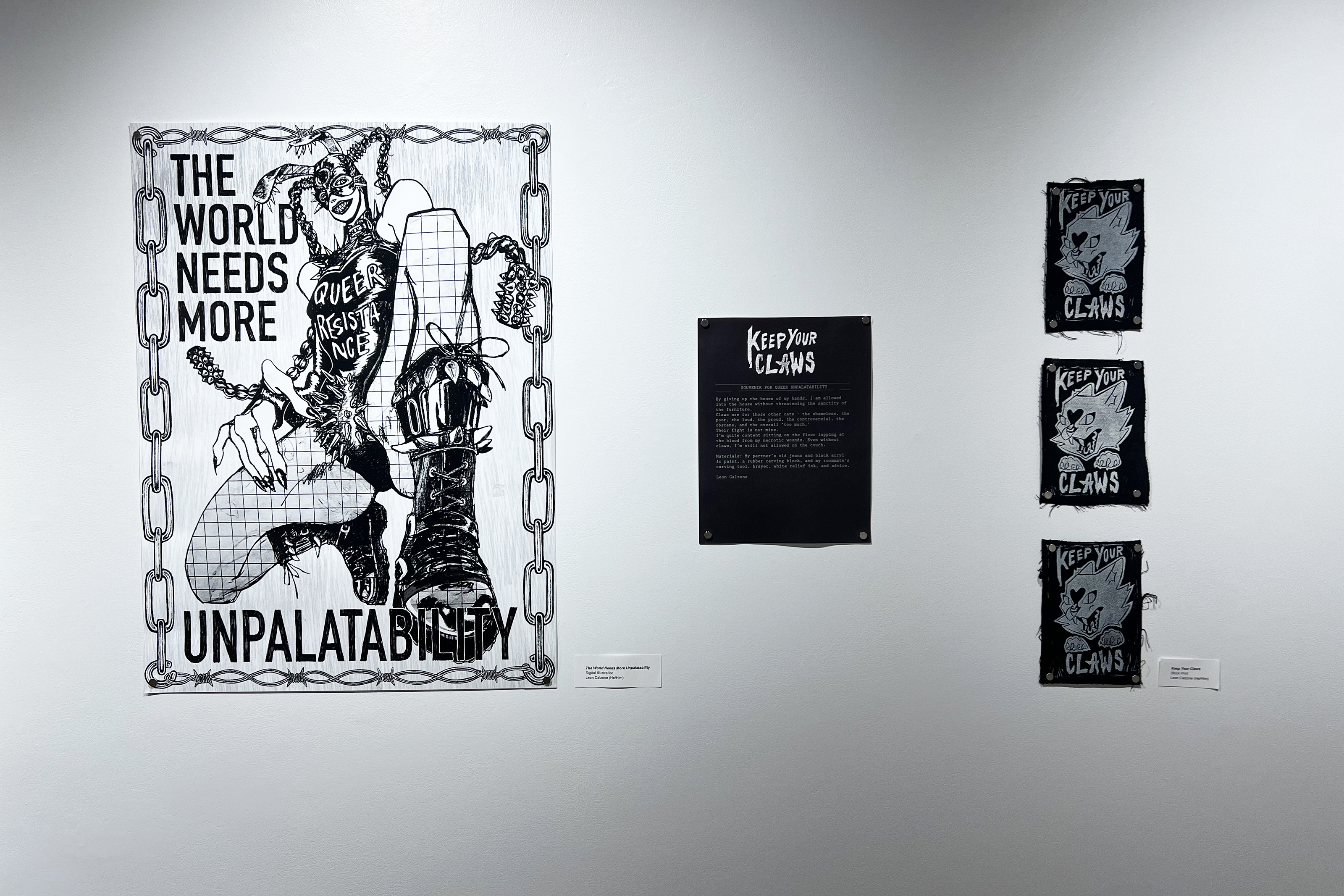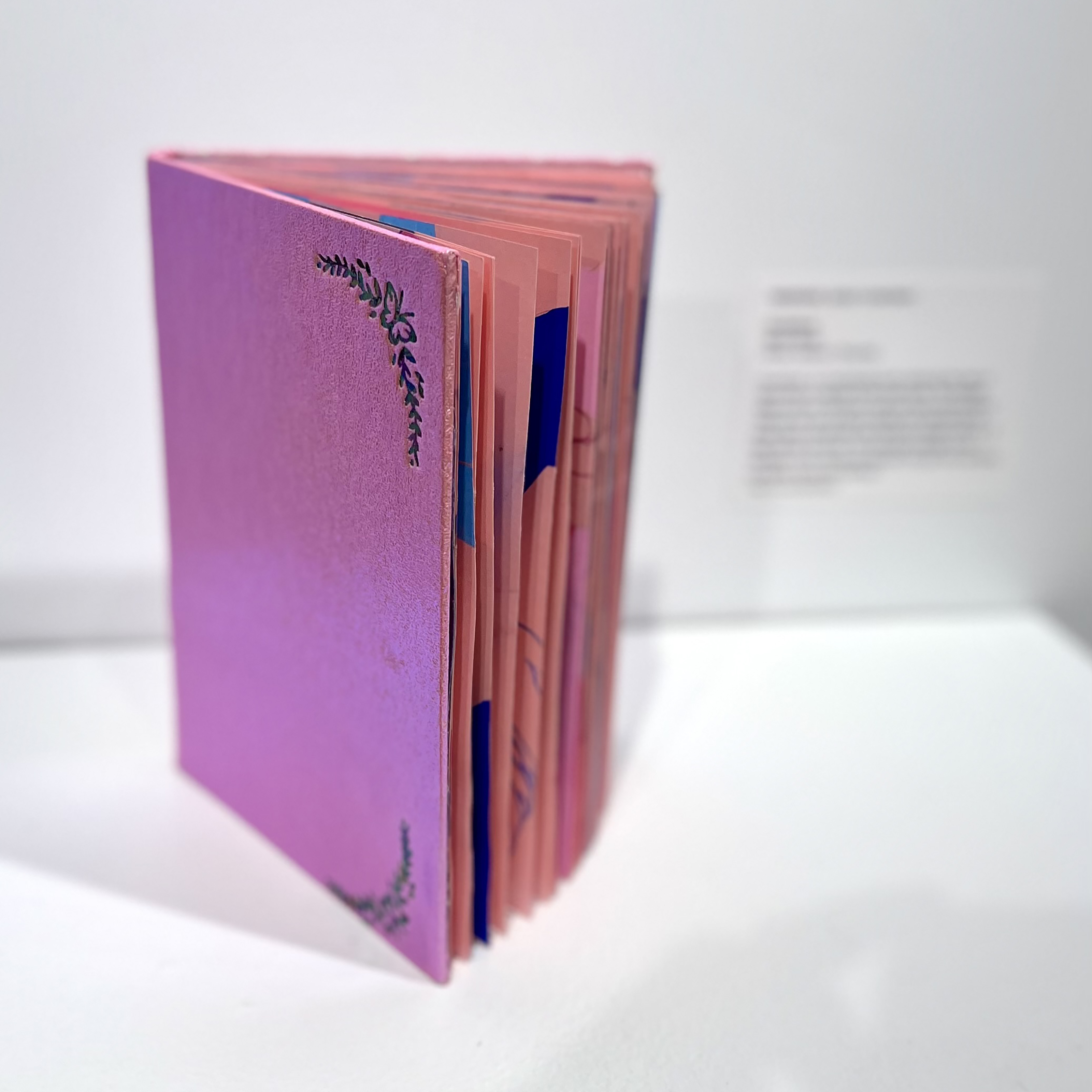 Calzone addressed the topic of the show head-on in his piece The World Needs More Unpalatability. "My work aims to honor queer defiance, showcase the power in unpalatability, and call for greater unity within the queer community," he says. "With the flood of oppressive legislation being passed that seeks to threaten queer existence, solidarity is the driving force behind queer liberation."
Also included in the show was Calzone's Keep Your Claws, a "souvenir for queer unpalatability." Made from a variety of materials including his partner's old jeans, acrylic paint, "and advice," he notes, the piece displays a poem he wrote that addresses the notion that queerness is often seen as "too much." 
In contrast, Adrian Jackson 23 PR created a handmade book with no writing at all. The book, Cockblock, explores the idea of censorship in regard to the male nude through illustrations of unsolicited nude photos (or "dick pics") the artist has received. Jackson explains that by simplifying the images in their illustrations, they aim to detach the identity of the individual from the photo in order to take the power back. "The removal of access to the identities of the individuals depicted through their genitalia is a denial of sex and intimacy," they add.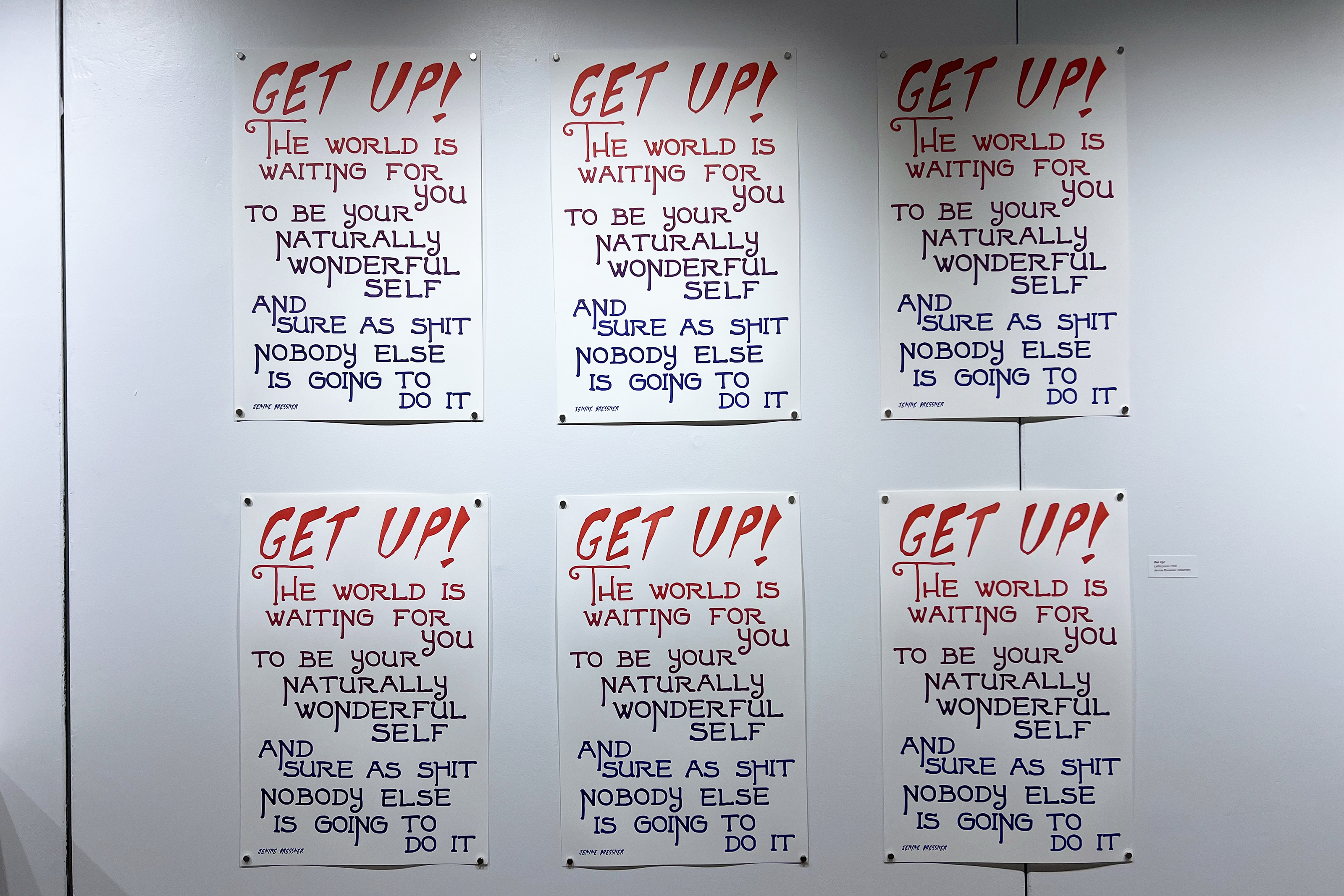 "Galleries like this are vital... . Queer art and queer life are sacred, and I hope that the RISD community continues to show up for both."
Grad student Jenine Bressner MFA 24 IL contributed a series of prints called Get Up!, which speaks to the need to live life authentically as a queer person. "I was prompted to make this piece because a dear friend was struggling with depression and didn't want to get out of bed," they say. "I wanted to remind them, 'go, be yourself and let people love you because you're more wonderful than you realize! We all have unique gifts to give. Get out of your own way.'
"I've lived in Providence for a long time," Bressner adds, "and feel so heartened to witness increased queer visibility every year, not just from explicitly Pride-focused aesthetics and events, but from the normalization of communicating pronouns and gender expressions beyond the binary as well as public displays of affection. I'm feeling safer to be myself."
Isabel Roberts / top image: work by Ellie Fortier
July 11, 2023