Eckhaus Latta Follows Its Own Lead
Image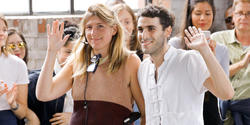 When Mike Eckhaus 10 SC and Zoe Latta 10 TX first rented a space in Brooklyn together, they didn't quite realize that what started as an experimental studio practice would quickly mushroom into a fashion industry phenomenon. Among their growing accolades, Eckhaus Latta continues to draw a lot of media attention for their largely androgynous apparel and fabulous, twice annual runway shows.
In 2016 they made Forbes' list of 30 Under 30 outstanding talents and were invited to edit A Magazine Curated By, creating something of a spoof on the advertisement-filled September issue of a mainstream fashion magazine like Vogue. By that fall, the actual Vogue was applauding "the buzzy brand's most coherent and accomplished show yet," referring to the New York Fashion Week debut of their spring/summer 2018 collection.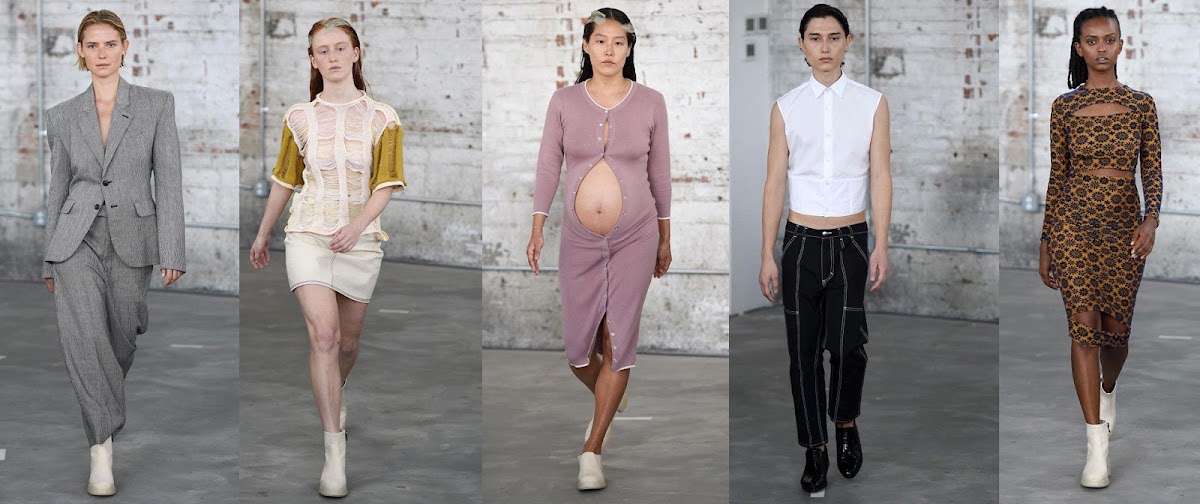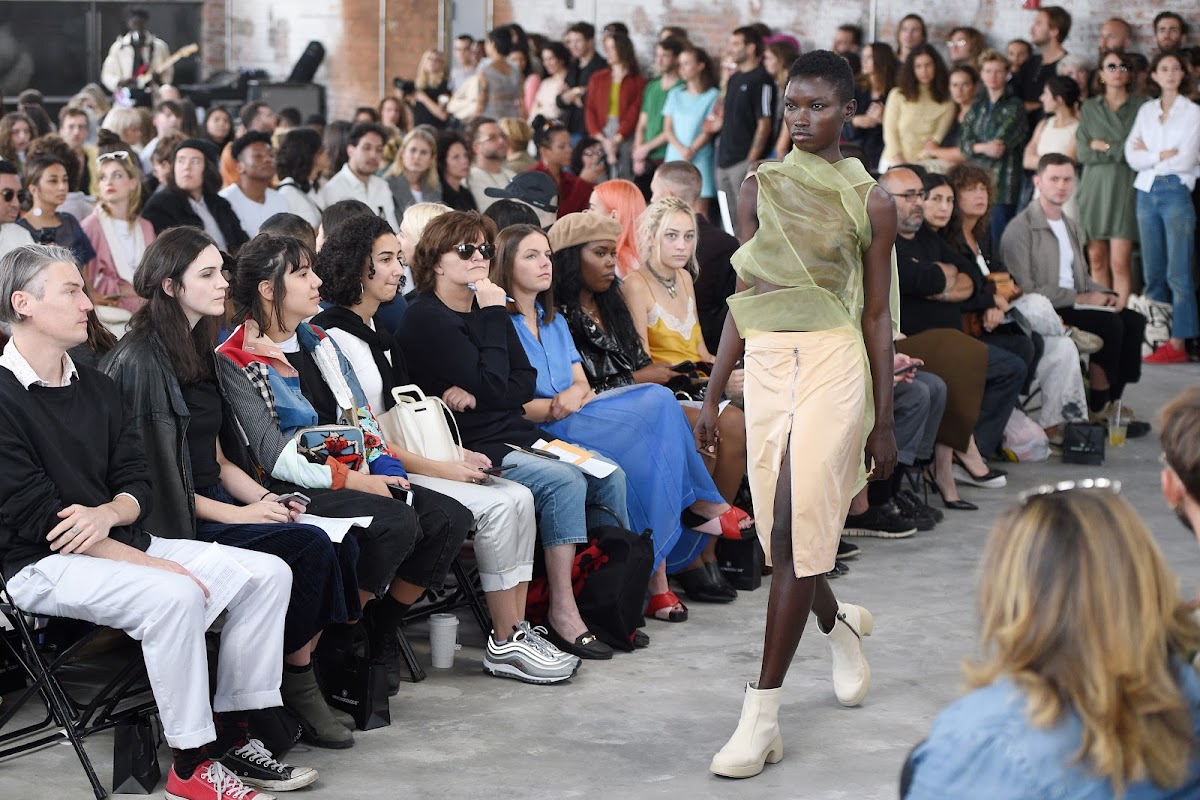 Now the duo known for confounding definition is pleasantly surprised to be making a cultural impact through its first solo museum exhibition—at none other than the Whitney in NYC. Aptly titled Eckhaus Latta: Possessed, the show—much like their practice—questions the connections between art, design, clothing, consumption and commerce. "They are known for using unexpected materials, emphasizing texture and tactility in their designs, and for incorporating writing, performance and video into their practice," note the curators.
Possessed melds together "once-distinct disciplines like dance, fashion, art, photography, food and performance," writes David Colman in The New York Times, offering a show in tune with the growing "blurrealist trend" among the cultural vanguard. "All together, this kit and caboodle is really something else entirely, a kind of conceptual art installation that aims to encapsulate today's fashion system (if not today's galloping consumption of all kinds) through a distillation of our experience with shopping and clothes into a three-chambered feast for the eyes."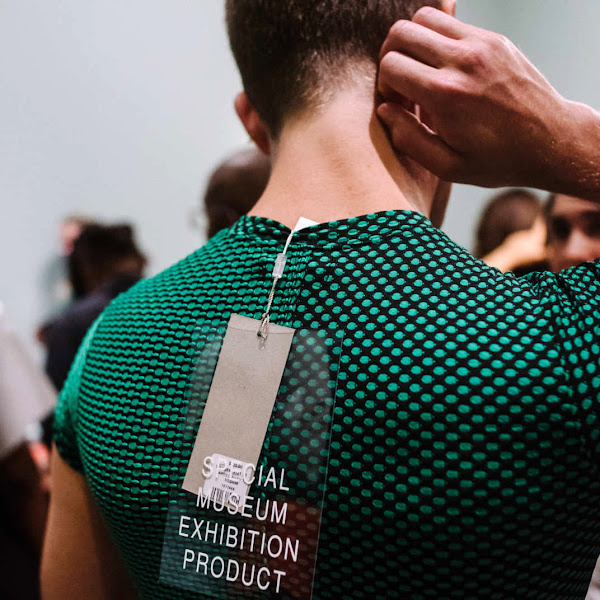 As part of the multifarious exhibition, the Whitney agreed to let Eckhaus and Latta install a pop-up shop outside one of the galleries—the first time it has sanctioned sales transactions outside of its own museum shop. Museum goers are invited to try on and buy clothing from a collection made specifically for the event, with tags that read "Special Museum Exhibition Product" and products emblazoned with statements like "I Was On the American Flag's Website."
While the crowd at the August 3 opening initially didn't know what to make of the blatant commingling of art and commerce, by the end of the night they almost bought out the entire inventory. "We didn't have any expectation in terms of how the clothes would actually sell," Latta told The Cut, pointing out that the idea was to create "an experience." But with the exhibition set to continue through October 8, she adds: "It's a little overwhelming. We might have to make more stuff."
Connecting through RISD
Since Eckhaus majored in Sculpture at RISD and Latta in Textiles, neither one had any experience in the world of fashion when they started out. "But both of us were really interested in making work for the body," Latta explains—and both wanted to continue experimenting after graduation.
"For us there has always been this community of people who we graduated with at RISD and who have been integral to the practice," Eckhaus says. "It's interesting how the relationships you form at school really do carry forward when you leave and figure out the kind of creative landscape you want to make."
"It's interesting how the relationships you form at school really do carry forward when you leave and figure out the kind of creative landscape you want to make."
Like so many of their peers, both Eckhaus and Latta moved to NYC after graduation, trying to figure out next steps to affording a studio and continuing the creative explorations they had started at RISD. Latta set up shop as a print designer and would translate both her own designs and drawings by friends into fabric patterns that she then tried to sell to large companies. The downside? "I quickly learned that in selling intellectual property," she says, the buyer is "buying the right to erase your name off" the design and "own your ideas."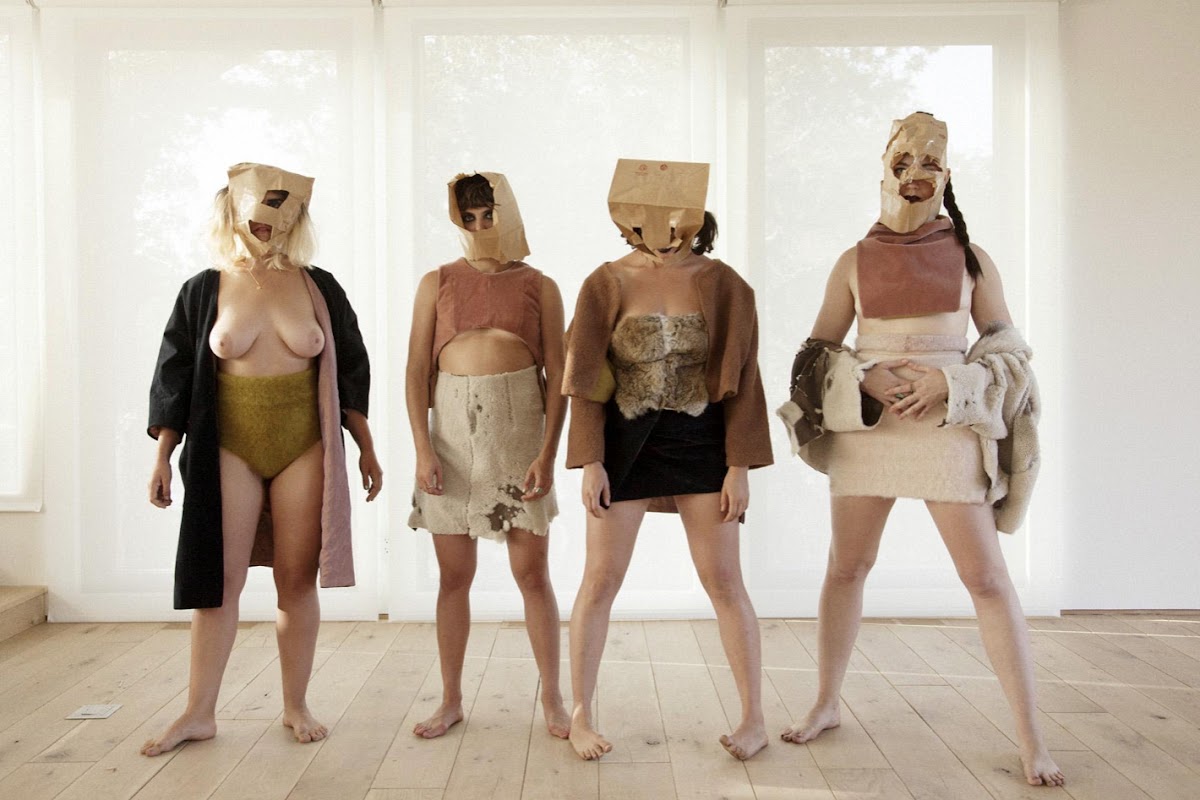 For his part, Eckhaus was pleased when his Sculpture portfolio opened the door to new opportunities. "In the kind of fluke experiences that happen after you graduate," he explains with a grin, "I was able to get a job designing men's accessories at Marc Jacobs. So that was pretty cool at the time, and I had a crash-course experience in what it was like to work at a large fashion company in New York."
With day jobs in place, they had rented a tiny studio space together in Williamsburg and somewhat on a whim, decided to apply to an international fashion competition, which challenged designers to make one outfit and design eight others. "We did it in 72 hours," Eckhaus explains, "and then decided to make all nine looks—and have a fashion show."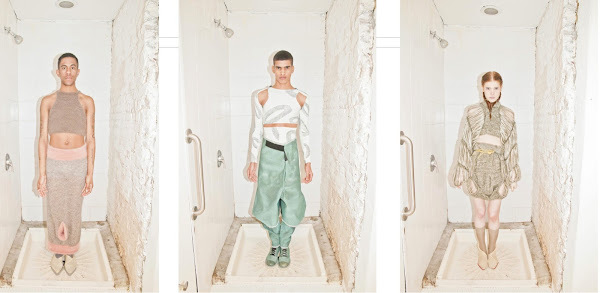 "We had no idea how to make clothing," Latta interjects, "or [rather] how to make clothing so someone else can understand it or you can make it again. That's a very different skill set that we were not trained in." So while openly admitting to not knowing what they were doing, the two are able to offer multiple examples of how not knowing has driven the development of their burgeoning partnership every step of the way
"Our friendship kind of started by both of us teaching each other things and learning things together," they say. And although that first experimental collection of clothing "ended up in a dumpster somewhere in the south of France," the experience formed the kernel of a big idea that continues to take shape.
Grey area
These days given the media attention their projects attract, Eckhaus and Latta are constantly being asked whether they consider themselves to be artists or fashion designers—as if one precludes the other. "For us, if it wasn't getting asked of us," says Latta, "we wouldn't ask it of ourselves—ever. That grey area and not needing a definitive label is always where we've been the happiest."
"That grey area and not needing a definitive label is always where we've been the happiest."
Eckhaus concurs. "Why does everything need to be a one-liner or an elevator pitch?" he asks. "Why does everything need to be so easily understood?"
Whether using their friends as models, staging their runway shows in gritty venues, getting an industry sponsor to screenprint artsy towels for a catwalk or selling clothing in a hallway of one of the most famous contemporary art museums in NYC, Eckhaus Latta's unorthodox approach comes naturally.
"We're always playing around with how to activate people in clothing in a manner that's not necessarily trying to push against the grain," Eckhaus notes, "but is about marching to the beat of our own drum. That's something we've always been in tune with."
—Liisa Silander
August 6, 2018