A Virtual Feast
Image
The only real regret from those who have had the pleasure of seeing RISD faculty member Mattia Casalegno's intriguing culinary installation Aerobanquets RMX—which wraps up a hugely successful run at the James Beard House in NYC this month—is that they can't post their unusual dining experience to Instagram.
Yet Aerobanquets—a virtual reality project created in partnership with restaurateur Roni Mazumdar and chef Chintan Pandya of Adda and Rahi, both in NYC—is in part a pointed response to this social media phenomenon, the Italian-born artist notes.
"We're so obsessed with posting, sharing and commenting on images of food that taste is becoming an afterthought," laments Casalegno, who teaches students in three RISD programs: undergrads in both Illustration and the Computation, Technology and Culture (CTC) concentration and grad students in Digital + Media.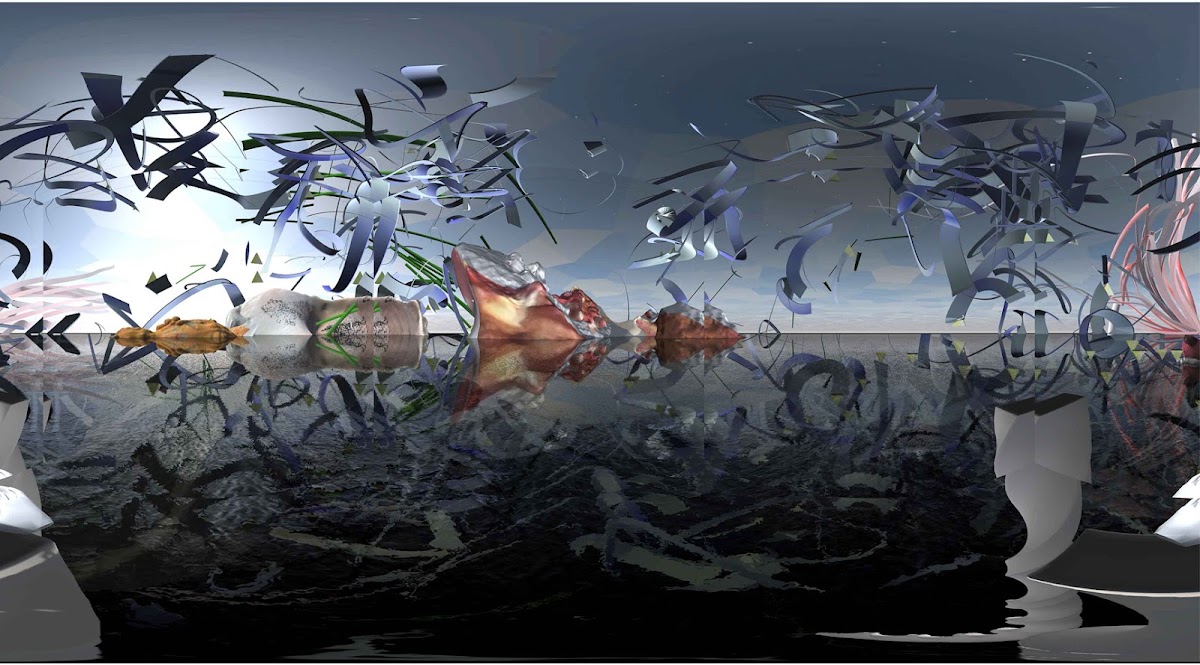 Casalegno's project paradoxically elevates flavor by interpreting it in a virtual space. The bite-sized food that people eat during the seven-course Aerobanquets meal is in fact beautifully presented—but diners don't see that. What they do see is digitally animated bursts of color and shape that evoke the essence of actual flavors.
"The food that arrives on floating platters resembles nothing you've ever ingested," notes Emily Heil in The Washington Post. "Tiny orbs circulate some bites, others look like spiky sea urchins...."
Ultimately, she adds, "It's delightful—plates and spoons fly around your head, and when you reach out to touch them … poof! They slide out of reach and disappear."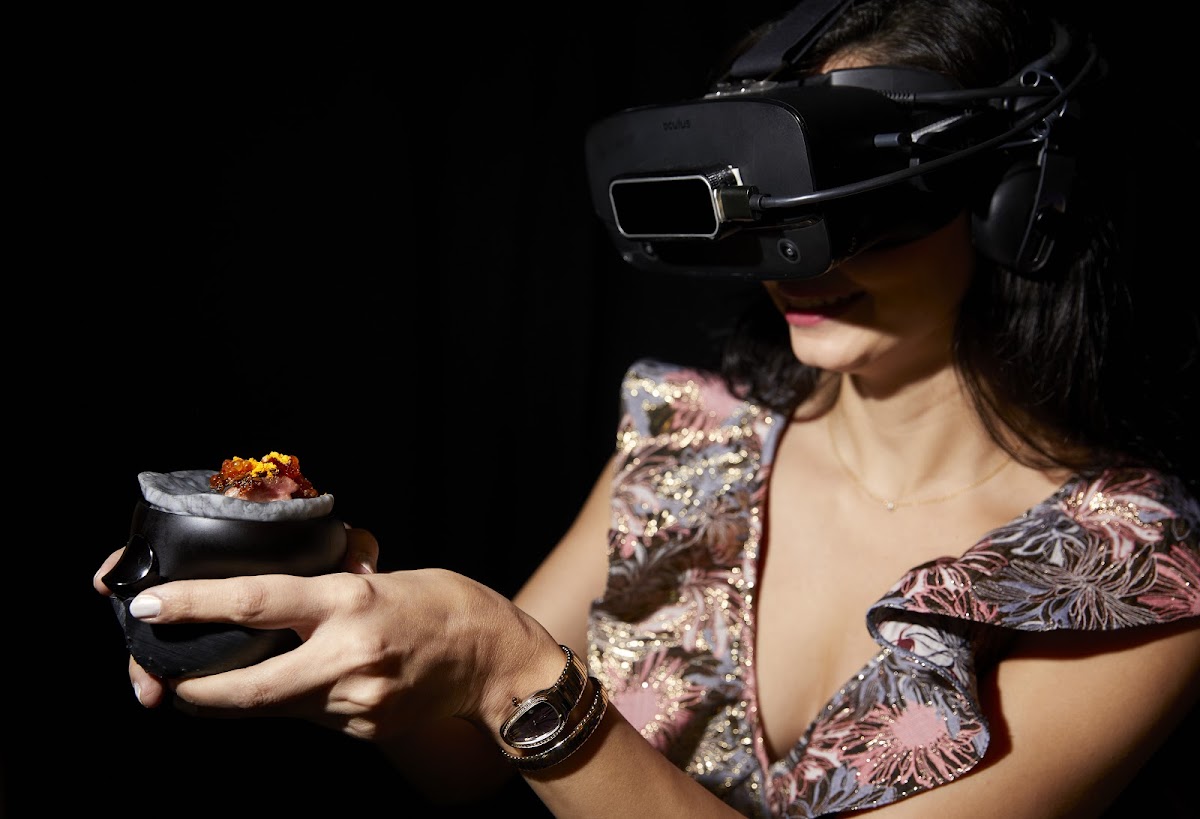 "Once immersed in the new reality of Aerobanquets," Casalegno says, people find themselves thinking about taste again, "as if eating for the very first time."
And this is the point. Now that almost everyone is attached to a smart phone, "we live our lives more and more detached from the physicality of reality," he told the Post. "I wanted to work to bring us back to the realness, and eating is one of the most real things you can work with."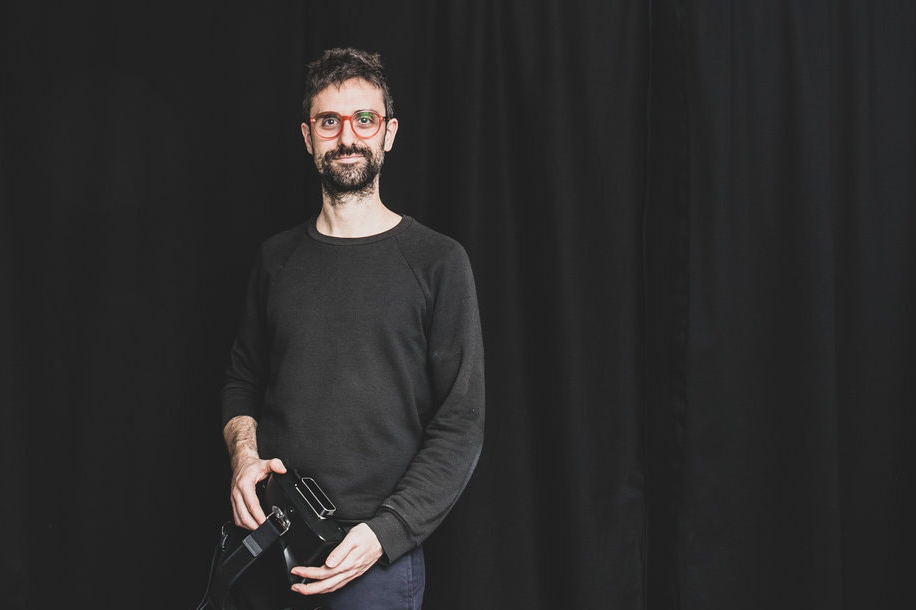 Growing up immersed in the rich culinary history of Naples, Italy, Casalegno has always seen food "as a primordial form of expression and one of the first forms of art"—one he's excited to explore via a creative practice focused on inspiring socially and environmentally just relationships between people and technology.
"I wanted to work to bring us back to the realness [of life]."
"I'm interested in new media technologies and their relationship to the contemporary condition," he says, "and in trying to rework their cultural role through misapplication and adaptation, rewiring and hacking, pseudo-functionality and accident."
Casalegno first began experimenting with perceptions of taste two years ago, developing a series of mixed-reality works called Immersive Gastronomy during an artist fellowship at the Chronus Art Centre in Shanghai, where Aerobanquets subsequently debuted in 2018.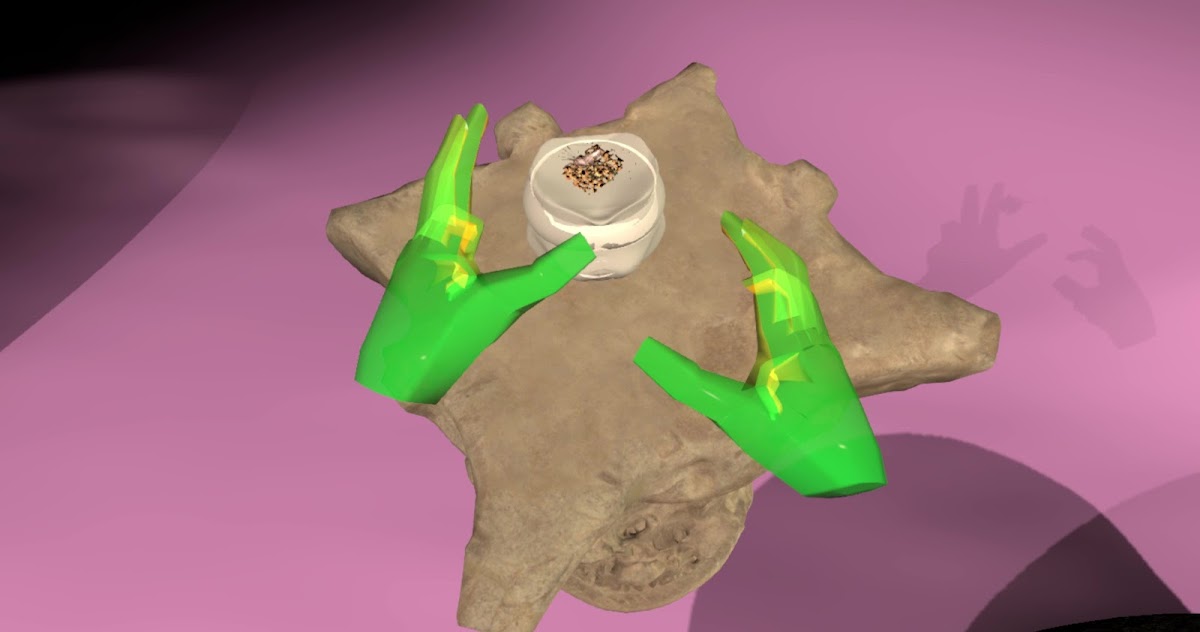 One of the goals was also to explore the idea of the "total work of art"—one that engages all the senses—as conceived by the early 20th-century Futurists and as articulated in FT Marinetti's fanciful, post-capitalist manifesto The Futurist Cookbook, published in 1932.
"There aren't any out-of-the-box solutions that integrate food with VR," Casalegno says in explaining the challenges of executing the project, "so we had to start from scratch"—from designing custom-made vessels that participants hold to writing software to visualize flavors.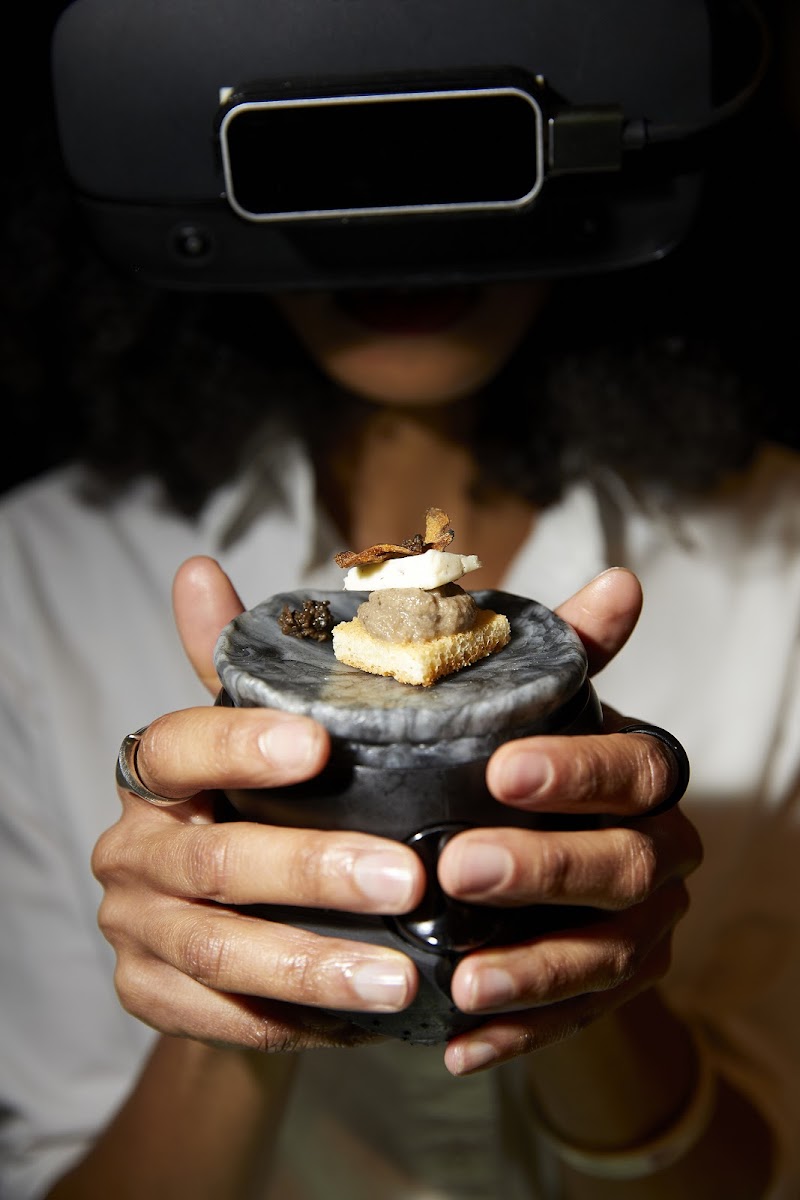 "A lot of the work also went into content creation," Casalegno recalls, "and into designing a storyline inspired by the Futurists… but also critical of their utopian ideals."
The Futurist Cookbook helped inspire the narrative through-line, which features the Greek goddess Persephone (as voiced by author and Top Chef judge Gail Simmons), while Niki Segnit's book The Flavor Thesaurus informed the input data for visualizing flavor profiles like meaty, mustardy, floral-fruity and more.
"There's something organic and serene about many of the images," Amelia Nierenberg writes in a New York Times review, "which Mr. Casalegno has created with remarkable beauty and precision. Renderings of food fall from above or bloom on the periphery, doubling as instruments, as architecture, as meteors."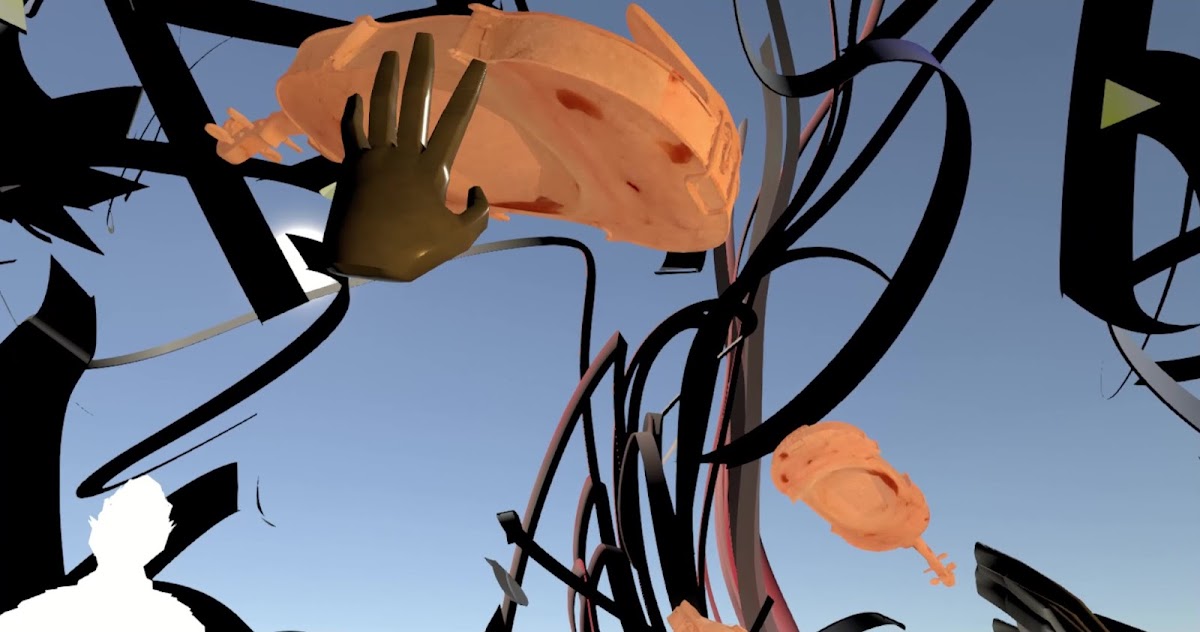 The ideas about technology that Casalegno explores through Aerobanquets also come up in the conversations he has with students at RISD.
"We talk a lot about the critical use of technologies," he says—"how they reflect shifts in society and relate to larger anthropological, ethical and moral discourses and [about] whether we use their incredible potential towards exploitation and subjugation, or in service of more just, inclusive societies and restoring balance between people and our environment."
"As a design tool, there is enormous potential in VR... as a language for telling interactive, immersive stories...."
Recently Casalegno has been helping to infuse more VR into the Illustration curriculum: in the fall, he taught a new course called Augmented Design that leverages advanced technologies recently acquired by the department.
"As a design tool, there is enormous potential in VR for tridimensional drawing and nonlinear animation," he says, "and even more as a language for telling interactive, immersive stories that blur the differences between passive spectators and active participants."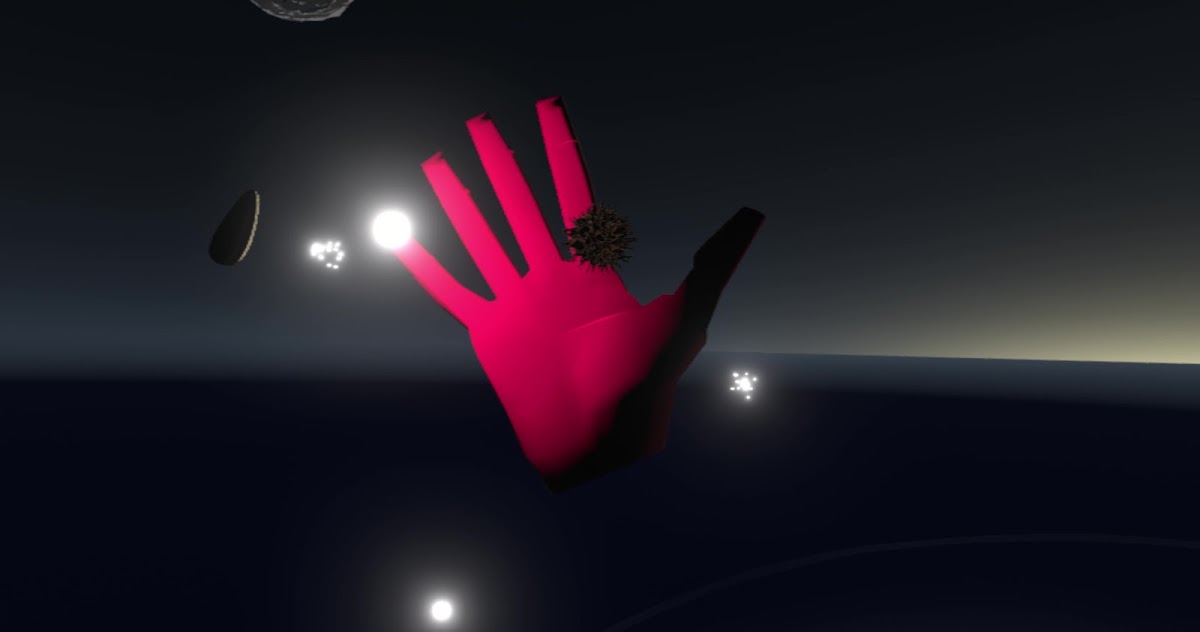 "RISD is quickly positioning itself at the forefront of the digital arts."
In addition to the emerging CTC concentration and recently established spatial audio studio, the Illustration department's investment in VR makes RISD an especially exciting place to explore the intersection of technology and the arts, observes Casalegno.
"I see a lot of refreshing enthusiasm from students towards new languages like VR, augmented reality and immersive arts in general," he says. "RISD is quickly positioning itself at the forefront of the digital arts."
—Robert Albanese / images courtesy of Mattia Casalegno Studio