No Turning Back
Image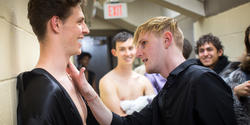 You could easily imagine a rock star wearing the skinny leather pants and lush multicolored fur jackets created by new Apparel Design graduate William Lathrop 18 AP. But the designer insists that he's making clothing for the average guy. "I'm designing super high-end men's couture that's all about embroidery and embellishments to give men more options," he says. "Most men wouldn't think of exposing the front of their legs, but if you present them with a cool-ass pair of lace-up pants, who wouldn't want to?"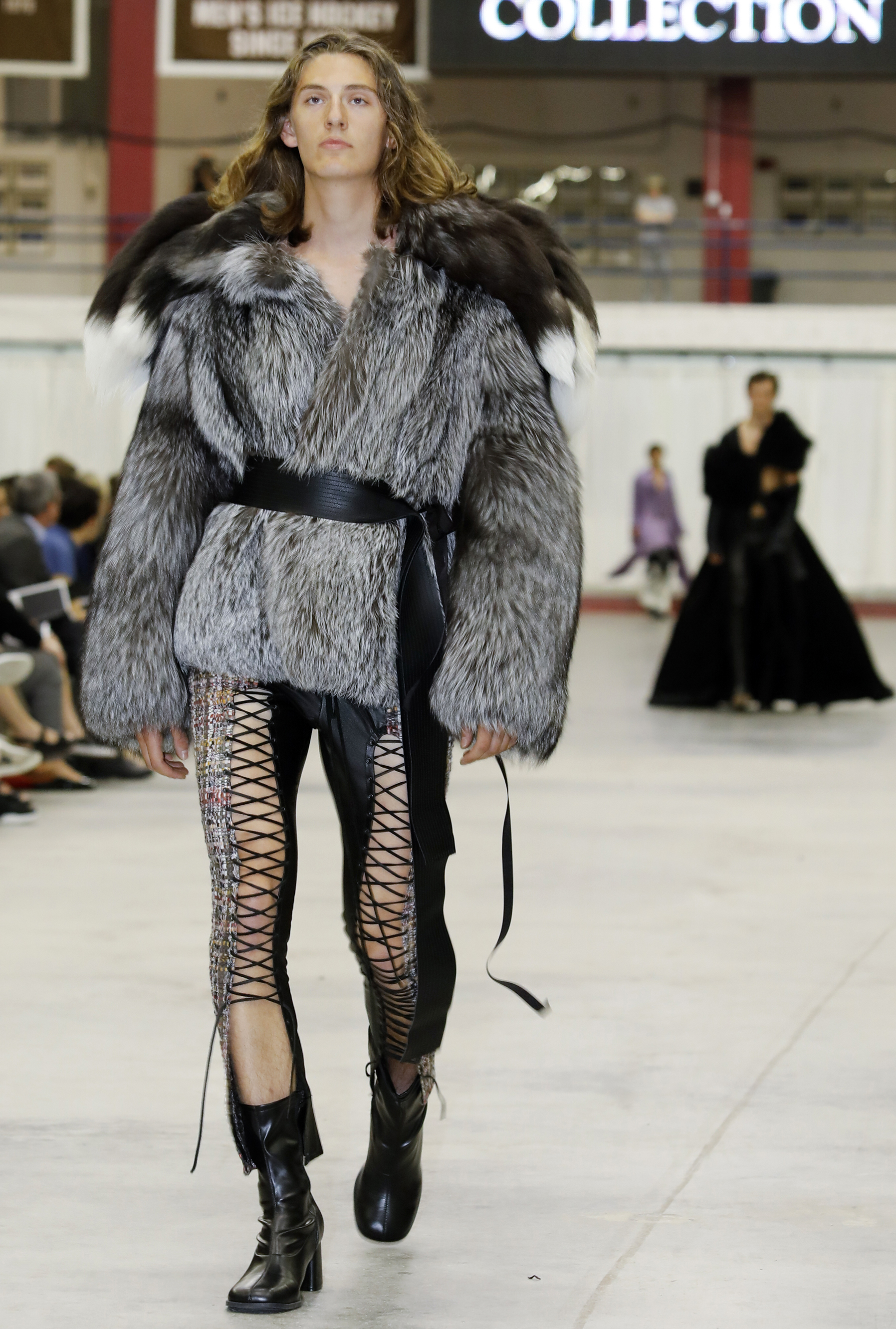 Lathrop remembers that when he visited RISD as a prospective transfer student, most students admitted that their idea of fun was working in the studio late into the night. "I'm all about working," he says with a laugh, "so I knew RISD was the right choice for me."
After earning an associate's degree in Fine Arts at Bucks County Community College in Pennsylvania, Lathrop was set on pursuing a degree in menswear design and looked at Parsons as a strong possibility, too. But what he "immediately loved about RISD's Apparel Design department is how small it is," he explains. "I didn't know what I was doing as a designer, so I really needed that one-on-one attention."
"I didn't know what I was doing as a designer, so I really needed that one-on-one attention."
When he arrived at RISD, Apparel students were excited about the department's new studios at 189 Canal Street. His class was also the last one required to focus on women's wear during sophomore year, which was a challenge for him since he has always been drawn to men's fashion. "I was in Maria Canada's section, and she's very strict," he says. "I loved her for that."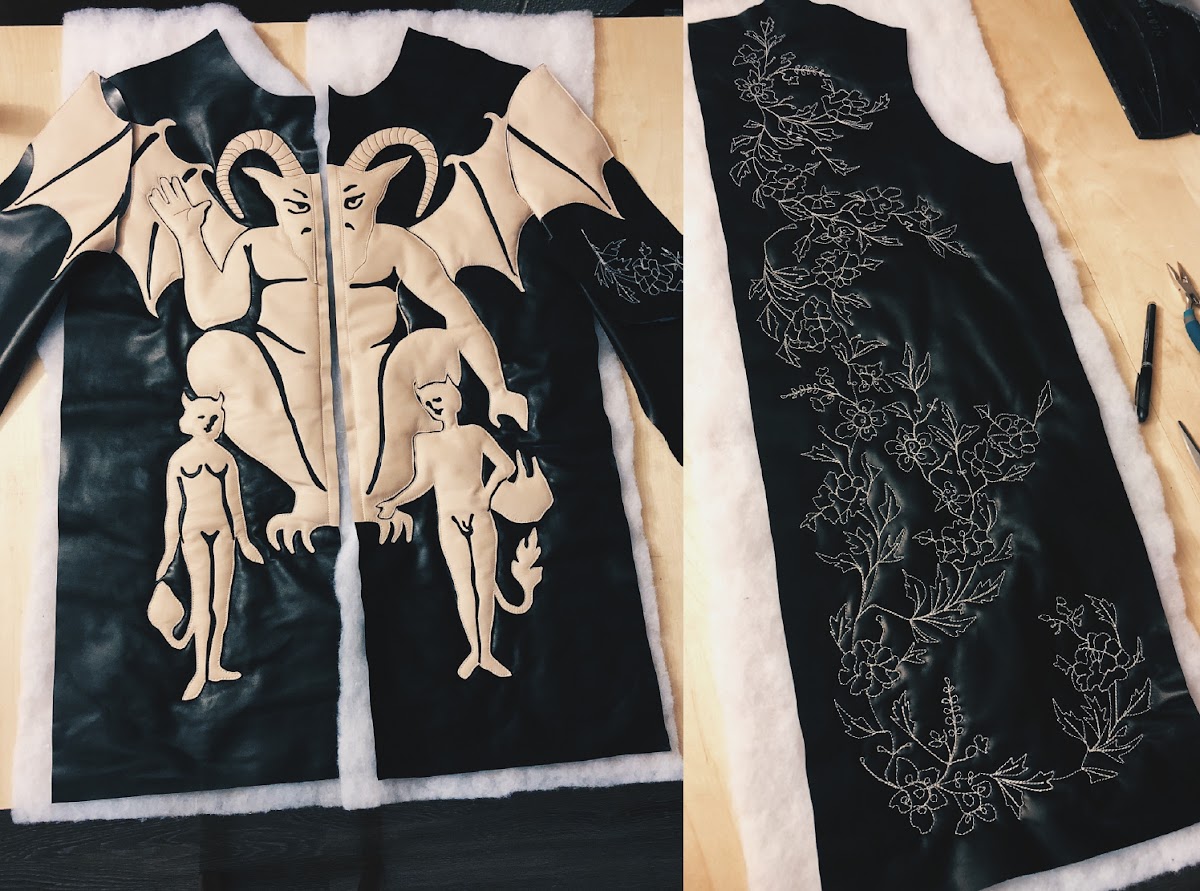 Lathrop's mother passed away unexpectedly soon after he arrived at RISD, but he coped with the loss by pushing himself even harder in the studio. "I'm a first-generation college graduate," he says, "and my mom worked in insurance. She wouldn't have described herself as an artist, but she definitely was one."
Her prolific hand-embroidered work clearly influenced his style and before long Lathrop began incorporating his own hand-embroidery into his work. "That line work comes in and out of my designs," he says. The idea is beautifully executed in the hand-painted leather pants and jackets he showed as part of the department's Collection runway show in May.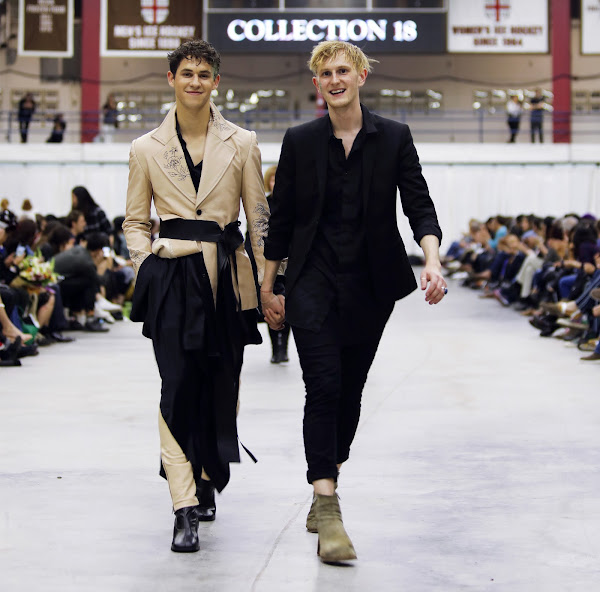 His collection also features furs—mostly fox—from Saga Furs Design Centre in Denmark, where Lathrop worked as a fellow last summer. The experience was "like a fairytale," he says, explaining that he dove headfirst into intarsia, a kind of collaging technique using small pieces of fur dyed in different colors, and the many other creative processes Saga is spearheading. Well aware of the ethical considerations behind working with real fur, he points out that "natural fur, unlike synthetics, is biodegradable and can return to the earth."
"I feel like I'm a completely different person than I was before RISD."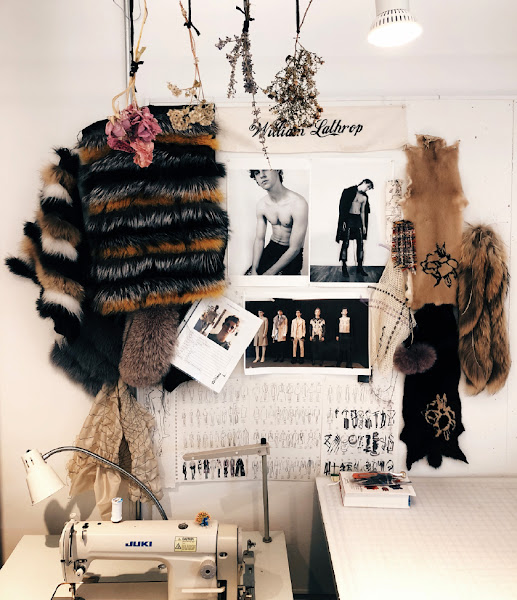 After refining his artistic vision—which he describes as "very European"—at RISD, Lathrop now hopes to work in Paris or London. He's still connecting with Apparel Design faculty about next steps, noting that Associate Professor Catherine Andreozzi 87 AP "knows her shit" and has totally earned his trust in every way.
Considering whether or not RISD changed him, Lathrop doesn't hesitate. "I feel like I'm a completely different person than I was before RISD," he says. "If you told me when I was at Bucks that I'd end up at this school doing what I did, I wouldn't have believed it. Now there's no turning back."
—Simone Solondz