RISD Students Envision Curatorial Concepts for New Bedford Whaling Museum
Image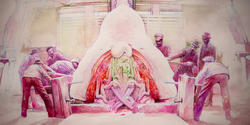 "It's almost like you're trying to make the violence behind actual whale blubber more palatable," says senior Sol Caponigro 23 IL as they gingerly handle a perfectly square chunk of glycerin rubber created by grad student Eric Liu MArch 24. The subtly critical piece, Liu explains, is part of an exhibition he envisions for the New Bedford Whaling Museum that would "compare the commodification of organic beings with the development of the kinds of luxury products we use today." He created it using a recipe he found at the Edna W. Lawrence Nature Lab and modified using jojoba oil to simulate the texture of whale blubber.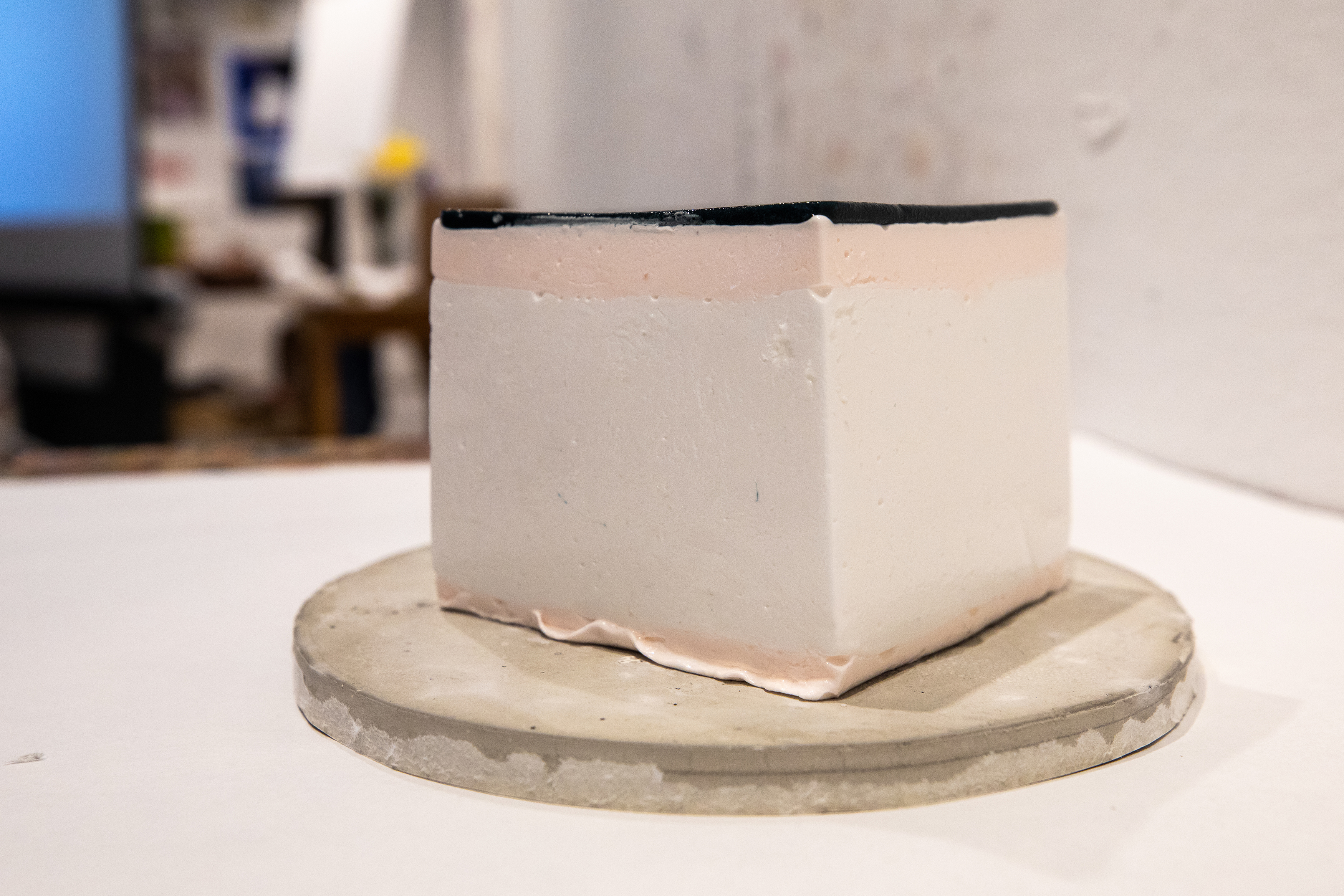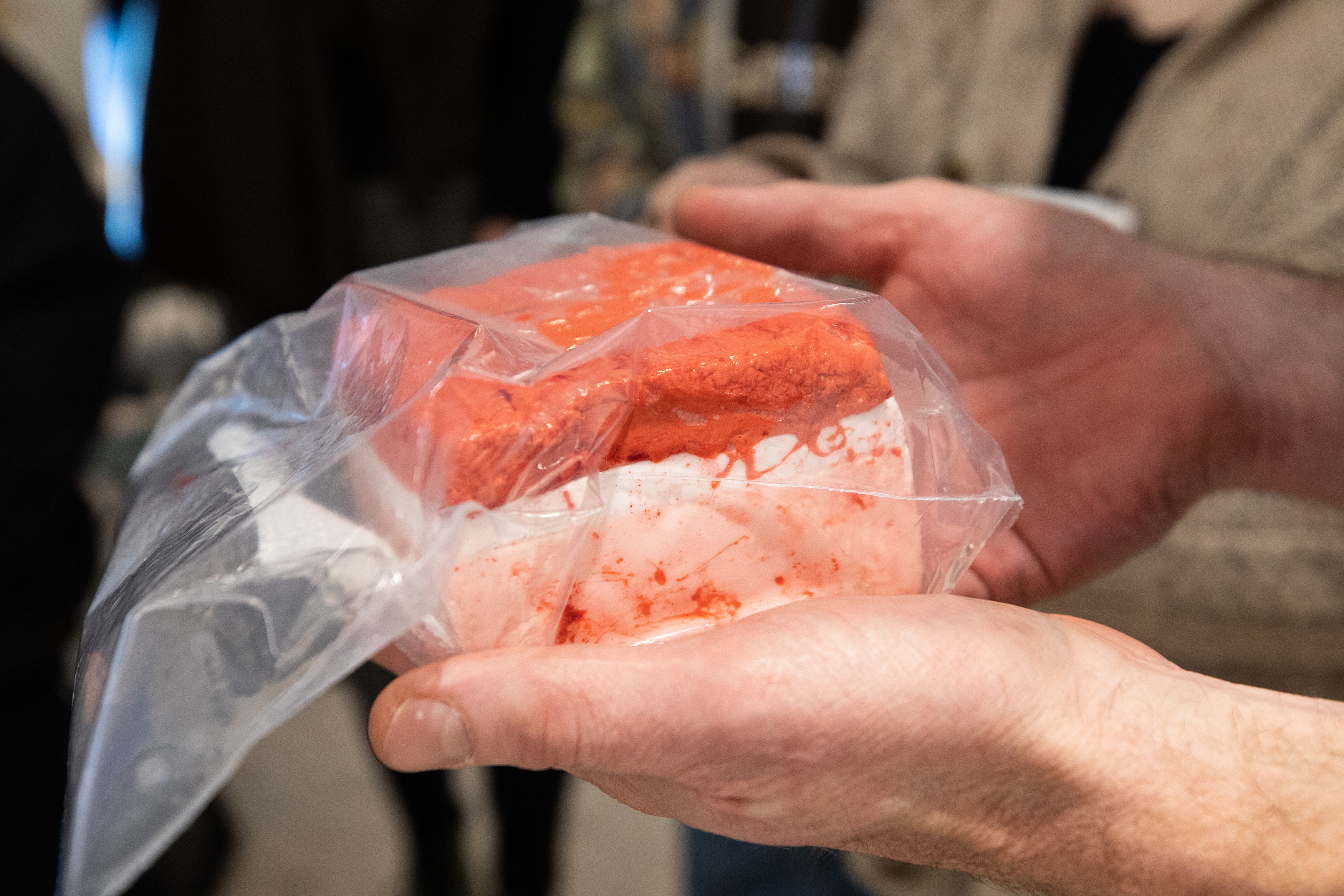 Each student in Illuminating the Ocean Deep, a Wintersession course developed and taught by Painting faculty member Martin Smick MFA 09 PT, created their own curatorial concept and original piece of artwork to anchor it after visiting the museum, speaking with Chief Curator Naomi Slip and getting a behind-the-scenes tour of the storage area from Director of Collections Jordan Berson. Located just 35 miles east of Providence, the New Bedford Whaling Museum tells the story of how this region was shaped by an industry built on the systematic hunting and harvesting of whales, driving entire species to the brink of extinction.
"The New Bedford Whaling Museum boasts a rich collection of unique and unusual artifacts that collectively issue a cautionary tale."
"The New Bedford Whaling Museum boasts a rich collection of unique and unusual artifacts that collectively issue a cautionary tale," says Smick. "They ask visitors to contemplate the tenuous line between the pursuit of profit and the destruction of that which is most sacred."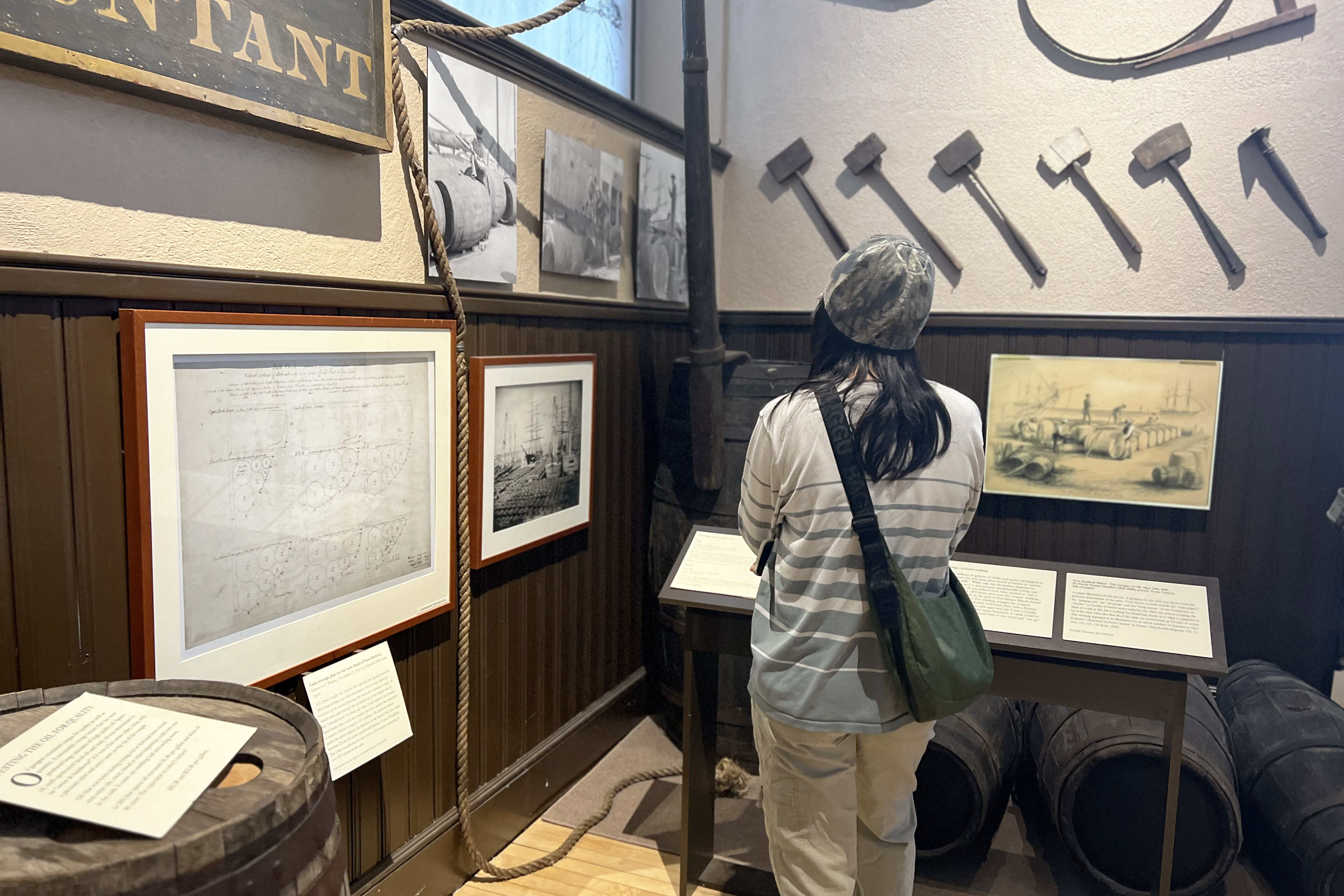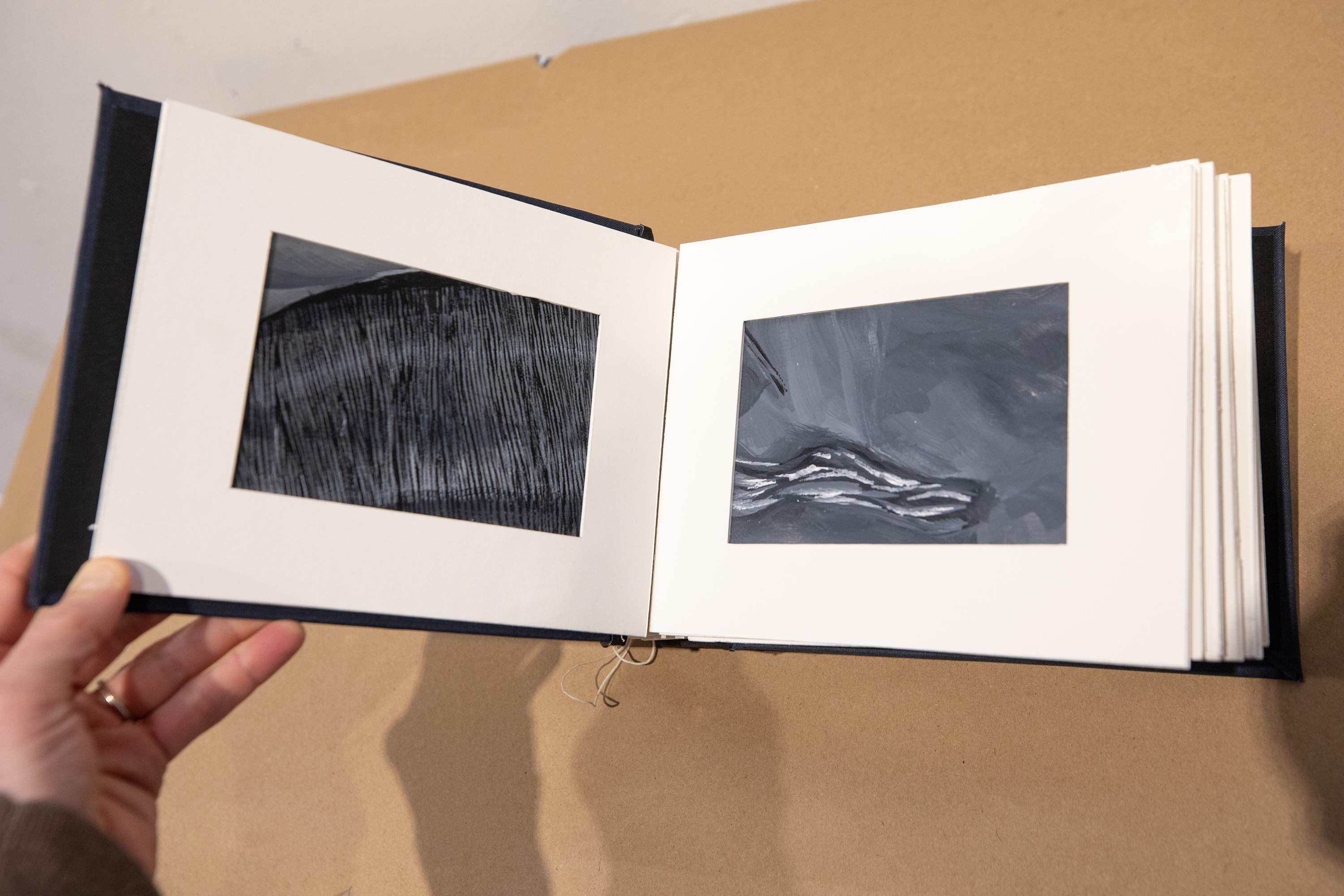 During her talk with the class, Slip discussed how museum professionals are responding to difficult and unsustainable colonial legacies, such as racist artists and collectors who contributed to their collections in the past. For example, one of the New Bedford Whaling Museum's central objects—a bust of prominent 19th-century whaler Jonathan Bourne—was removed from display when curators learned that the artist who sculpted it, Gutzon Borglum (best known for the monumental Mount Rushmore National Memorial), was a bigot with connections to the Ku Klux Klan. 
"The course asks students to interpret a wide range of interrelated subjects and objects and their shared relationship with humans, whales and the environments we both inhabit," says Smick. "Their projects illuminate the stories the museum tells us about our past and how they might guide us towards a more equitable and sustainable future."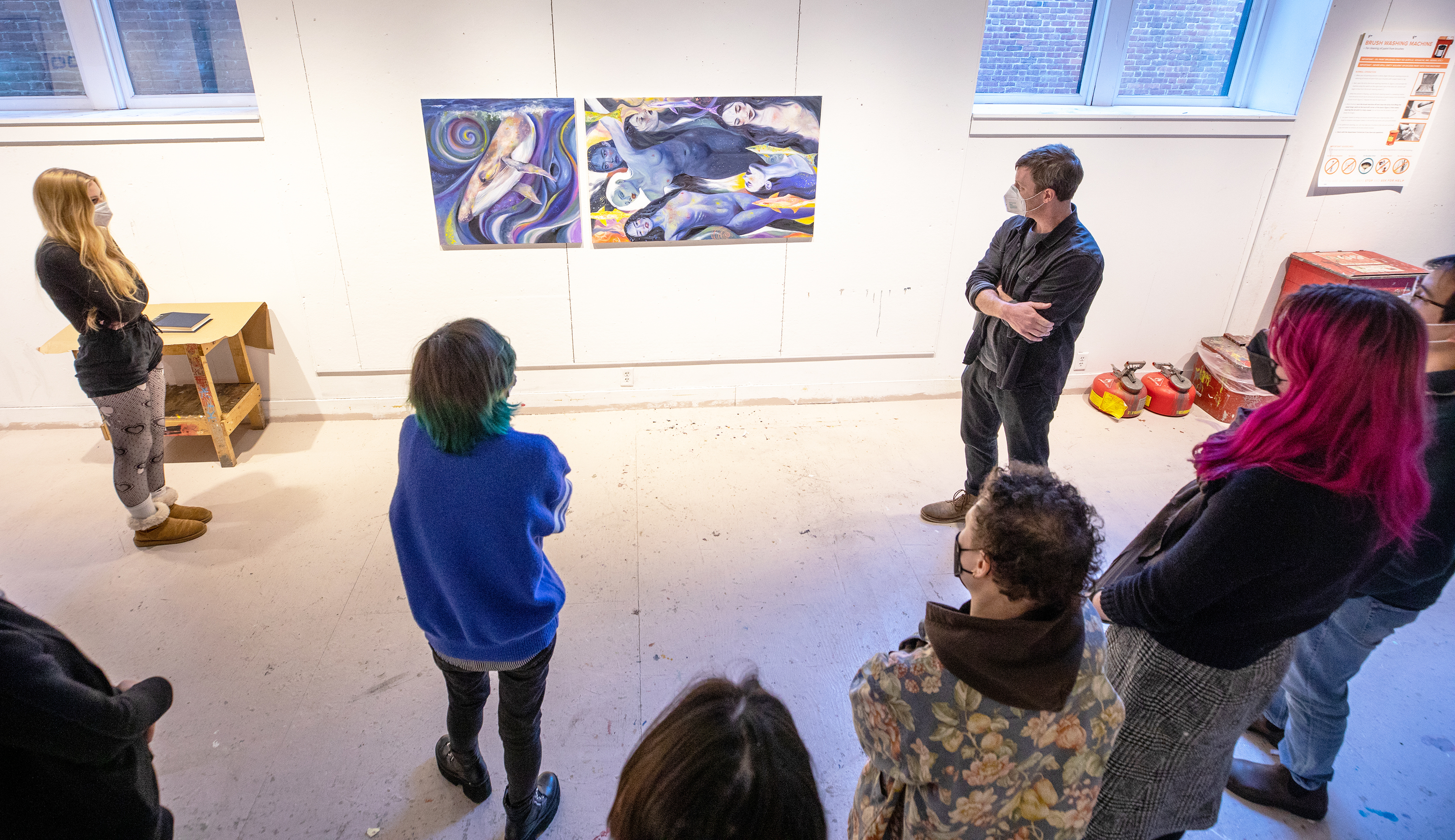 First-year student Lucy Fricke 26 EFS considered the whale's consciousness and how closely it relates to the human psyche. She used research conducted at the museum combined with existing investigations into how humans treat whales and other marine mammals, such as the acclaimed 2013 documentary Blackfish. The exhibition she envisions would open with models of human and whale brains side by side and close with a small dark space representing the relative size of the enclosures in which captive orcas were kept until recently.
"Orcas in captivity killed their trainers because they were isolated and depressed," she explains. "One dolphin who was part of a 1960s research project studying the species' ability to speak committed suicide when the project ended."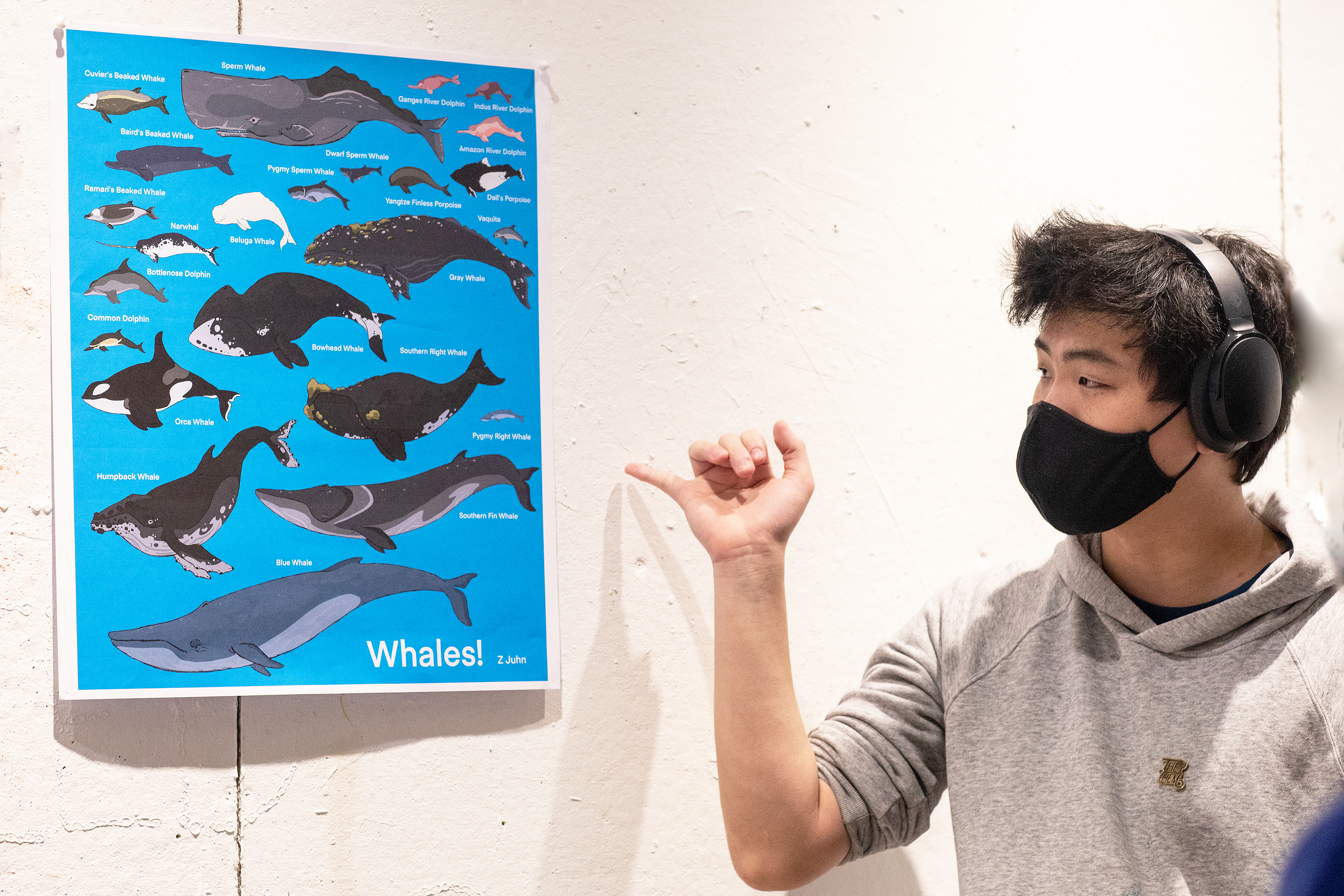 Junior Z Juhn 24 FAV took an educational approach with their project, imagining a zoological exhibition for kids to balance out the museum's historical, human-centered curatorial approach. "I think the museum should be more about whales, not just the history of whaling," they explain as they present a poster they made comparing the sizes and anatomies of various cetaceans.
"Each student brought their own background and expertise to the project," says Smick, "and the results are impressive and thought provoking. They clearly considered the changing role of museums as stewards of culture and history, challenging how and for whom historical narratives are told."
Top image: A watercolor and pencil illustration by senior Sol Caponigro presents the disemboweled whale as a martyred figure.
—Simone Solondz / photos by Jo Sittenfeld and Isabel Roberts