RISD Students Travel to Maryland for Service Project at ECO City Farms
Image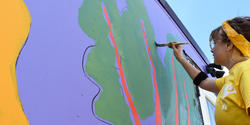 Twelve civic-minded RISD students embarked on a seven-hour road trip to Maryland to paint murals for ECO City Farms during spring break. CJ Crossett, associate director of RISD's Center for Student Involvement, helped to organize the trip, and explains that RISD's Alternative Spring Break (ASB) project—which has been on hold since the onset of COVID—brings out the best in students. "It's a testament to how resilient, driven and community-oriented RISD students are," she says.
The ASB project at RISD is designed and organized by students each year. "Student trip leaders Sara Yoon Choi 24 ID and Viola Tan BArch 24 were our guiding forces," says Crossett, "from researching sites, outreach, marketing, schedule planning and budget to day-to-day logistics."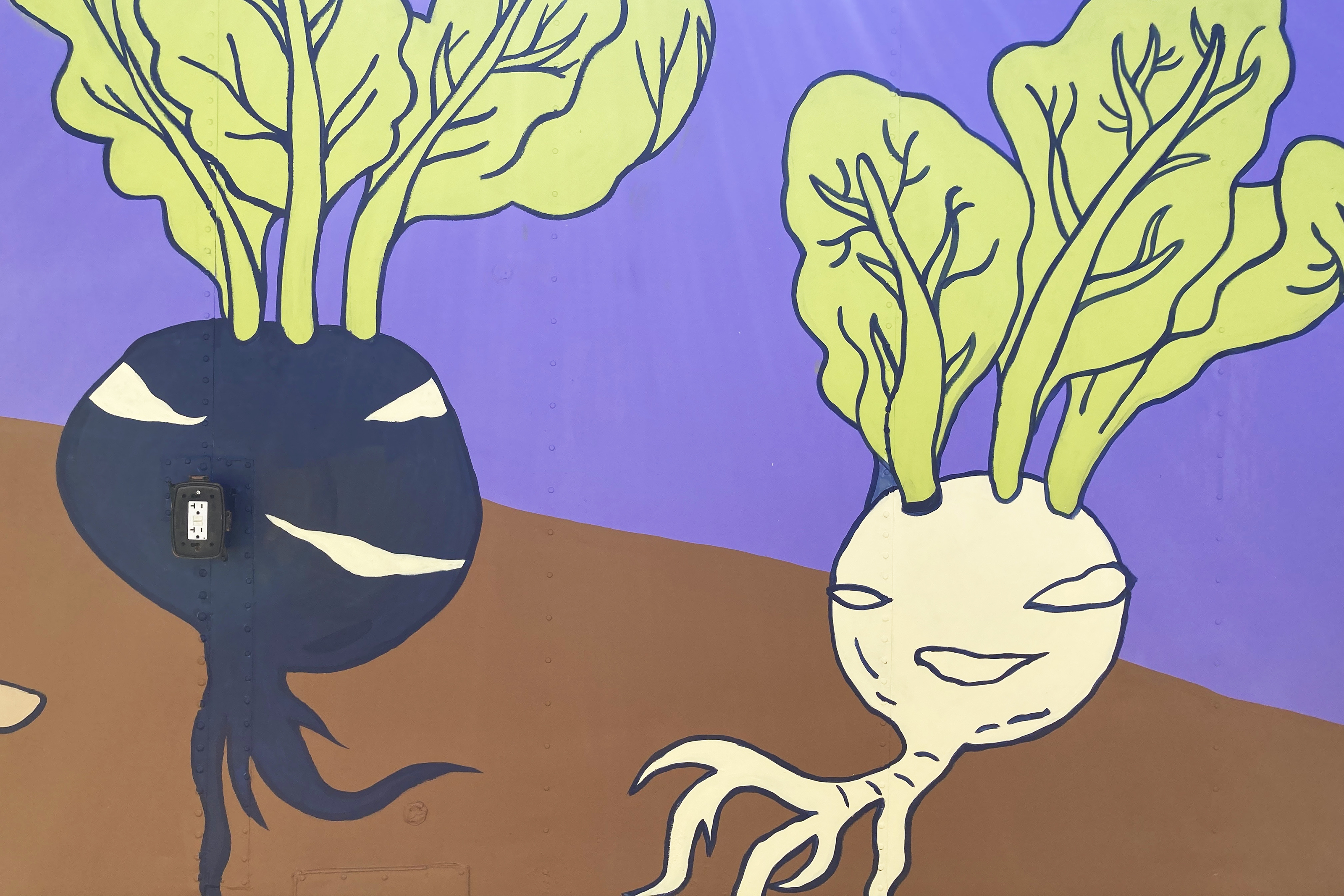 ECO City is a nonprofit urban teaching and learning farm whose mission is to eliminate racial and socioeconomic inequalities in health by growing vegetables, herbs and fruit in food deserts and selling them to community members at an affordable rate. After meeting with ECO City deputy director Kayla Agonoy, trip organizers formulated a plan to paint murals on the sides of two different shipping containers on the farm.
"It was very fulfilling to paint the mural and see how much change it made," says Tan. "Once we had painted the base colors on the mural, the farmers were walking by and commenting on how much happier the space felt already. As an architecture student, I found the real-life effects of sensorial touch and the power of colors inspiring to see." During the four-day visit, students also helped with planting and pruning on the farm.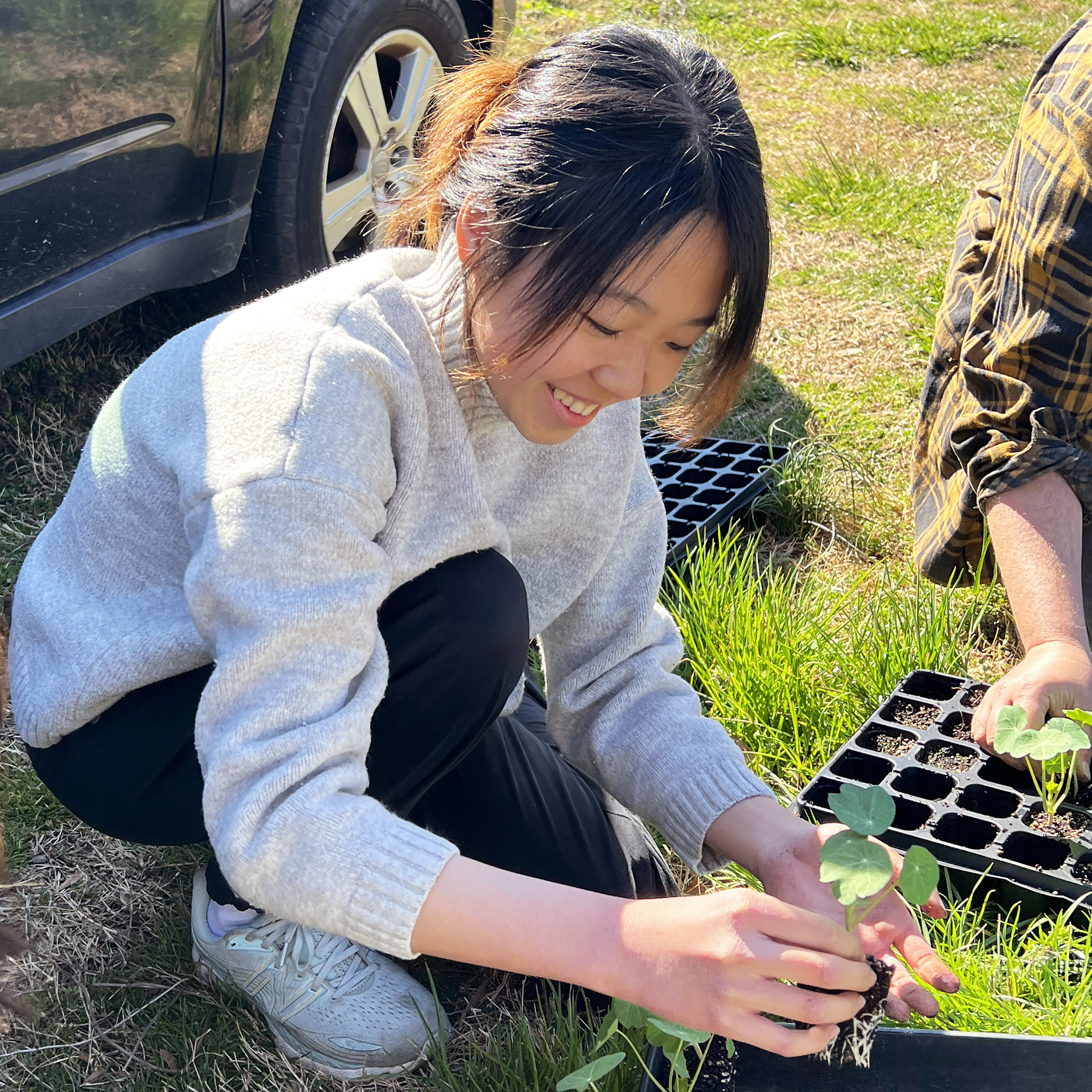 In organizing the trip, Tan and Choi worked on everything from site research to brainstorming project ideas to planning group bonding activities in DC. The two co-leaders also planned a community lunch with the farm staff on the last day of the trip. "We cooked stew and salads for all of the ECO City staff, and they cooked for us in return," Choi says. "We thanked the farmers before consuming the food we had made for each other."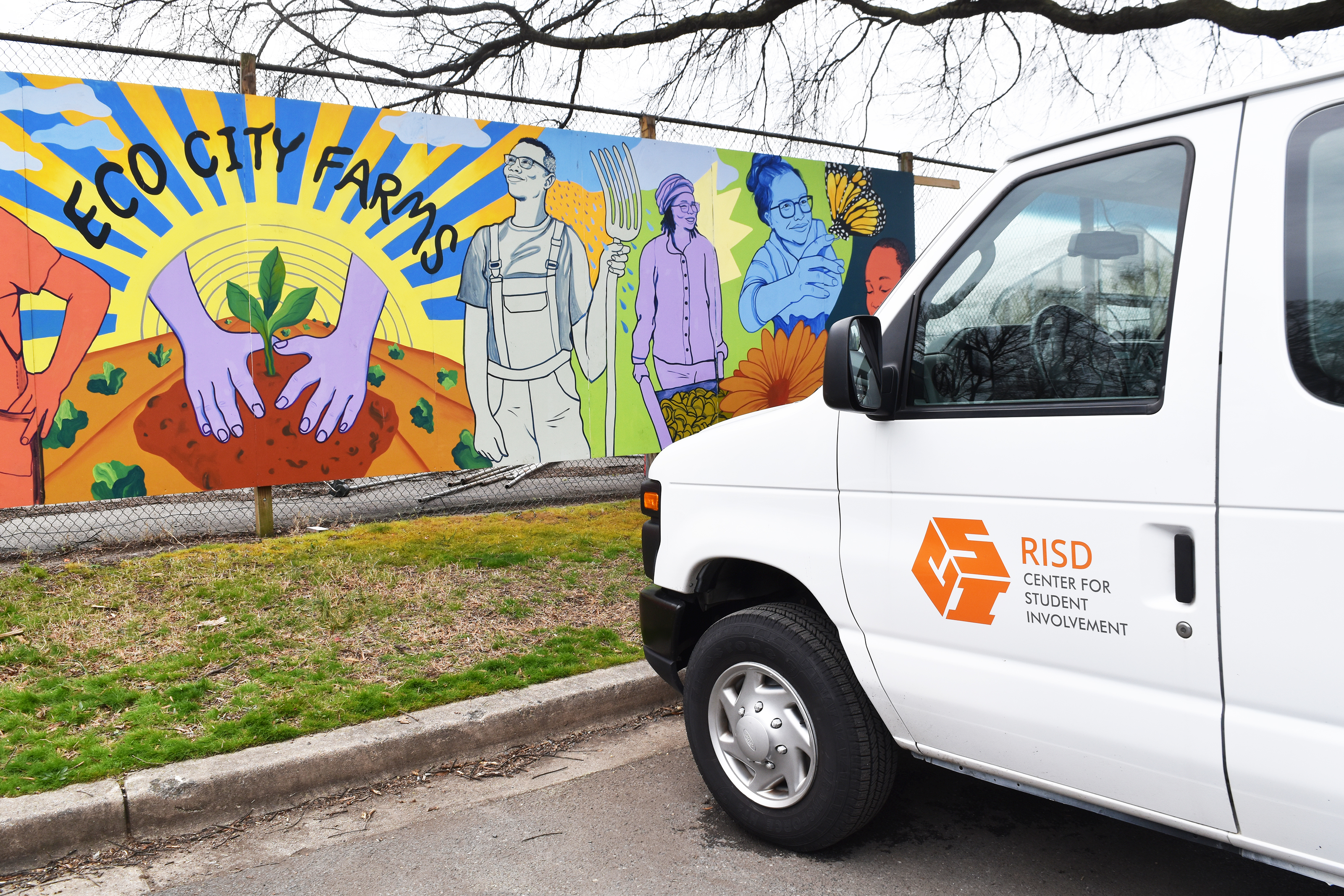 Graduate student Simone Nemes MFA 24 IL helped finalize the mural designs—inspired by the vegetables grown at the farm and local pollinators—with fellow students Daniella Pozo BRDD 27 and Deanne Fernandes MFA 24 IL. "Using my background as a horticulturist, I decided to include milkweed (Asclepias tuberosa), monarch butterflies (Danaus plexippus) and a sweat bee (family: Halictidae), which is a native solitary bee," Nemes explains. "Working collaboratively, we divided up tasks: color blocking, painting the linework and finessing the final touches on the mural."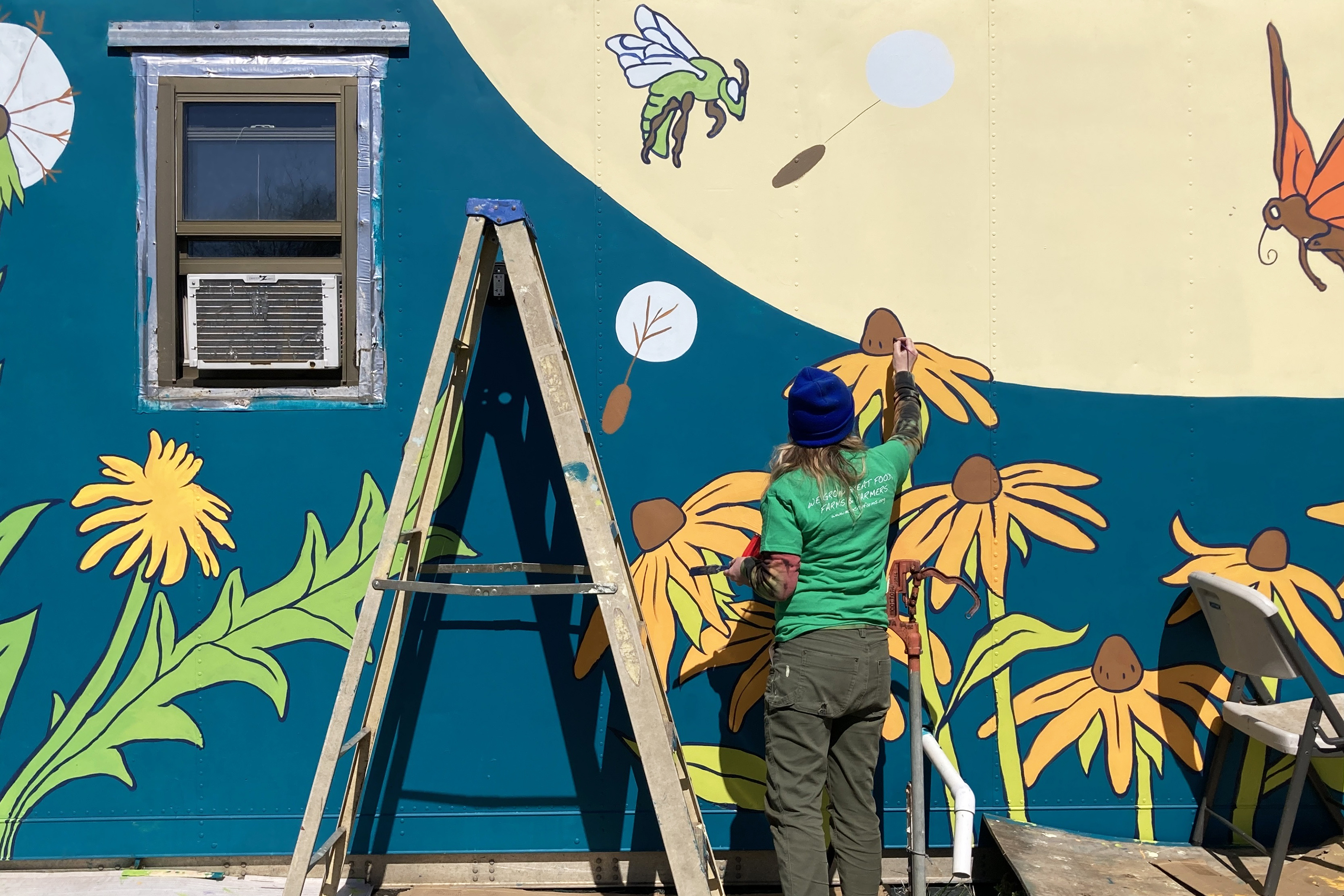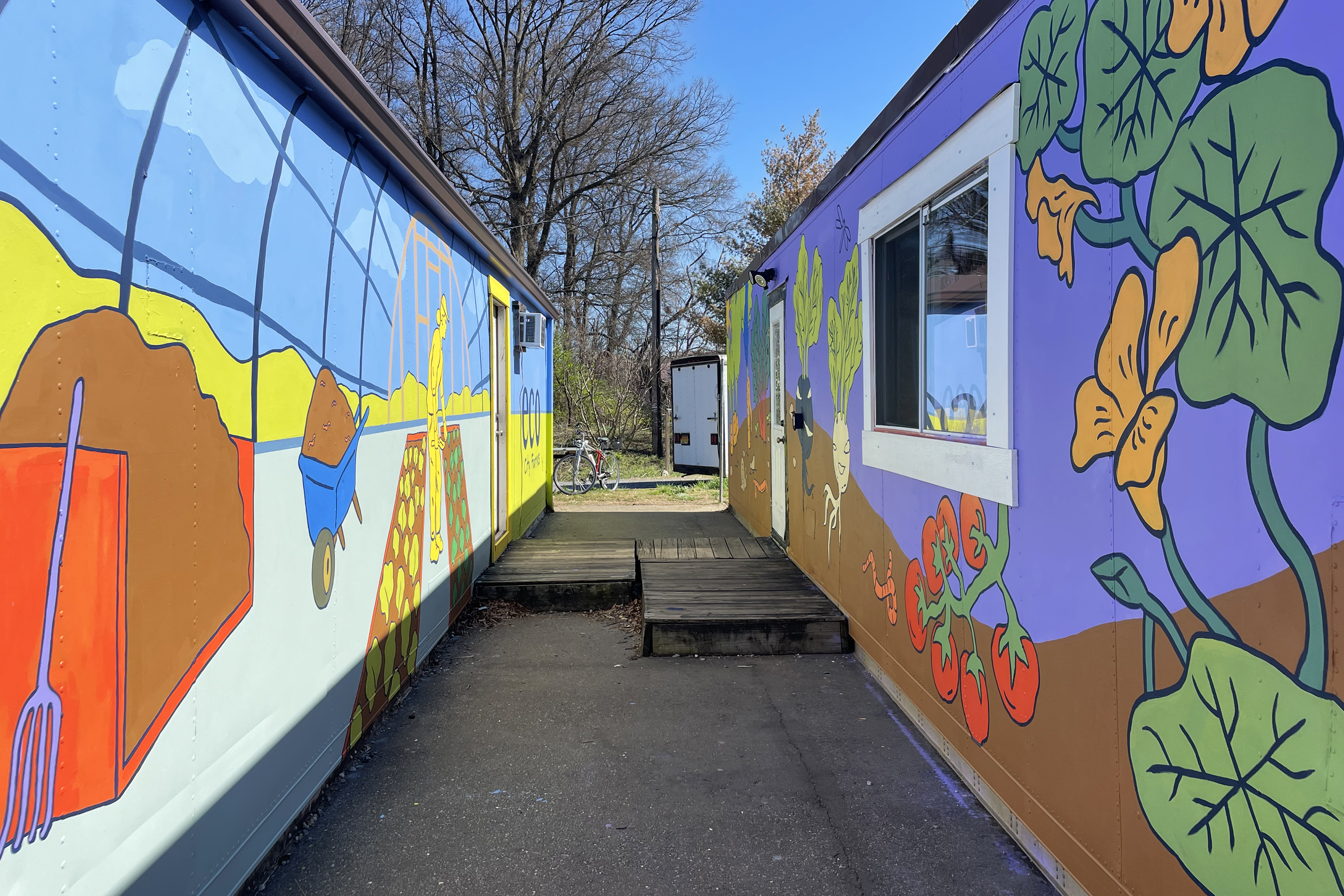 Nemes has taken an experimental approach to her work during her first year in the Illustration MFA program. "This semester I am experimenting with toy fabrication and sculptural illustration," she explains. "I am making some old-school wooden maze toys and working on some illustrations about alien abduction. I am using images that are both cute and a little subversive." After graduating, Nemes is interested in pursuing a career in mural work and plans to take on similar projects in her next year at RISD.
"I would totally recommend this trip to other students in the future," says Nemes. "You never know what you'll learn or who you'll meet. It was so inspiring to be around these students and learn about their goals, aspirations and projects."
—Isabel Roberts
April 20, 2023