Alexandra Anthony
Senior Critic - Film/Animation/Video
Image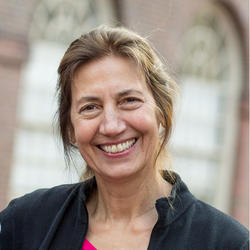 Alex Anthony made her first film, Morning Born Blindly, in 1977, as part of her postgraduate work at the Massachusetts Institute of Technology. A 20-minute documentary about a blind couple having their third child at home with the help of lay midwives, it won top awards at the Ann Arbor and Toronto Super-8 Film Festivals.
Since then, Anthony's films have taken an even more personal turn. She is of Greek descent and spent her childhood in Athens, Greece, her adolescence in London, England, and came to the US to study art history at Wellesley College. Belonging to two cultures has always meant being both participant and observer for Anthony, and her deep interest in people and their stories found expression in nonfiction filmmaking.
Anthony is currently working on a trilogy of films with the theme of a family in crisis at their center—true stories that are stranger than any fiction. The first of these, the award-winning Yaya, was completed in 1984 and shown in festivals internationally. The second film in the trilogy, 2014's Lost in the Bewilderness, was shot over three decades and has played at numerous film festivals. The third film, Three Pomegranate Seeds, will soon be in post-production. Anthony is particularly intrigued by the parallels of these contemporary stories with Greek myth and tragedy—it's in her DNA.
A true independent filmmaker, Anthony directs, produces, shoots, records sound, edits, writes and narrates her own work.
Anthony was also a film, video and avid editor for over 20 years for PBS's award-winning series Nova, Frontline and numerous specials for national and international broadcast. Her work has earned her several Emmy and Peabody awards. Among the highlights of her freelance work have been working as a sound recordist with independent filmmakers in Ethiopia, Bangladesh and Mongolia.
Anthony joined the faculty at RISD in 1996. She loves learning from the students in her Live Action Senior Degree course. She has been nominated three times for the Frazier Award for Excellence in Teaching.
Academic areas of interest
Classical Mythology
Linguistics/Languages
Travel to remote corners of the world
Underwater exploration
World Cinema
Human Rights