Amy Kravitz
Professor
Image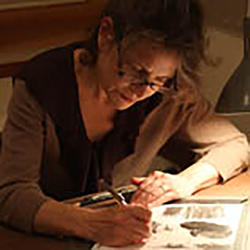 BA, Harvard University
MFA, California Institute of the Arts
Amy Kravitz was born in 1956 in Wilmington, Delaware. At a summer creative arts program, she started making films when she was eleven years old and began teaching at age fourteen. She studied Anthropology at Harvard University where she received an AB, and studied Experimental Animation at California Institute of the Arts where she received an MFA.
Kravitz's films have won many awards and have screened throughout the world. Her film Trap was considered by Jules Engel to be one of the ten essential films through which to teach the principles, techniques and concepts of the art of animation.
Over four decades of teaching experience have enabled Kravitz to develop unusual teaching methods that encourage students to develop individual approaches to the medium. Her classes explore animation as a distinct language that employs unusual materials, unique spatial expressions and visual metaphors as its grammar. In 2011 she received the Frazier Award for Excellence in Teaching.
Academic areas of interest
Kravitz's animated films transform the vicarious phenomena of cinema into genuine emotional experience. She explores timing, abstraction, metaphor and kinesthesia to communicate on a visceral level.
Fall 2022
FAV-5106-01 Intermediate Studio: Animation

FAV-5106-02 Intermediate Studio: Animation
Spring 2023
FAV-5107-01 Intermediate Studio: Animation

FAV-5107-02 Intermediate Studio: Animation