Susan Solomon
Lecturer - Literary Arts and Studies
Image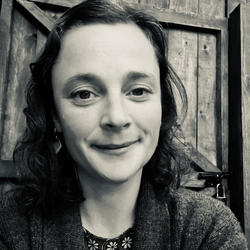 BA, University of Connecticut
MA, Brown University
MA, University of Connecticut
PHD, Brown University
Susan L. Solomon has published articles on Joyce's Ulysses, Woolf's To the Lighthouse and Claire Goll's Die Frauen Erwachen. She co-translated Primitive Thinking: Figuring Alterity in German Modernity (2022) by Nicola Gess and Flaubert Postsecular: Crossed Out Modernity (2015) by Barbara Vincken from the German and co-edited the critical edition of Letters and Photographs from the Battle Country, 1918–1919 (2014) by American Red Cross volunteer Margaret Hall.

She is presently interested in the narratives constructed and enabled by architectural designs and their visual records and in the retelling of literary narratives in the languages of visual art and music. She is beginning work on a book on repetition, reflection and relationship across the arts. Her article, Doug Aitken's Secret ULYSSES Door and the Architecture of "Aeolus" (Joyce Studies Annual), and essay Calls from the End of the World—On Doug Aitken's Wilderness (Providence Arts and Letters) are forthcoming later this year.
Prior to coming to RISD, Solomon taught across the humanities curriculum in English, humanities, writing, comparative literature and gender studies departments at the University of Connecticut, Brown University, Bogazici University (Istanbul) and Roger Williams University.
Fall 2022
LAS-E101-11 First-year Literature Seminar

LAS-E101-22 First-year Literature Seminar

LAS-E247-01 Virginia Woolf & Modern Fiction
Wintersession 2023
LAS-8900-01 LAS Independent Study
Spring 2023
THAD-H102-18 Critical Introduction To The History Of Architecture and Design

THAD-H102-19 Critical Introduction To The History Of Architecture and Design