Angela Dufresne
Professor
Image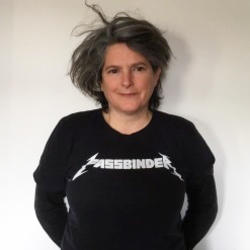 BFA, Kansas City Art Institute
MFA, Tyler School Of Art
Angela Dufresne is a painter and video artist originally from Connecticut. She was raised in Olathe, Kansas, the town Dick and Perry stopped in before they killed the Clutters (In Cold Blood). She lives and works in Brooklyn, NY and sometimes can be found in the Catskills. She received the first college degree in her family lineage. Her work articulates non-paranoid, porous ways of being in a world fraught by fear, power and possession. Through painting, drawing and performative works, she wields heterotopic narratives that are non-hierarchical, joyous and polymorphous. She has exhibited at the Hammer Museum in Los Angeles; P.S.1 Contemporary Art Center in Queens, NY; the Portland Museum of Art in Portland, ME; the RISD Museum in Providence, RI; The National Academy of Arts and Letters in New York; The Leslie-Lohman Museum in New York; the Kemper Museum in Kansas City, MO; Brooklyn Academy of Music in Brooklyn, NY; The Cleveland Institute of Art in Cleveland, OH; The Aldridge Museum in Ridgefield, CT; Sarah Lawrence College in Yonkers, NY; the Rose Museum in Waltham, MA; Mills College in Oakland, CA; and Minneapolis School of Art and Design among others.
Dufresne received a 2016 Guggenheim Fellowship and won a Purchase Award at The National Academy of Arts and Letters in 2011 and a Jerome Foundation Fellowship in 1992. She won residencies at Civitella Ranieri Foundation, Yaddo, the Siena Art Institute and The Fine Arts Work Center at Provincetown and the Headlands Center for the Arts. She has an upcoming solo exhibition at the Kemper Museum in Kansas City (fall 2018), and she recently had a two-person show with Louis Fratino at Monya Rowe Gallery in NY (summer 2018) and a group show at A.P.T. Gallery in London (summer 2018). She will be included in a traveling exhibition curated by the Avett Brothers and Erik Fischl titled Piece by Piece spanning 2019–20. Her work is in the collection of the Kemper Museum of Contemporary Art, Kansas City, MO; Museo de Arte de Ponce, Ponce, Puerto Rico; American Academy of Arts and Letters, New York, NY; and Harvard Business School, Boston, MA.
Courses
Fall 2023 Courses
PAINT 4501-02
PAINTING I
Start and End
2023-09-06 to 2023-12-13
Times: W | 11:20 AM - 4:20 PM; T | 1:10 PM - 6:10 PM
Instructor(s): Angela Dufresne
Location(s): Memorial Hall, Room 210
Enrolled / Capacity: 13
Status: Closed
SECTION DESCRIPTION
An introduction to the basic language of the painting discipline. Emphasis on the plastic and formal considerations necessary for work that will become an increasingly personal statement.
Enrollment is limited to Sophomore Painting Students.
Major Requirement | BFA Painting
Spring 2024 Courses
PAINT 4490-01
FROM PAINTING TO CINEMA AND BACK AGAIN
Start and End
2024-02-15 to 2024-05-24
Times: MT | 6:30 PM - 9:00 PM
Instructor(s): Angela Dufresne
Location(s): College Building, Room 510
Enrolled / Capacity: 15
Status: Open
SECTION DESCRIPTION
The work intensive studio course will involved students in an intense visual, aesthetic and theoretical discussion around the historical relationship of Cinema to Painting and Arts Culture in general and move on to the analyze the current embodiment of Cinema's more conflated and confounded, co-dependant relationship to the Art's of today, tapping into the cross-pollination resulting of imagery, politics and theory's as they apply. Each class meeting will involve studio work and discussion and culminate with a film screening. The film screenings will move forward from Cinema's very beginnings to a few of today's best Indie films. The concentration of the course will be assigned painting projects that will be direct responses to the films being screened and related critiques of these projects as they pertain to the films and the applicable supplemental literature, allowing the discussion around Cinema, cinematic and art critical theory and the Art culture to be transferred to the students individual works thus allowing for the work to be seen in a larger context.
Elective
PAINT 461G-01
GRADUATE PAINTING STUDIO THESIS
Start and End
2024-02-15 to 2024-05-24
SECTION DESCRIPTION
This period is designed for development and presentation of a body of work supported by a written thesis in consultation with resident faculty, visiting artists and critics during the semester. A final exhibition of work will be evaluated by a jury of Painting Faculty Members.
Open to Graduate Painting Students.
Major Requirement | MFA Painting