Ijlal Muzaffar
Associate Professor
Image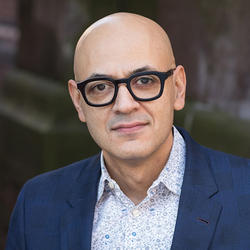 BS, University Punjab - Quaid-I-Azam Campus
BSD, Arizona State University
MARC, Princeton University
PHD, Massachusetts Institute Technology
Ijlal Muzaffar is an associate professor of Modern Architectural History in the Theory and History of Art and Design department and graduate program director of the MA in Global Arts and Cultures program at RISD. He received his PhD from MIT in the History, Theory, and Criticism of Architecture and Art and a Master of Architecture from Princeton University. He also holds a BS in Mathematics and Physics from the University of Punjab. His work has appeared widely in edited volumes, biennale catalogues and peer-reviewed journals. He is a founding member of the architectural history research collaborative and publishing platform Aggregate. His first book, The Periphery Within: Modern Architecture and the Making of the Third World, slated to come out later this year from the University of Texas Press, looks at how modern architects and planners played a critical role in shaping the discourse on Third World development and its associated structures of power after World War II.

Muzaffar's second book project is titled Settling Dreams. It charts the formation of a "cotton belt" in the Sindh desert in southwest India (now in Pakistan) by the British colonial government in 1898 when the supply of US cotton to the British mills was disrupted by the American Civil War. Collecting oral histories from surviving members of the families (his own among them) who were transplanted from other parts of India to run this grand and improbable enterprise, as well as those who were displaced by the newcomers and mounted an armed rebellion for two generations against the British plans, the book explores what it means to settle and unsettle on scales ranging from the global to the personal. The introductory chapters of this book have already appeared in edited volumes. He also coedited Architecture in Development: Systems and the Emergence of the Global South (Routledge, 2022).

Academic areas of interest
History of globalization and Third World development; History and theory of modern architecture, urbanism, and planning; History of Non-Western architecture; Political ecology and environmentalism; Cultural studies; Feminist and Marxist criticism; Post-colonial criticism.
Fall 2022
GAC-702G-01 Research Issues
Spring 2023
LAEL-1005-01 World Architecture: From Pre-history To Pre-modern: Ideas and Artifacts