Trek Los Angeles Brings RISD Students to Celebrated Film and Animation Studios
Image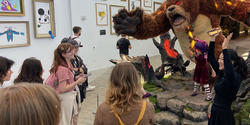 This summer, 19 undergraduate students embarked on a trip to Los Angeles to explore the game design, film and animation industries while building connections with RISD alumni. The fully funded trip, made possible by a generous gift from an anonymous donor, included visits to well-known studios like Nickelodeon, Titmouse and Netflix.
"We are constantly trying to build bridges between RISD students and the professional world," says Career Center Associate Director Susan Andersen, who joined the excursion. "We got to watch as students gained awareness of their future paths and what they would need to do to achieve their goals. They were remarkably poised and asked amazing questions," adds Andersen, who organized the trip along with Career Center Director Kevin Jankowski 88 IL, Christina Hartley 74 IL of Institutional Advancement and others.
Senior Ian Gaadt 24 IL, whose work encompasses moving images, storytelling and sound, found a trip to creative agency Narrator particularly inspiring. While there, Gaadt was selected for an "on the hot seat" portfolio review with an alum in front of his peers and the entire company.
Image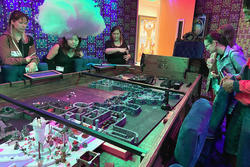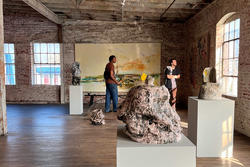 "Having the time to explain and show my work as well as get feedback from professionals was incredible," he says. "The most helpful advice I got was to create a portfolio that truly shows your skill but also works as a persuasive presentation."
Working within the field of animation, participating junior Ella Babb 25 FAV makes pieces focused on "portraying joy and absurdity through dance and rhythm," working with a combination of motion capture, CGI and live-action video. "This trip got me excited about the possibility of working in production," she says, "as that seems to be a great path to merge my love for working with people with my love for creative spaces and making a vision come to reality."
While at the portfolio review, Babb met with post producer Jesse Lehrhoff 03 FAV and director and co-founder of NELA Films Adam Bluming 96 GD. "I gained really wonderful insights about the practical experience of working in the industry and how all the different roles compare and contrast with one another," she says. "I'm beyond grateful for the advice and insights I took away from these alumni conversations and can't wait to apply what I've learned to my future work."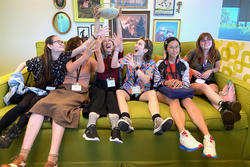 "Trek LA was unlike anything I've ever done before, and I feel so lucky to have experienced something like this."
Sophia Spagna 24 IL received valuable advice from David Clayton 98 GD, founding partner and creative director of production company Plucky. "David was extremely generous with his time," she says. "He talked with me about how to make my website more personal and professional, and gave me some great ideas for how to approach background designs and color keys in my work! Trek LA was unlike anything I've ever done before," she adds, "and I feel so lucky to have experienced something like this."
For Jankowski, the overriding takeaway from the trip was that the industry is built on kindness and connection. "The world can seem harsh and competitive," he says, "so it was heartening that students walked away with the message that the most important thing is being nice to each other."
Senior Taylor Burgess 24 IL echoed this sentiment. "This trip really stressed to me how important it is to build community with other artists as you seek to become a professional," she says. "The entertainment industry isn't a one-person show!"
Isabel Roberts / top image: students tour Riot Games studios
October 4, 2023