Hope for Rhode Island
Image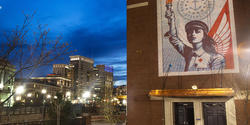 When Rhode Island Governor Gina Raimondo—who has been getting high approval ratings for her aggressive approach to the COVID-19 crisis—reached out to RISD President Rosanne Somerson a few weeks ago, it was largely to talk about how to reopen the state as safely as possible and to invite her to participate in the governor's New Normal Advisory Group. But she also wanted to discuss the role art can play in bringing Rhode Islanders together despite the isolation of current stay-at-home orders.
At Somerson's suggestion, the governor reached out to renowned public artist Shepard Fairey 92 IL, a RISD trustee who now lives on the West Coast and is perhaps best known for both the Andre the Giant OBEY street art campaign that launched his career and for designing the iconic Obama Hope poster during the 2008 presidential campaign.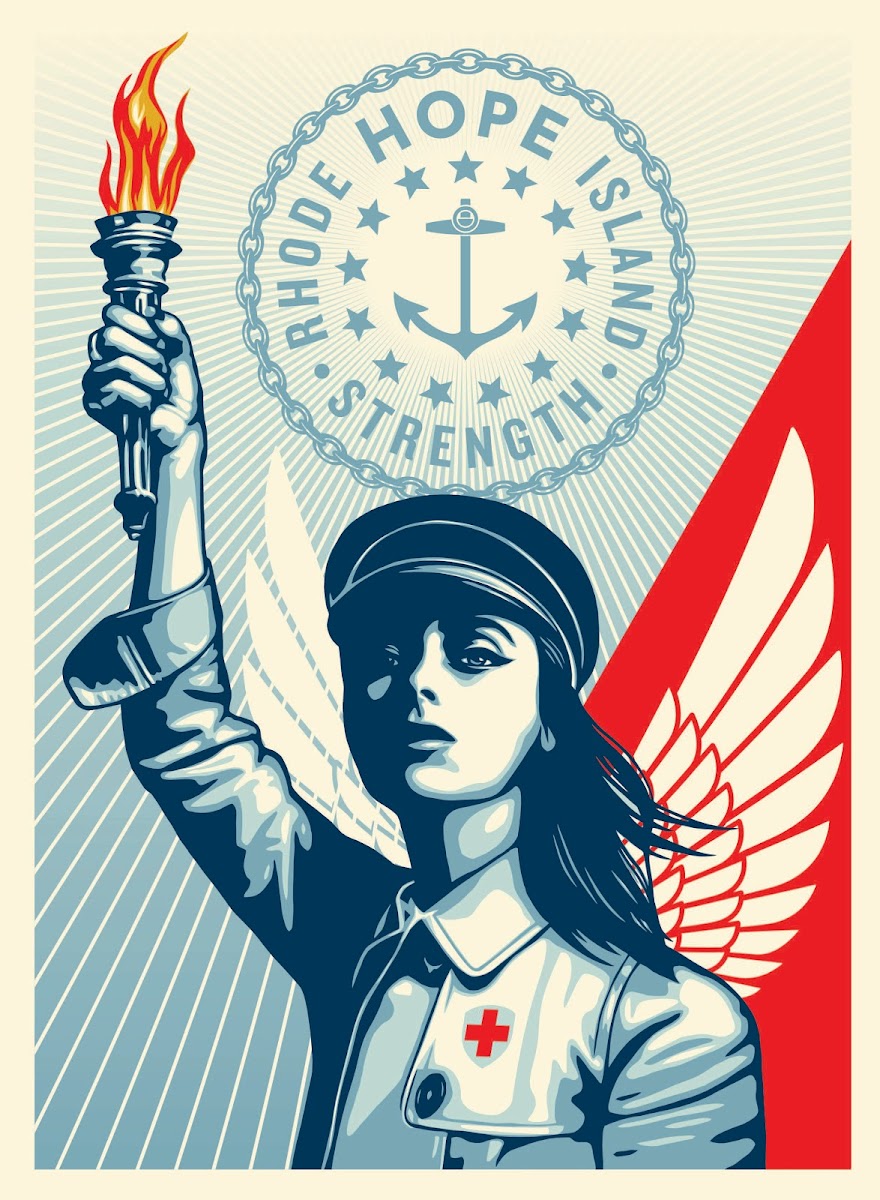 Fairey, a lifelong activist and social justice advocate, readily offered a piece called RI Angel of Hope and Strength to help launch the governor's new #RIArts initiative, which encourages Rhode Islanders to create and share artwork reflecting the many challenges we're all facing due to the pandemic.
"I spent a significant eight years of my life living in Providence, attending RISD and then (semi) establishing my first print studio," Fairey says. "So it was an honor when Governor Raimondo reached out to me to create an image to lift the spirits of Rhode Islanders whose lives have been disrupted by the coronavirus crisis."
Once the two of them discussed the industrial history and working class roots of Rhode Island, Fairey felt that his iconic Rosie the Riveter image—which is also part of a national campaign through Amplify Arts—fits well as a salute to "the strength and bravery displayed by healthcare and public safety workers." And given that Rhode Island's state motto is Hope, it also felt natural to include that word in his message to local residents.
"It's a tough time..., but we will all fare better if we summon the better angels of our nature."
In short, Fairey says, his image "is meant to both celebrate the courage of healthcare workers [and] symbolize the spirit of hope, strength, compassion and resilience that we can all summon in ourselves and share collectively. It's a tough time even for tough people, but we will all fare better if we summon the better angels of our nature."
Somerson agrees. "Shepard's image offers a hopeful message and a reminder that art is a powerful tool for connecting people. This work defends the strengths that unite us and asks us to rise above differences that might divide us."
Fairey invites you to download his RI image for free.
—Liisa Silander / campus photos by David O'Connor
April 28, 2020