Joyous Obsession with Chairs
Image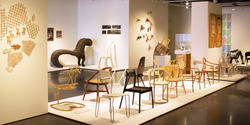 After attending a talk last year by visiting designer Elie Glyn 08 FD—assistant director for exhibitions at Harvard Art Museums—senior Hannah Bartlett 19 FD got so inspired that she wanted to curate her own multidisciplinary exhibition at RISD's Gelman Student Exhibitions Gallery.
"As a senior in Furniture Design, I was thinking a lot about ergonomic chairs and good design," she says, "but I realized that students across RISD are painting chairs, drawing chairs, making ceramic chairs... and I thought it would be cool to see them all in one room."
"The exhibition is a kind of snapshot of what people at RISD are thinking about and the kind of materials they're using right now."
Once Director of Campus Exhibitions Mark Moscone 88 PR considered Bartlett's proposal for curating such a show, he thought so too and encouraged her to gather submissions from as many different sources and departments as possible. "Hannah and I worked well together," he says, "talking through her ideas and discussing different approaches to curating the work."
In getting the exhibition off the ground via Facebook and Instagram, Bartlett was hit by a deluge of submissions (enough to crash her computer). One of those was a beautifully executed proposal from Graphic Design major Raina Wellman 19 GD, who was subsequently invited to help with the graphic design and marketing of the show. In the end, "Raina created a complete identity for the show," Bartlett says, "right down to the vinyl chair stencils we applied to the gallery walls."
"It was a wonderful opportunity to practice exhibition design and work on branding and promoting a real event," says Wellman. "And it was incredibly gratifying to see all of our hard work manifest into something concrete that so many people have enjoyed."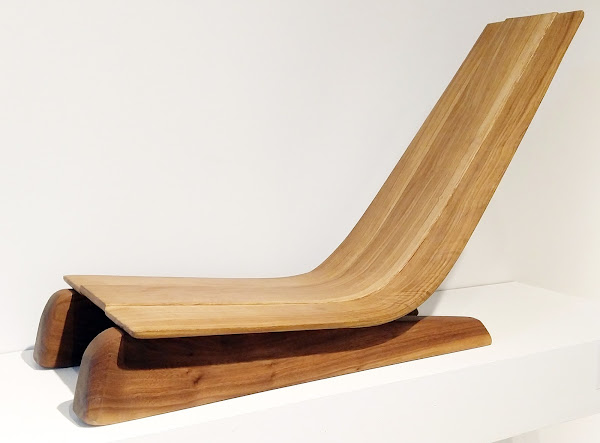 The Chair Show, on view through April 28, includes work by 70 students from almost every major, making it one of the most ambitious multidisciplinary student exhibitions in recent memory. The show invites viewers to reflect on chairs not just as utilitarian objects, but as symbols of domestic life, home and identity.
"I love the innovative ways that people used materials and process and played with space and form to tell stories."
After deciding early on not to include backless chairs or stools, Bartlett and Wellman selected a fun range of backed chairs made from an incredibly wide array of materials—from rattan, wood and metal to plastic, fiberglass and papier mâché. One of Bartlett's favorites is a white lawn chair by senior Marc Librizzi 19 FD. "At first glance it doesn't look that special," she explains, "until you get closer and realize that the frame is not actually metal but bent veneer tubing and the webbing is white leather. It's so stylish."
The curators were initially torn about whether or not to include their own work in the show but ultimately contributed one piece each: Bartlett a stunning cherry chair with a woven cane seat inspired by Danish design and Wellman a collaborative piece with fellow Graphic Design major Fabiola Milan 19 GD intended to "poke fun at the sterile, modernist designs of office spaces."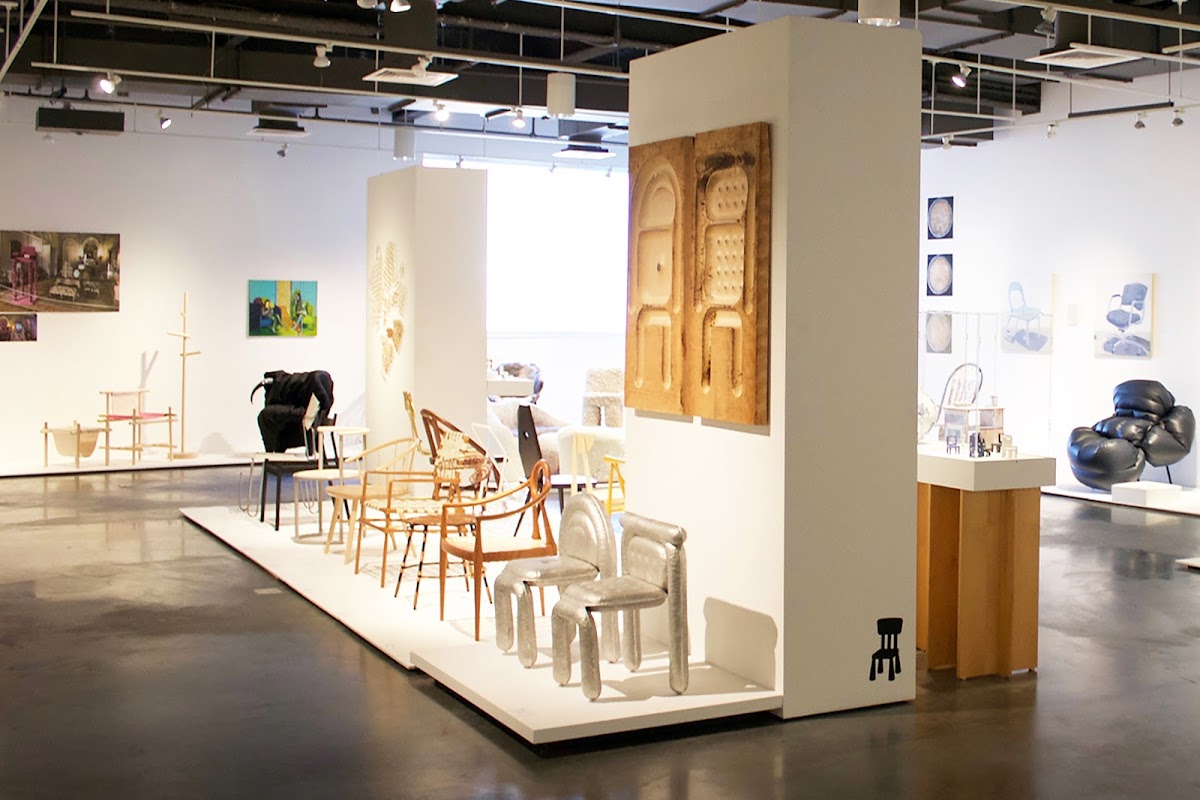 The show has gotten a great response from enthusiastic visitors, many of whom are weighing in about their favorites via Instagram. For instance, a fanciful ceramic chair by juniors Nika Kanamoto 20 CR and Jasmine Gutbrod 20 FD that appears to be upholstered in ramen noodles is getting a lot of attention. An impossibly tall scratching-post chair by Industrial Design major Jeff Shen 19 ID is a hit among cat lovers, and Hair of the Dog by junior Hali Barthel 20 FD features actual dog hair collected from local groomers.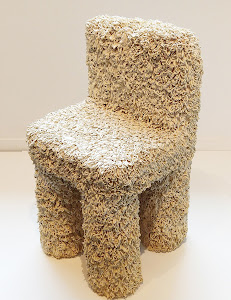 "I love the innovative ways that people used materials and process and played with space and form to tell stories," says Wellman. "We put a great deal of work into making the show feel cohesive and filling the space artfully."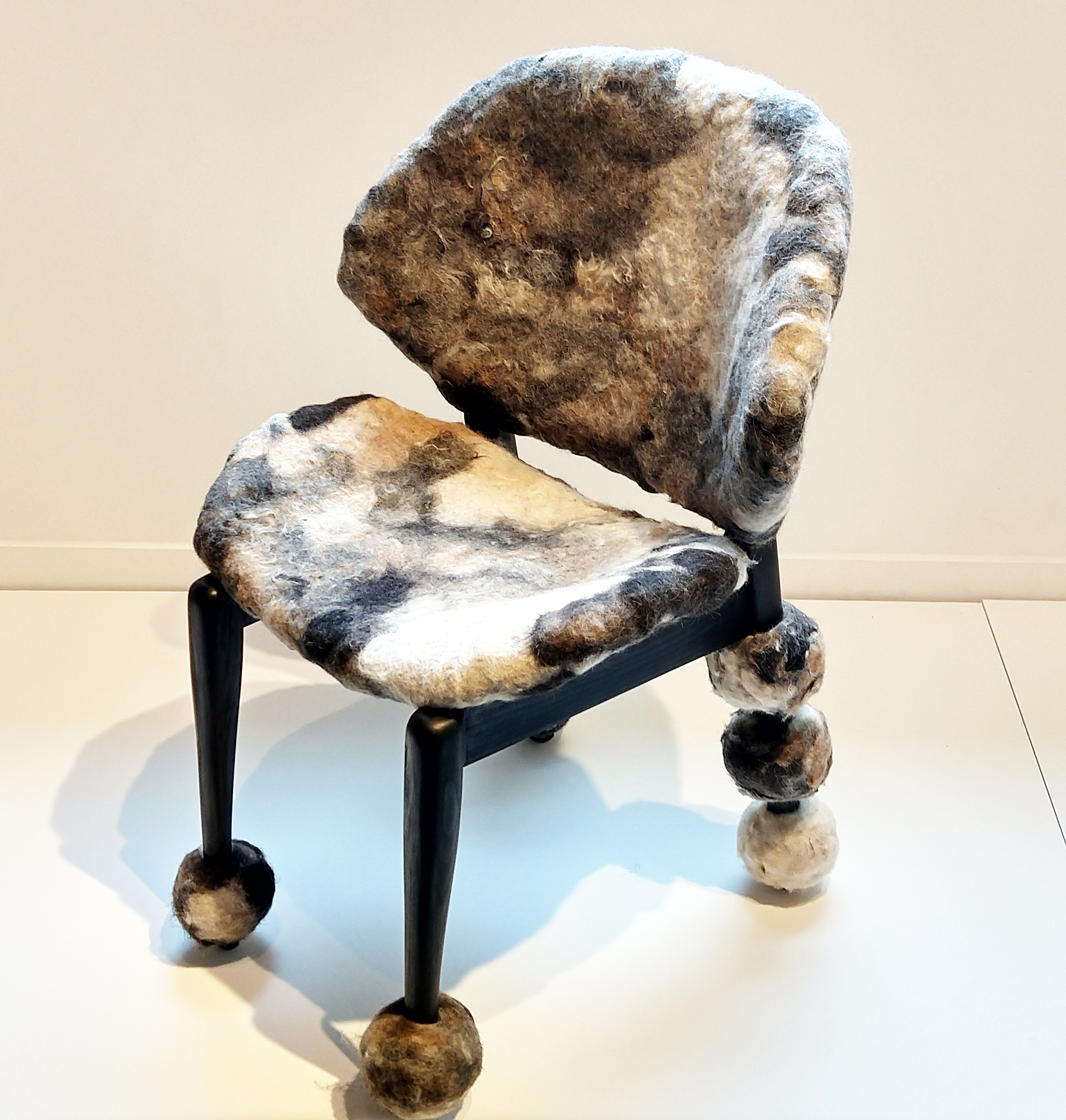 In fact, Bartlett used Rhino to create a detailed, scaled map of the exhibition before the actual pieces came in and spent about a week "dragging things around on the screen." She's grateful not only to Moscone and Wellman but to the folks in the Center for Arts & Language who helped her fine-tune her curatorial statement, which in turn set the overarching mood for the show and struck the right balance between accessibility and specificity. "The exhibition is a kind of snapshot of what people at RISD are thinking about and the materials they're using right now," she says.
After graduation both Bartlett and Wellman hope to include curating and exhibition design in their creative practices and feel energized by the experience of co-curating The Chair Show. "It was really exciting to see my idea through and to collaborate with so many different students," says Bartlett. "We couldn't have made this happen anywhere else but RISD."
—Simone Solondz