Recognizing Outstanding Alumni Contributions
Image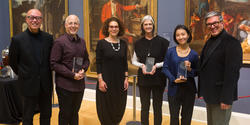 "I am a very proud RISD alumna and so grateful to have been surrounded by artists when I studied Architecture here," says Deborah Berke BArch 77, dean of the Yale School of Architecture and principal of her own widely respected firm. "That proximity to other disciplines clearly influences architects' creative capacity."
As the first winner of the Alumni Association's Helen Adelia Rowe Metcalf Award—which is named after one of RISD's lead founders in recognition of outstanding professional distinction—Berke accepted her award from Alumni Association President Donald Choi BArch 82 at a RISD Weekend reception in the RISD Museum.
All RISD alumni were invited to nominate award recipients, who were then selected by a committee of peers chaired by Daria Askari 05 PH.
"There are so many alumni doing amazing things in their communities that it was difficult to choose just three," he says. And President Rosanne Somerson concurs, proudly noting that RISD alumni "are out there changing the world every day."
Deeply committed to advancing women in architecture, Berke founded her NYC-based firm Deborah Berke Partners more than 30 years ago, building a strong reputation for unexpected architectural expression in work for colleges and universities, cultural institutions, private residences, boutique hotels, offices and multifamily development. In 2013 she earned the University of California's Berkeley-Rupp Award and in 2017 her firm was recognized with a National Design Award from the Cooper Hewitt, Smithsonian Design Museum.
At the awards ceremony in the museum's Grand Gallery, fellow alums Grace Jun 09 GD and Todd Bartel 85 PT were also recognized, as respective winners of the Emerging Leader and Art and Design Educator awards.
An assistant professor of fashion at Parsons, Jun is also executive director of Open Style Lab (OSL), a nationally recognized nonprofit dedicated to making fashion accessible to people of all abilities. The Alumni Association selected her for the Emerging Leader Award for thinking boldly and making significant contributions to her community.
"My practice focuses on helping creatives connect with disabled communities," Jun says. "This work has profoundly influenced my life."
Bartel, who teaches drawing, painting, collage and conceptual art at the Cambridge School of Weston in Massachusetts, earned recognition for his exceptional skill as an educator and his clear commitment to helping students thrive creatively.
In addition to serving as a guest critic at RISD, he has taught at Brown, Manhattanville College, Carnegie Mellon, Vermont College and New Hampshire Art Institute. He's also founder and director of the Cambridge School's Thompson Gallery, where he curates exhibitions centered on thematic inquiry.
"RISD trains the eye and mind to critique anything and everything," Bartel notes. "I am so very grateful to have had my eyes and mind opened here."
—Simone Solondz / event photos by Matt Watson 09 FAV