Architecture, Apparel and Ballroom Culture Converge in RISD Wintersession Studio
Image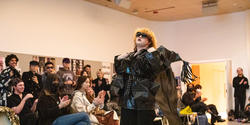 "And the category is . . . Runway. DJ, can you please pump the beat," shouts Apparel Design faculty member Jackey Robinson MArch 22 as a mishmash of runway music, house music and audio clips from The Queen boom through Washington Place Auditorium. Students pose, walk and vogue down the runway in flashy ensembles as a crowd of their peers whoops and hollers in celebration.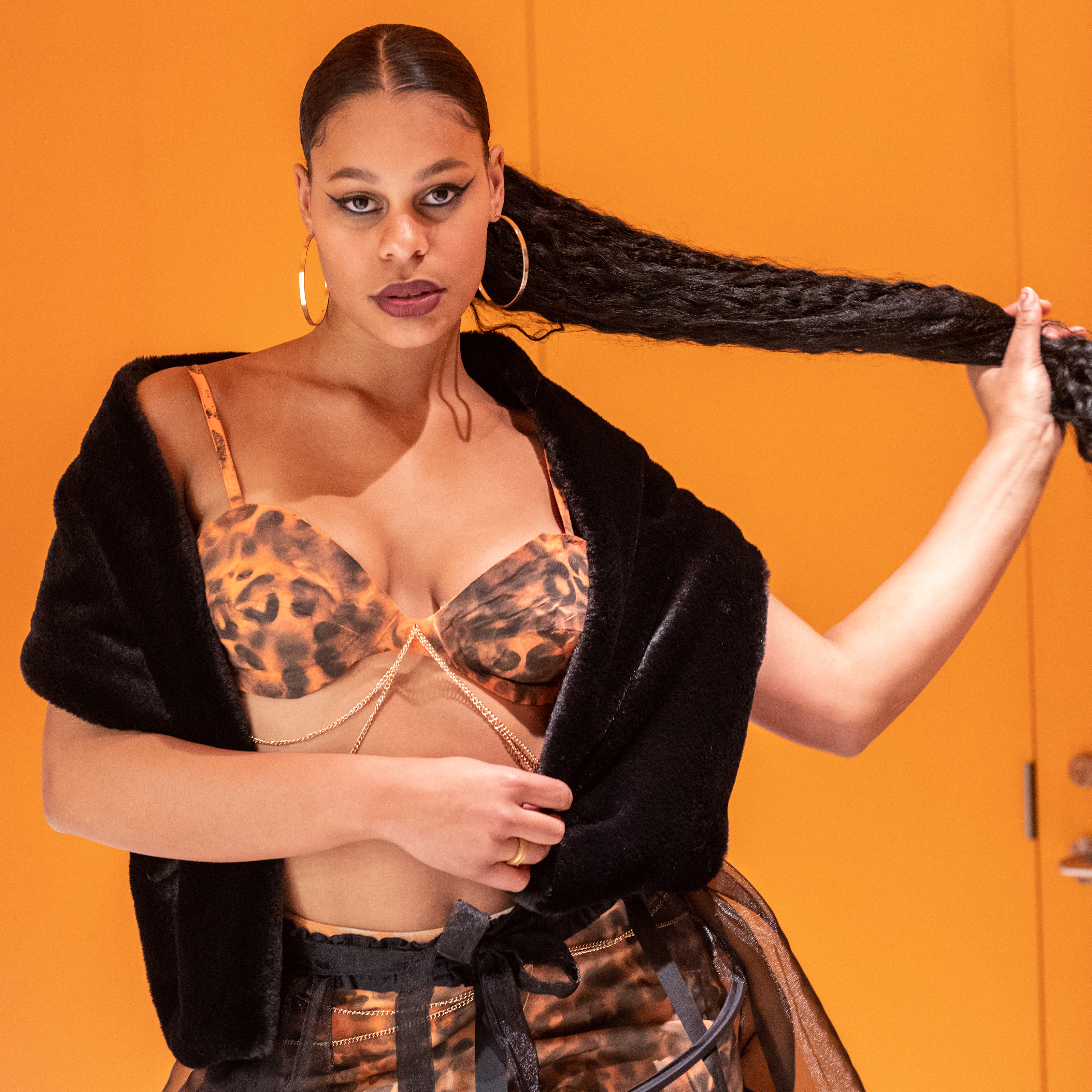 The ball was the culmination of The Category Is…, a six-week multidisciplinary Wintersession studio taught by Robinson, that combined architecture, apparel design and the underground ballroom scene. The course challenged students to create looks worthy of real-world ballroom icons and legends while also serving as "wearable architecture," a term that Robinson first adopted while studying architecture at Morgan State University.
"Ballroom is full of outcasts who have been othered and shunned. It's a space where Black and Brown LGBTQ+ people can be celebrated."
The underground ballroom scene, says Robinson, originated after an Afro-Latin trans woman named Crystal LaBeija experienced racial discrimination at a white drag show in New York. "Ballroom is full of outcasts who have been othered and shunned. It's a space where Black and Brown LGBTQ+ people can be celebrated."
Robinson discovered ballroom during his teenage years in Washington, DC. "I found my first 'gay parents' when I was around 14 years old," he says. "'Gay parents' or 'house parents' are older, more experienced individuals who are there to guide you through anything from picking a category and building an outfit to finishing school and getting housing. They support you not only on the floor, but in your real life, too."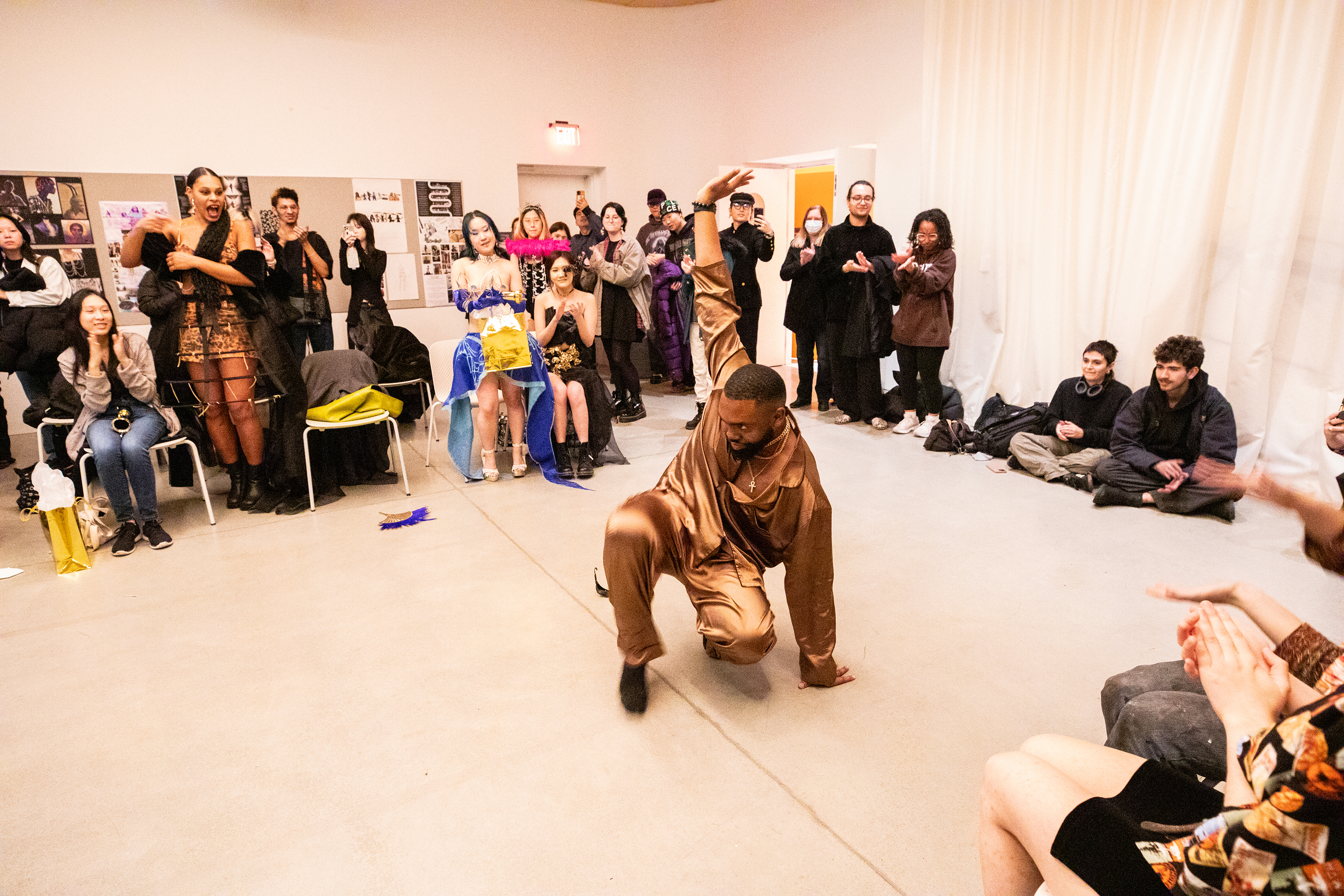 Students conducted extensive research before getting started on their garments, which were made out of architectural model-making materials such as wire, card stock, paper and metal. "From day one, I heavily enforced that the students learn the difference between appreciation, appropriation and exploitation," says Robinson. "Ballroom came from tragedy and pain and should not be glamorized." Students watched the documentary Paris Is Burning and the response film—titled How Do I Look?—which speaks to the exploitation that occurred in the former film.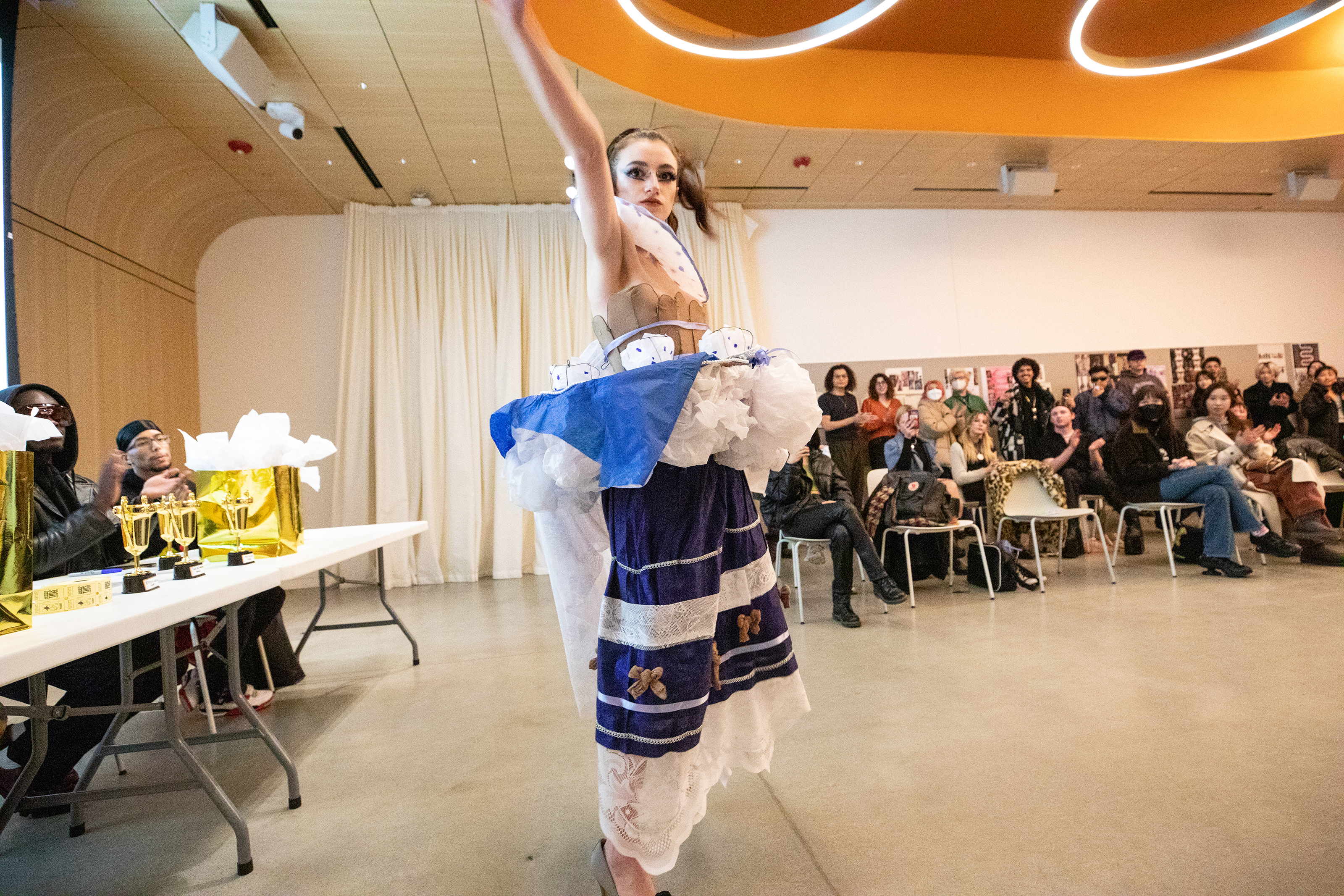 In preparation for their final projects, some students connected directly with the real-world ballroom figures they were assigned. "I had the privilege of interviewing Lola Gorgeous Gucci for my project," says Maya Muravlev 26 EFS. "That experience really strengthened my work and allowed it to be as authentic to her narrative as possible." Later in the semester, students had the opportunity to speak with icon and trans rights activist Sexy Lexy when she visited campus.
"I had the privilege of interviewing [ballroom legend] Lola Gorgeous Gucci for my project. That experience really strengthened my work."
Muravlev's blue and white garment included a tea set made of paper and wire and a table around the model's waist, with a larger teacup acting as a collar around the head and neck. "For my final project, I had to choose between embodying Lola's legendary status in the Face and Sex Siren categories," she says. "I found a happy medium using the categories of Afrofuturism and Art Deco Ornament."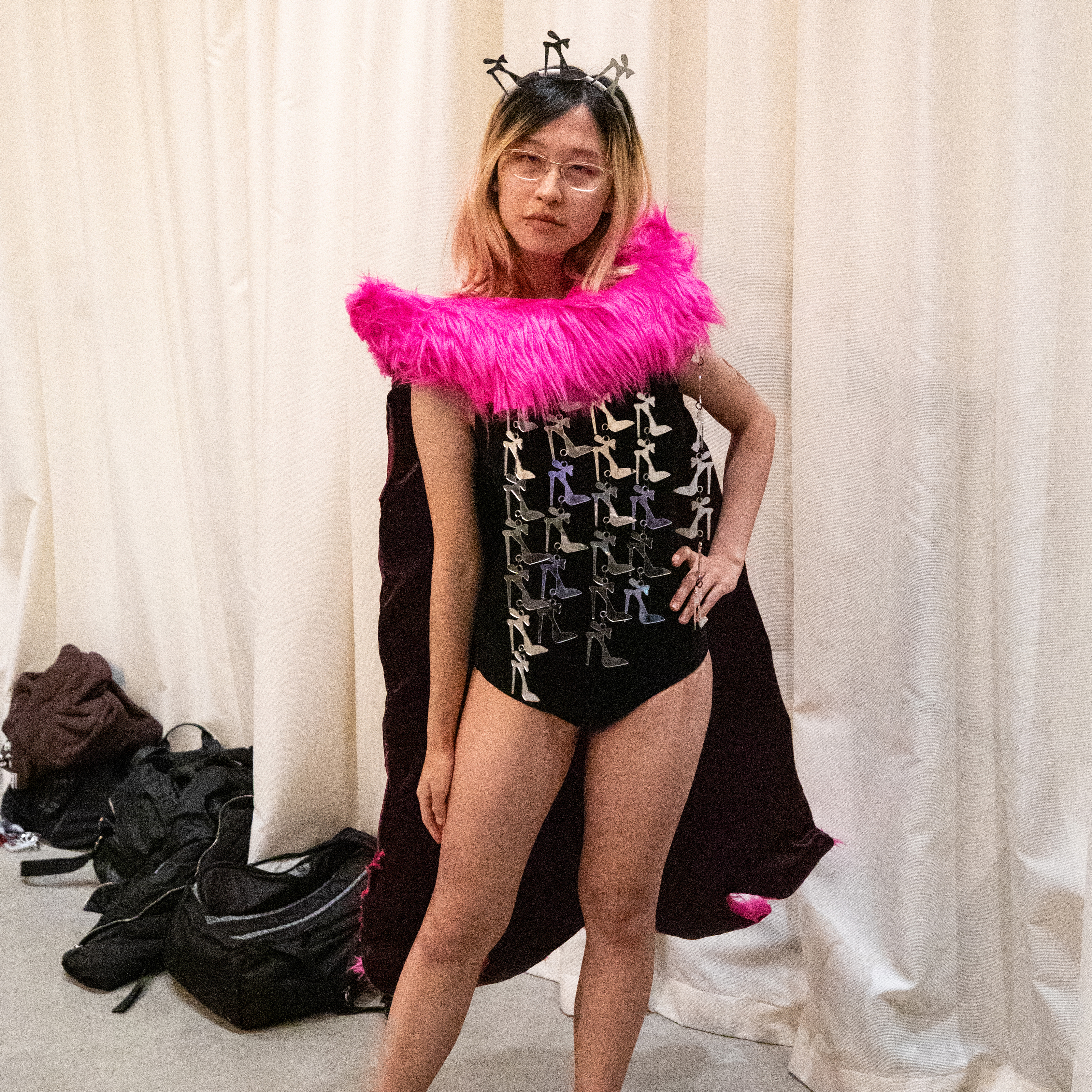 Designing for the Runway category and bringing it in a Streetwear look first coined as "Ghetto Fabulous," Lio Chan 24 IL based their final project on Diva Davanna Miyake-Mugler, the youngest icon in ballroom history. "For my final project, I made a cape symbolizing Davanna's achievements as an annihilator in the Runway category," says Chan. "Since the logo for her fashion brand Diva D'luxe is a high-heeled shoe, I laser-cut the design into a chain. I also included logomania and fur in my cape because of its prominence in both streetwear and luxury fashion."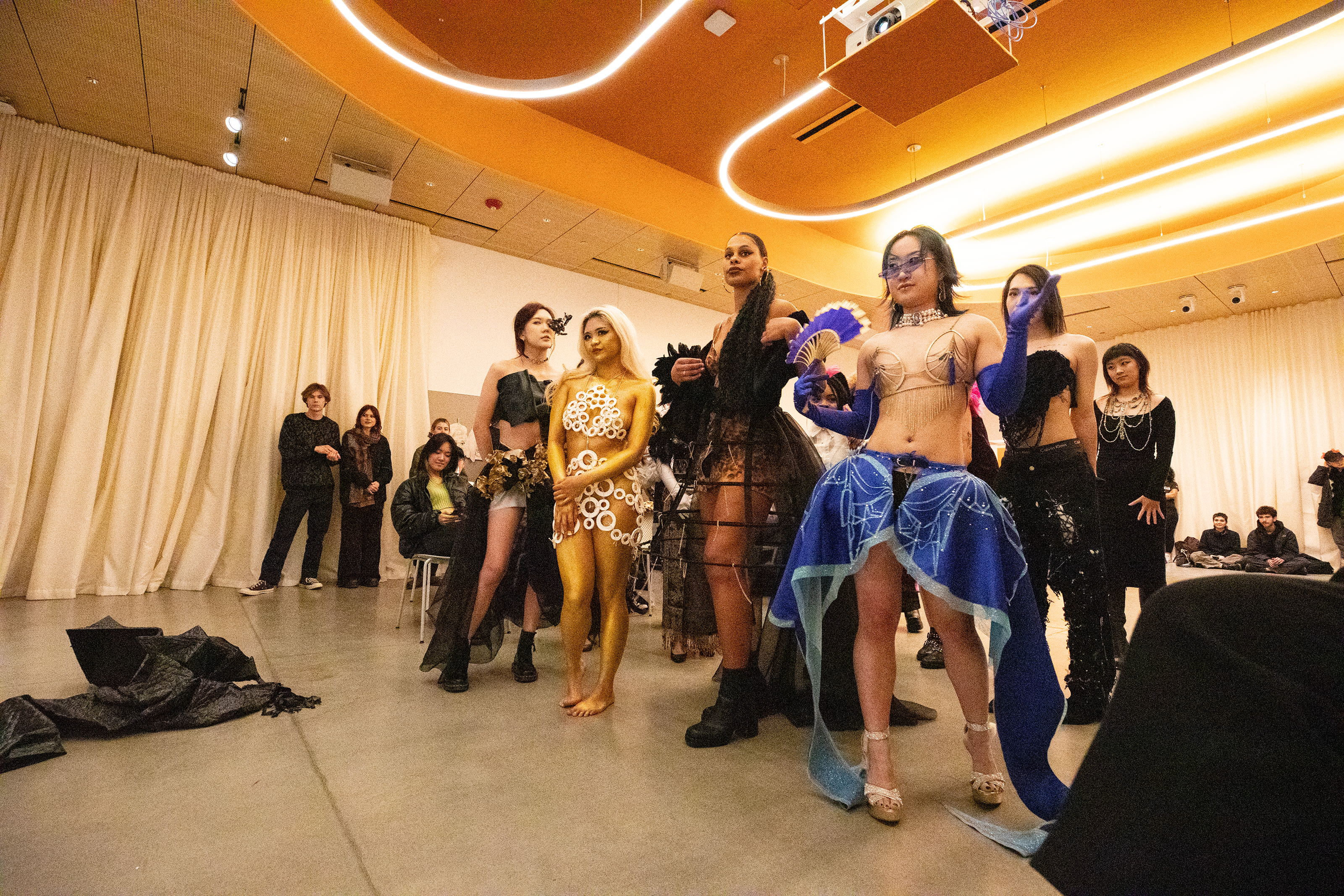 "The art we create here is not typical or average... . I want to bring joy and celebration into the hard work of our students."
After Chan and the rest of the class showed off their final designs, Robinson reflected on the ball. "I want to bring respect and recognition to the contributions of the Black and Brown LGBTQ+ community that is ballroom, but also to bring a new mode of representation and presentation for the final review," he says. "The art we create here is not typical or average, and the review process shouldn't be either. I want to bring joy and celebration into the hard work of our students." 
—Isabel Roberts / photos by Jo Sittenfeld MFA 08 PH