Creating a Narrative
Image
"Go into the studio every day, turn your brain on and do your best," says artist Arthur Gonzalez. "Don't waste your time waiting for the muse."
The longtime California College of the Arts professor met with students in RISD's Ceramics department in April and offered generous and straightforward advice. 
"Go into the studio every day, turn your brain on and do your best. Don't waste your time waiting for the muse."
Gonzalez began his artistic journey as a photorealist painter after being inspired as a kid by Ed "Big Daddy" Roth's outlandish illustrations of monsters driving hotrods. As a student he was committed to applying for at least one artist residency program every week, which led to a huge pile of rejection letters he used as scrap paper and eventually turned into a paperback called The Art of Rejection.
"Rejections are part of life," he says. "They're just detours that help you find another direction."
Gonzalez moved from painting to sculpture after seeing Robert Rauschenberg's powerful multimedia piece Monogram, featuring a paint-splattered Angora goat standing on one of his earlier paintings. "I started making sculpture to talk about painting and to escape the confines of its rules," he says. "And I love clay because I can use it to externalize the ideas in my head, which is magical."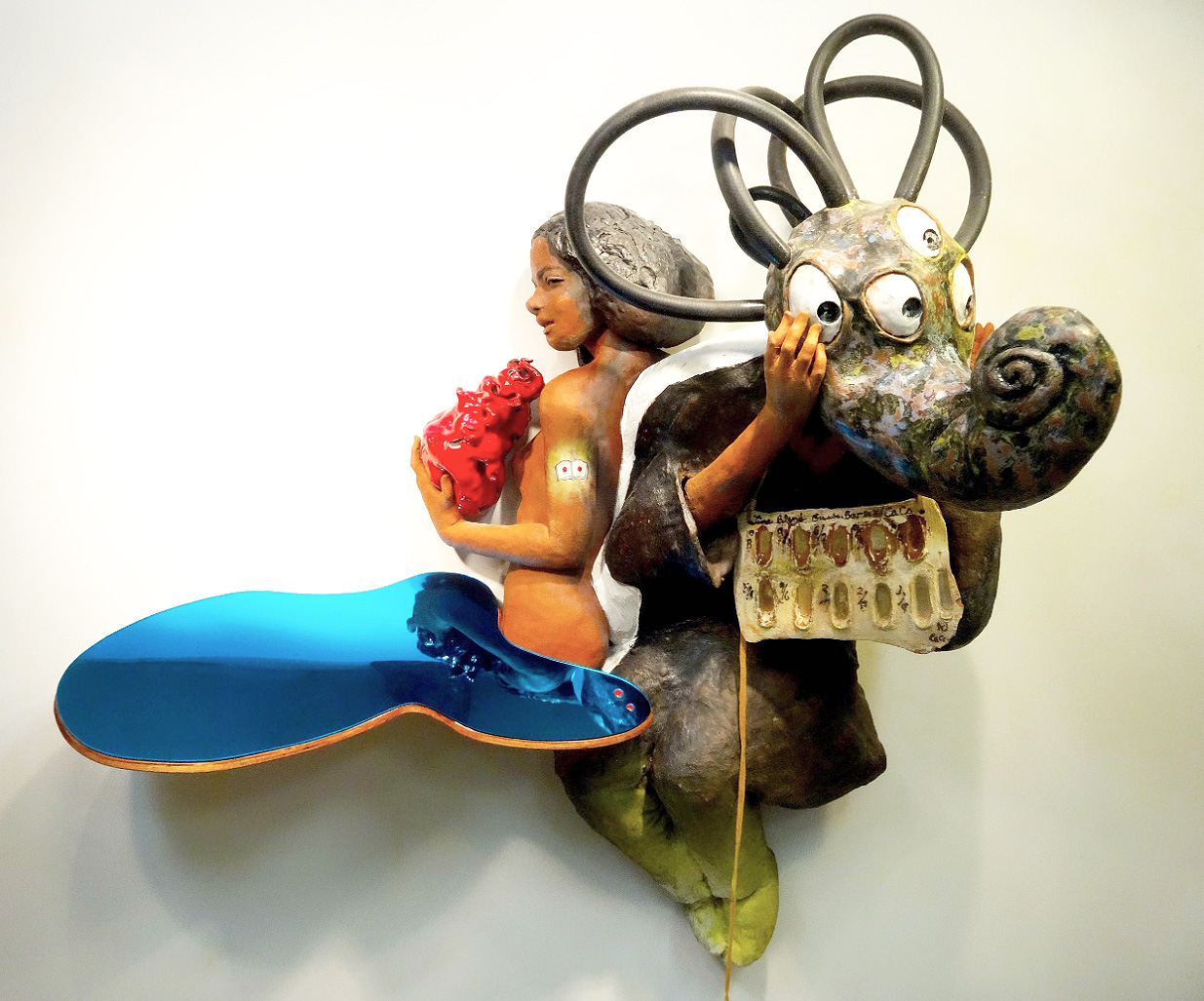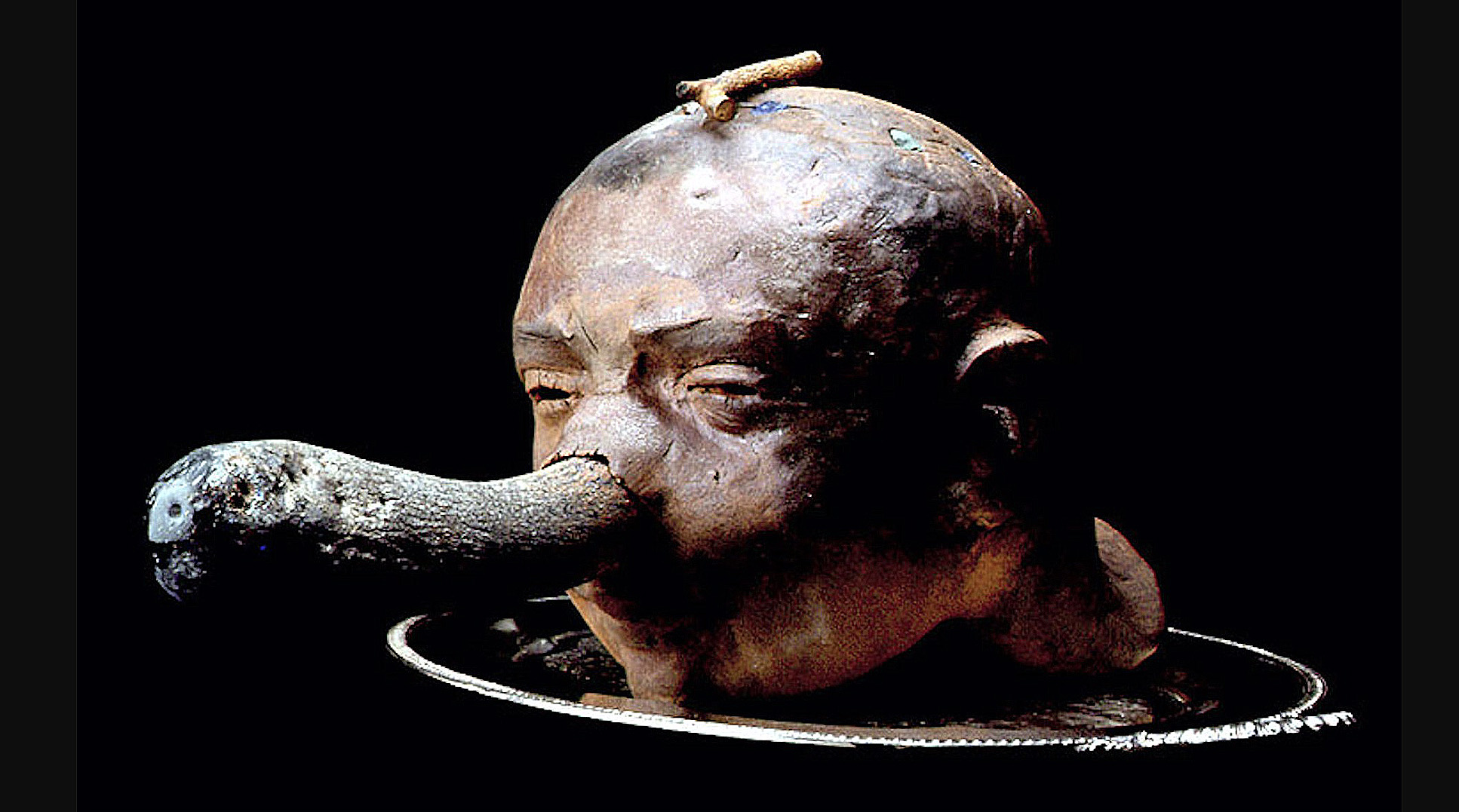 Pieces like Blue Salami explore issues of beauty and allow Gonzalez to take advantage of imperfections in his thick glazes. Other works, including The Code Breakers Next Door, feature a recurring form inspired by a medical drawing of the inner ear. "When I added eyeballs to it, it turned into my conscience," he deadpans. 
"Rejections are part of life. They're just detours that help you find another direction."
As a teacher, Gonzalez is careful not to impose his ideas onto the work of students. "My goal is to help them create objects that communicate their ideas," he says.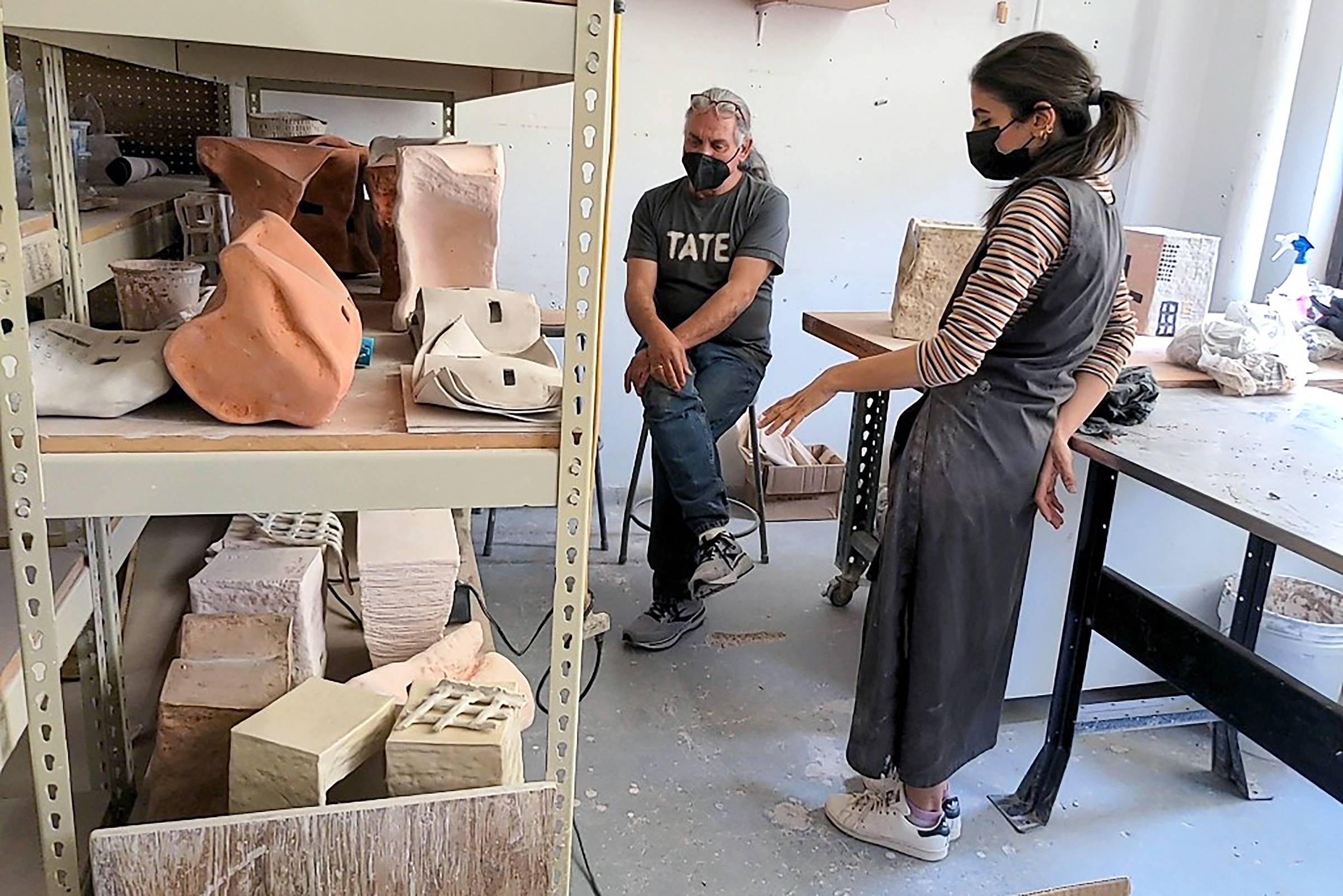 Visiting the studios of RISD grad students, he is quick to ask what the work means to them before sharing his own impressions. The shelves in the studio of Eman Alhashemi MFA 23 CR, for example, are overflowing with pieces inspired by the electrical sockets in her apartment. When Alhashemi plays down the importance of the symbol in her work, Gonzalez encourages her to "think it through," suggesting that she consider the underlying meaning behind it. 
Faced with a table covered in beautiful, flawless vases by grad student Dora Chen MFA 23 CR, Gonzalez is immediately drawn to the one that collapsed in the kiln and then broke into multiple pieces. "Did you save the pieces?" he wants to know. "Maybe you could use one of them to prop the piece up, creating a narrative about self-healing."
—Simone Solondz