Digital + Media
Image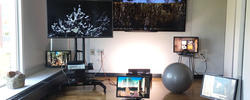 Digital + Media (D+M) operates at the nexus of art and technology, creating a framework for students to discover emergent creative practices and make research-driven, critically-informed work. Offered at the graduate level only, the program encourages degree candidates to explore many mediums, such as sound, land and the body, and to challenge the social constructs that produce and are enforced by new technologies.
In the studio
D+M majors delve deep into concepts and contexts, and then identify the best media for pursuing questions about technology, biology and culture, natural and built environments, and more. Supported by faculty with a broad range of expertise, students also take advantage of exceptional tools for research and making, from electron microscopes and autonomous vehicles to the college's state-of-the-art Studio for Research in Sound and Technology.
Image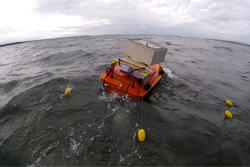 Image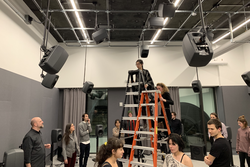 Image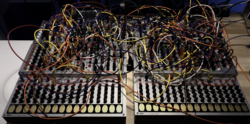 Alumni
Digital + Media alumni pioneer new modes of artistic inquiry, pursuing rewarding work in cutting-edge research, academics, studio practice and more. Many graduates have contributed significantly to the advancement of the field of new media—as successful artists, experimental designers, writers and critics.