Studio for Research in Sound and Technology
Image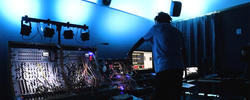 The Studio for Research in Sound and Technology (SRST) is RISD's hub for sound design experimentation as well as research in sonic interaction, experience, composition and performance. Through studios and independent inquiry, students use this space to compose experimental music, design soundscapes, simulate architectural acoustics and more.
More about the SRST
Exploring sonic practice
The acoustically treated SRST features an array of 25 independently addressable, full-range speakers and four subwoofers. It gives students opportunities to work with an array of digital audio software and programming languages. These include:
Reaper
Ableton Live
Supercollider
Max
Students can also access various analog equipment, notably a 4U format, Serge modular synthesizer (below).

The SRST houses courses in which sound or music technology factors as a central medium or subject of study, as well as events that promote exchange among sonic practitioners and the public. It also supports a selection of Digital + Media courses as well as ones offered through the interdisciplinary Computation, Technology and Culture concentration.