Center for Arts & Language
Image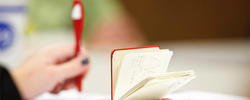 Offering academic support and advocacy for communication in academic, professional and creative contexts, the Center for Arts & Language (A&L) provides peer tutoring and staff advising in three areas: written, spoken and visual communication; multilingual learning; and student publications.
A&L also offers workshops, online and print resources, and a community where all forms of language are welcome.
More about A&L
Engaged communication support
The Center for Arts & Language's exceptional team of staff and tutors provides individualized guidance for all RISD students, who may seek support on anything from an academic research paper to an artist's talk, from the mechanics of a single sentence to the design of a whole graduate thesis book. RISD takes pride in its commitment to language as a vital tool for artists and designers, and A&L dedicates itself to helping students become more confident and proficient communicators.