RISD Museum
Image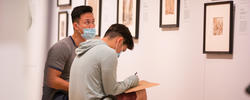 A popular regional destination, the RISD Museum offers access to ongoing programming and a rich collection of fine art, design and decorative arts from around the world. These range from ancient Chinese sculpture to French Impressionist paintings and contemporary art in every medium.
More about the RISD Museum
Celebrating art and connecting communities
The RISD Museum houses approximately 100,000 works of fine and decorative art ranging from ancient times to the present. The only comprehensive art museum in southeastern New England, it is a vital resource for RISD and the broader community.
With seven curatorial departments, the museum offers a varied program of exhibitions, lectures, tours, workshops and publications. It is dedicated to the interpretation of art and design from diverse cultures and to educating artists, designers, researchers, families and students of all ages.