Woods-Gerry Gallery
Image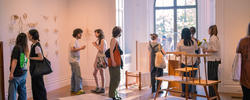 Activating the first floor of a 19th-century mansion, RISD's primary gallery for undergraduate work features group exhibitions throughout the academic year. Students learn from preparing work for exhibition, helping to mount shows and discussing their work and that of fellow students, in the context of shows open to the public.
Upcoming exhibitions
Apparel Design Triennial
Jan 12–21
Reception Jan 11
Film / Animation / Video Triennial
Jan 26–Feb 18
Reception Jan 25
Inside the gallery
During the fall and Wintersession, the gallery hosts group exhibitions of student work from all undergraduate majors. In the spring, the gallery presents a series of shows featuring work by seniors.
Gallery hours
Monday, 10 am–5 pm
Tuesday, 10 am–4 pm
Friday–Saturday, 10 am–5 pm
Sunday 2–5 pm