Co-Works Research Lab
Image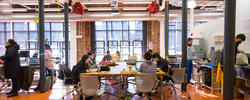 Co-Works Research Lab brings together a cross-departmental community of students and faculty to experiment with advanced technologies, techniques and software, and hone skills that support interdisciplinary creative practice. It offers tutoring, training and sponsored studio courses, and makes resources accessible to students regardless of major or experience level.
More about Co-Works
A space for collaborative exploration
Students in all disciplines make use of Co-Works' wide range of equipment. The lab supports experimentation with 3D printing, textiles, laser cutting, pen plotting, CNC processes, sewing, electronics, coding, vacuum forming and more.
Dedicated to enhancing cross-disciplinary learning, Co-Works is ideal for exploring concepts and topics that bridge departmental boundaries.