Fleet Library at RISD
Image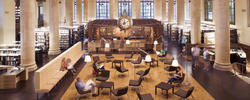 With a circulating collection of more than 150,000 books, RISD's library—a beautiful space within the Mandle Center for Living and Learning—offers excellent resources in art, design, architecture and more. Here you'll also find a Materials Resource Center, many artist's books and other items of interest to artists and designers.
More about the Fleet Library
Inspiring collections for art and design research
Founded in 1878, Fleet Library at RISD is one of the country's oldest independent art college libraries. Its circulating collection offers depth and richness in the areas of art, architecture, design and photography.
The library provides historical and contemporary perspectives and specialized materials in landscape architecture, ceramics, textiles and jewelry to support research. It also holds a notable artist's books collection, rare books, 400-plus periodical subscriptions and outstanding visual resources.