Color Lab
Image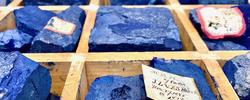 Home to an extensive collection of research objects, the Color Lab is a prime location for investigating color in art and design. Its reference library helps students and faculty place color in context, while specialized equipment supports creative experimentation.
More about the Color Lab
Exploring color in depth
The Color Lab encourages departments to build new coursework into their programs, fosters and supports independent and shared inquiry by scholars, artists and designers, and nurtures the development of a community of inquiry on the subject of color.
The lab has two locations on campus: a materials collection on the second floor of the Fleet Library and an exhibition space at the Design Center, where you'll find a rotating collection of work by RISD students and faculty.