Gelman Student Exhibitions Gallery
Image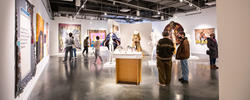 Working individually or in small teams, students gain valuable curatorial experience by proposing, planning and mounting group exhibitions at this venue and the Dryfoos Gallery for new media housed within it. Students whose proposals are accepted then work with guidance from RISD professionals to bring a show to fruition.
Inside the gallery
The Gelman Student Exhibitions Gallery and the Dryfoos Gallery for new media are located at the heart of campus and offer students great learning experiences and space for showing student work. They are also accessible to museum visitors and the general public.
Want to curate a show?
If you are interested in curating a group exhibition in either the Gelman or Dryfoos galleries, send us an email to get started. Proposals are reviewed by the director of Campus Exhibitions alongside a committee that includes representatives from the Student Gallery Board and the Grad Student Alliance.
If we approve your exhibition, you will work with gallery staff to select work, design the exhibition, prepare supporting materials, hang the show, publicize it and host the opening.
Email Campus Exhibitions for details
Contact info and hours
Gelman Student Exhibitions Gallery
Chace Center, 2nd floor
20 North Main Street
Providence, RI
Gallery desk: 401 709-8660
Gallery hours: Tuesday–Sunday, 10 am–5 pm
Questions? Email exhibitions@risd.edu.
Past exhibitions
Playing House
Apr 28 – Jun 4, 2023
Curated by Kira Wilson 24 FD and Aydan Huseynli 24 FD
Water Seeks the Lowest Ground
Apr 7 – 23, 2023
Curated by Julia Hames 23 PT, Katherine Hofmann 23 PT, Connor Kay 23 PT and Olivia Springberg 23 PT
Bliss Information
Mar 3 – Apr 2, 2023
Curated by Chloe Ng-Lun Gardner 23 FD, Daphne Knouse 23 PT, Ruby Rodgers 23 TX and Luke Teigen 23 AP
Go Thither
Jan 20–Feb 26, 2023
Curated by Gwynna Dille 23 PT and Mason Tepper 23 PT

No Longer Transparent
Nov 4–Dec 11, 2022
Curated by Yuxuan An MFA 23 SC
New Contemporaries '22
July 6–Oct 16, 2022
Selected work by the graduate class of 2022
Residual Hauntings
May 6–June 5, 2022
Curated by Sarah Goldman 23 PR and Emma Florance 22 PT
I'd Rather Go Blind
April 16–May 1, 2022
Special exhibition by first-year MFA candidates
The Black Biennial
March 12–April 10, 2022
Curated by Rey Londres 22 PH and Melaine Ferdinand-King
Of Soiled Bodies
January 22–March 3, 2022
Curated by Veronica Bello 22 TX and Corina Dorrego 22 PT
Faculty Exhibition
October 28–November 21, 2021
New Contemporaries: Selections from the Class of 2021
July 14–October 10, 2021
Memories and How We Hold Them
April 10 – 14, 2021
Curated by Ethan Murakami 21 GD and Kasia Hope 21 TX
Feminized
March 13 – April 3, 2021
Curated by Mariano Ramos Ortiz MFA 21 PR and Breslin Bell MFA 21 PR
RISD Grad Show 2020
Oct 17 – Nov 7, 2020
The Color of My Land
Mar 6 – Apr 5, 2020
{re}position
Jan 23, 0020 – Mar 1, 2020
Curated by Namrata Dhore BArch 21, Jisu Yang BArch 21, Cherry Yang BArch 20
Black: Color/Context/Meaning
Dec 6, 2019 – Jan 19, 2020
Curated by Sarah O'Brien MFA 20 CR
Land//Fill//Land
Oct 18 – Dec 1, 2019
New Contemporaries 2019
July 2 – Oct 13, 2019