Nature Lab
Image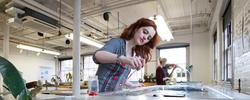 With advanced imaging systems and more than 80,000 specimens, the Nature Lab offers access to authentic natural history objects and supports inquiry into biomimetics, biophilic design, ecology and climate change.
With high-end microscopes, high-speed cameras and more providing access to specimens at multiple scales, these resources help students learn about design in nature and explore connections between artistic and scientific research.
More about the Nature Lab
Understanding design through nature
As a forum for exploring connections between art, design and science, the Nature Lab is a hub for research that supports scientific research at RISD. Students find an entry point here for addressing sustainability through biodesign—emerging areas of inquiry that include biomimetics, biophilic design and the use of natural and biological materials in architecture and building systems.
Hands-on access to collections
The Nature Lab's diverse collections—from nearly nano-scale to life-sized objects—lets students study natural specimens up close and discover design in nature. Here you will encounter processes, materials and organizing principles of the living world that will inspire you in the studio. Selected specimens may also be borrowed for short periods of time.